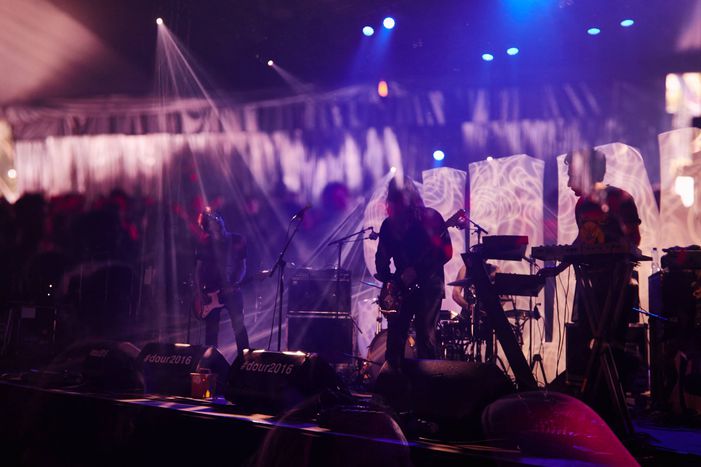 Suuns: In orbit with Canada's electronic-rock globetrotters
Published on
Electronic rockers from Canada, the four members of Suuns gave their second appearance at Dour Festival this year. We caught up with Liam, the band's drummer, who spun us a story that spans the globe. The band last toured Europe during a tumultuous 2015, and are back to light up Belgium's festival scene. Grab your shades, and don't stare at the sun too long.
Canada, the United Kingdom, Lebanon… this is one tour on which the sun won't be setting. The latest venue to bathe in the rays? Dour Festival in Belgium, just one day after a gig in the Netherlands. Cafébabel Brussels was lucky enough to catch up with Liam O'Neill, the band's drummer, before the group took to the festival stage.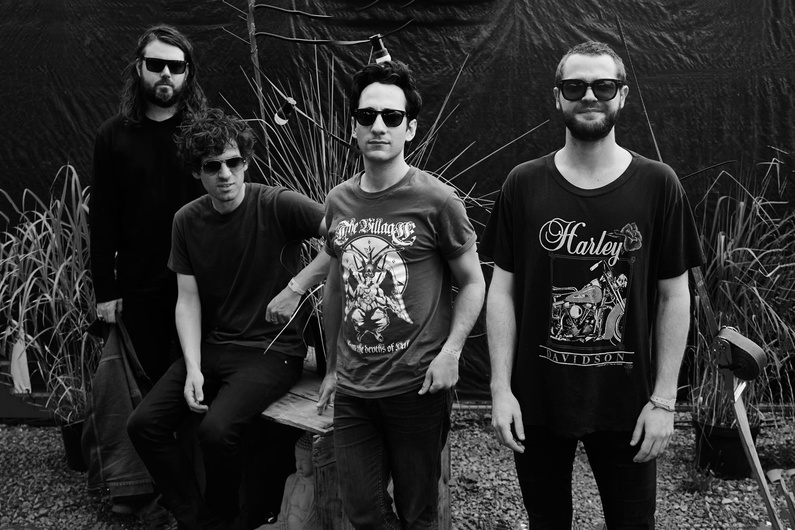 He's quick to set the tone: "The rush is part of life on tour. People think the life of a musician is just being a party animal, but most of the time we're travelling."
Montreal, a pressure cooker of talented people
Despite their celestial title, the band's original name was a little more down to earth: "Zeroes". But, as Liam explains, they decided to change their name when they signed up to a record label, due to copyright issues. "It's kind of dumb, but we just translated 'Zeroes' into multiple languages and thought the Thai translation looked best. Therefore, Suuns." Multiple languages? Cafébabel approves.
When not circling the planet, the band's official residence is in Montreal. "But I'm never there," Liam admits. "That's where my mail goes though."
Europe has had its fair share of direct democracy recently. Montreal is part of Quebec, a region of Canada that has conducted a long series of referendums to vote on independence from the rest of the country, the latest of which took place in 1995.
"It's typically pretty harmonious," Liam argues, when asked about Montreal today. "It's primarily French speaking and then you have a small English speaking pocket. Day to day, it's fine, some people are maybe more bilingual than others, but the culture seems to get along nicely. I think that's why so many English-speaking bands are going to Montreal. It's a small scene that interacts with itself. It's a kind of pressure cooker of very talented people."
Europe, a boiling cauldron
Beyond a string of touring destinations, what does Europe mean for the Suuns drummer? "These days, man? [laughs] A boiling cauldron!" The band toured in France and Belgium just one week after the tragic terror attacks in Paris, including at the Bataclan concert venue. "We went to Belgium, which was all locked down at the time. We had a show in Leuven and nobody came because they all stayed home. It's one thing to read the news, but to be in that environment, to feel that kind of climate, is something else. It was very intense."
In Paris, the audience at the show felt awkward. It was "very stiff", as Liam explains. People were worried. They played a gig at the Institut du Monde Arabe. "People came to the show, but I just got the feeling that a lot of the audience had to work up the nerves to go out and try to enjoy themselves. It's good that a lot of people came. It was definitely a special show for that reason."
"Beirut? It feels just like being in Paris"
Suuns played their Paris gig with Radwan Ghazi Moumneh, their friend and manager, who has Lebanese roots. It was through this friendship that they performed at a festival in Beirut. "I didn't know what to expect because a lot of friends told me Lebanon has a history of instability, and that was when ISIS groups were just becoming prevalent in the news, and were occupying territory in northern Lebanon."
Liam was a little cautious, due to never before having visited that part of the world, but his Lebanese friends advised him as to which areas to visit, and where to avoid. "In general, I was surprised at how chill and metropolitan it was, like being in Paris. You're drinking cocktails at a bar, and the wall is riddled with bullet holes... but they like to party!"
---
This article was published by our local team at cafébabel Brussels.