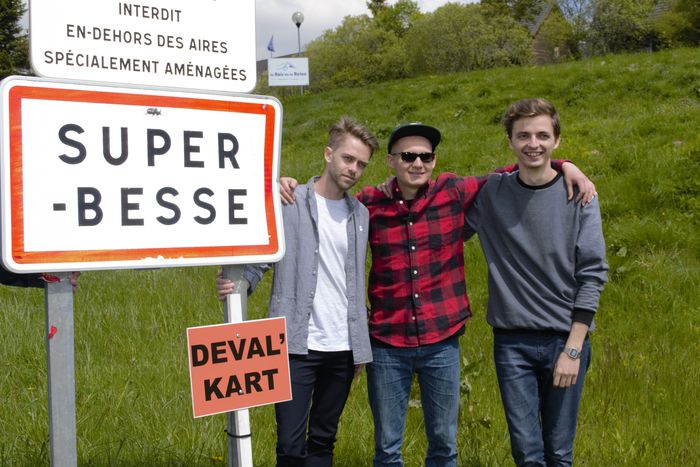 Super Besse conquers Super Besse
Published on
At the Europavox festival in Clermont-Ferrand, Alma Onali met the Belarusian coldwave band playing at the French ski resort centre that inspired its name.
It is a strange setup. A Belarusian three-man band is playing angry coldwave music in a ski resort bar in the middle of France on a most beautiful summer's day. Behind them on the wall, Rudolf the Reindeer is staring outside to the slowly rolling cable cars above the green slopes of the mountain. The bar has been opened specifically for this occasion. But what does a French skiing centre have in common with a coldwave band from Belarus?
Well, they're both called Super Besse.
Super Besse the band was formed by three Belarusian capital city boys, Max, Alex and Pavel, approximately two years ago. Their bass player Alex, a cycling enthusiastic, had discovered the name Super Besse while scrutinising the Tour de France map. According to the band members, Besse sounds like "demons" in Russian. They never actually thought they would one day perform at Super Besse. Their craziest dream has come true during the annual Europavox festival in Clermont-Ferrand.
"We are absolutely blown away by this," the singer Maxim Kulsha says at the foot of the magnificent mountain Puy de Sancy, where the Super Besse ski centre is located.
The modest musicians were greeted with overflowing gifts from the area's municipalities. Enjoying the views down the rolling hills and valleys of Besse-et-Saint-Anastaise, it's hard for them to believe they've actually come this far. Their first album, 63610* was released on 25th of May. Despite their name, Super Besse doesn't want to reach for heights.
"We don't want to be too popular. We'd like to stay underground, so that we can play to those who really like us."
The band wants to keep their gigs special and fresh – which is why they avoid playing in the same place too often.
"We've been to Riga for three times in five months. We think it's too much," Max says.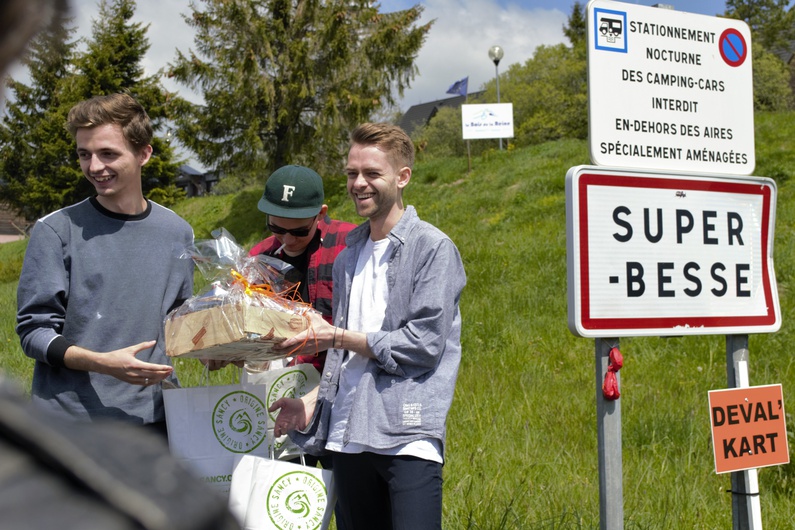 Russian lyrics, universal vibes
Clearly influenced by Kraftwerk and Joy Division, melancholy gleams through their pulsating sound. When on stage, the singer Max uses the entire space whirling around with his guitar, providing a lot of energy to the performance. It is impossible not to think about Ian Curtis or New Order when listening to their riffs and melodies, but Super Besse is more aggressive, more frantic than its predecessors. "We don't want to focus on the style or the categories. Someone else has defined our style," Max says.
The songs are in Russian. The clang of the language fits in their angry, post-punk sound. What's pissing off Super Besse?
"That people don't give a shit about feelings, nature or each other. For example our new single, Holod, is about how people are so cold, but if you try to do something about it, you realize that you might even be colder yourself," says Max.
Super Besse is going to continue playing in Russian. Otherwise, they fear, some things would get lost in translation. The layers of meanings and metaphors in their lyrics are hard to explain in another language, though the atmosphere comes through.
"We want our audience to understand the feelings in our songs without understanding the words."
According to Max, if Super Besse was an animal, it would be a wolverine. "It is the most wild animal ever. You can't tame a wolverine. It is nature."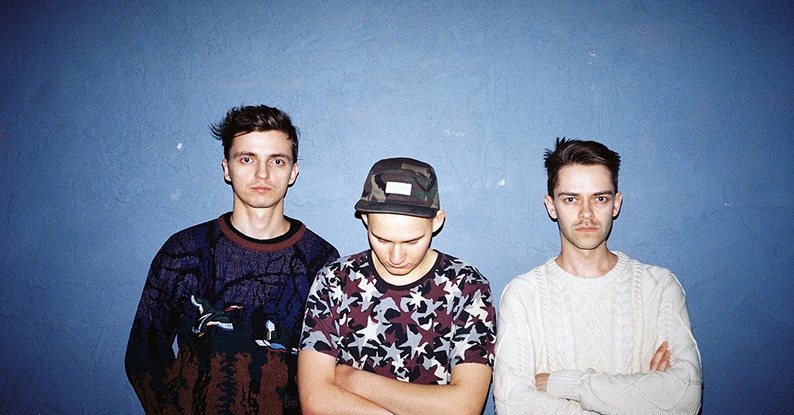 Burning passion
Inspiration can appear at any time, anywhere. Long walks in the forest or listening to music might not necessarily do the trick. For the guys in Super Besse, working in an office can often be the best source to get their artistic fluids flowing.
"Once I wrote two complete lyrics in an elevator from the 7th floor to ground level. Working helps to freshen up the mind. I don't want to think about music all the time," Max explains.
One of the best things about making music for Max is that you can either make it or burn it. Creativity sometimes needs letting go. "You know, Gogol made a fantastic bildungsroman called The Dead Souls. He also made a sequel to it, but he burned it. Nobody ever read it. We have also burned our songs. We finish them to their best condition, and then we leave them, and no-one will ever hear them."
Their worst fear is to stop caring about their music. "I have noticed that some musicians become bored of their music, and then they play without passion. I don't understand it," Max says.
Youtube: Super Besse - Голодная Река