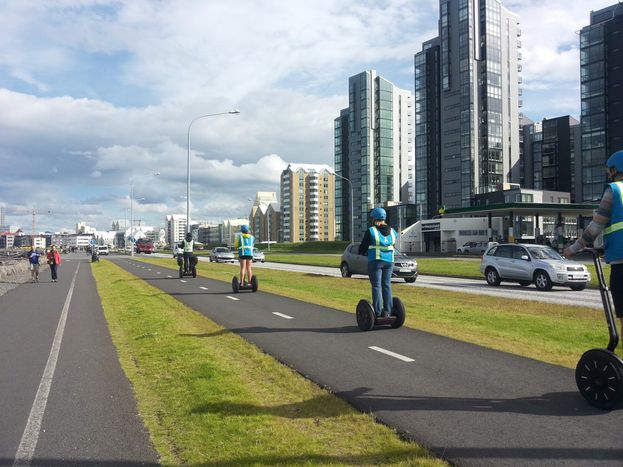 Summer school in Iceland: The Lessons I Learned
Published on
During the 2015 Fall semester at the American University in Bulgaria (AUBG), I received an ordinary email which, I now know, would point to me the way to a once-in-a-lifetime opportunity. It informed me about the opportunity to participate in a summer school or a language course in Iceland, Norway or Lichtenstein.
Author: Daniel Penev
During the 2015 Fall semester at the American University in Bulgaria (AUBG), I received an ordinary email which, I now know, would point to me the way to a once-in-a-lifetime opportunity. It informed me about the opportunity to participate in a summer school or a language course in Iceland, Norway or Lichtenstein through the grants for mobility in higher education provided by the European Economic Area (EEA Grants). Soon after, I decided to give it a try. I looked at some of the programs I could choose from, going eventually for the first Summer School on Creative Leadership in the 21st Century at Bifröst University in Iceland. After several weeks of waiting for the results, I got the good news in February: I was going to spend more than three weeks of my summer in the land of ice and fire.
Volcanoes, mineral water, wilderness, Viking heritage, solid cultural tradition, the 2008-2009 financial crisis and the protests against those in power, the resignation of the prime minister in the spring after the Panama Papers were published – I would have hardly wished to go to a more exotic place than Iceland as of July 2016. I grew even more excited about my trip as a result of the international euphoria surrounding the impressive performance of the Icelandic national football team in the European Championship in France.
The summer school spirit
"United in diversity", the motto of the EU, perfectly summarizes the summer school at Bifröst University: seven Bulgarians, four Germans, two Austrians, an Irish, a Belgian, a Finn, a Japanese, a Singaporean, a Cypriot studying in the Netherlands who is going to spend the Fall 2016 semester as an Erasmus exchange student in Sweden, and a Hungarian pursuing a degree in international business in a joint program among three universities in Denmark, Belgium and France. Add the three professors from Iceland and one from the USA, Germany and Austria each and you get quite a colorful bunch in national and cultural terms.
A day or two after we met for the first time, we were already friends. We helped one another learn and improve through lectures, in-class discussions and practical group assignments. We used our free time to explore Iceland as well as share information and learn more about the countries we come from. We didn't really strive to achieve such a harmony; it came naturally as a result of our positive attitudes, open minds and willingness to gain new knowledge.
The three-week summer school consisted of two closely related parts: a more formal academic part and a more casual social part. Together, the various activities in these two categories enabled students to develop personally, academically and professionally in a friendly and supporting environment.
Take-home lessons
Those who have participated in any kind of international summer schools, trainings, projects, exchange programs and trips know well that these experiences have a strong influence on one's personality and worldview. What makes these programs even more valuable and fascinating is that participants learn in and outside the classroom, often without putting any special efforts. In a safe, comfortable and culturally stimulating environment, participants can learn all the time; they just need to keep their senses widely open and have the courage to share thoughts, ideas and impressions with peers.
Below, I would like to outline three take-home lessons from my encounter with Icelandic culture, mentality and values.
Trust leads to collective well-being
When you spend just a few days in Iceland, you come to understand what makes a country of just over 330,000 citizens so successful in economic, political and social terms. Wherever you go and whomever you talk to, you inevitably come across one specific word: trust, trust, trust. Mix trust with open-mindedness, respect for others, good education and a willingness to share ideas, then stir up that mix carefully and you end up with just the right environment for sustainable business, politics and lifestyle.
In economic terms, trust significantly reduces transaction costs (money, time, other material and non-material resources). In the political realm, trust provides for stability, accountability and long-term planning. In everyday life, trust nourishes the social fabric, bringing people closer to one another and helping them feel safe and comfortable.
During our trip to Reykjavik, we visited Hallgrímskirkja, one of the city's landmarks. Visitors can walk around the ground floor of the cathedral for free. If they want to climb to the top to enjoy a panoramic view of Reykjavik from above, they have to buy a ticket for close to 7 euros from the small souvenir shop inside. Having climbed up, one of the summer school participants brought to our attention the simple fact that nobody ever checked whether we have entry tickets or not. The program coordinator's reaction spoke for itself: an expression of surprise, accompanied by something like "Yes, that's true, but we buy tickets anyway."
Honest and direct communication leads to improvement
Related to the value they put on trust and accountability, the Icelanders love honest and direct communication. The Icelandic approach to existing challenges and problems is markedly straightforward: we have a problem, we need to discuss its causes, potential consequences and solutions, we should accept both positive and critical contributions from all stakeholders so that we can come up with the most appropriate solution.
The Icelanders value open discussions even in the case of good projects, as the good can always become better. For example, in the end of the summer school, all the students, four out of the six professors and the program coordinator gathered for a roundtable discussion about the positive and negative aspects of the program. An hour and a half after the discussion kicked off, the organizers had a very good understanding of what had worked well and where they still have room for improvement.
What I think makes the Icelanders even more successful and innovative is their willingness to share knowledge and experience, and work in teams. During the summer school, we got the opportunity to visit the Ocean Cluster House in Reykjavik – a hub that brings together professionals who share expertise, experience, and business ideas in the marine industries. The founder and CEO of the Ocean Cluster House, Thor Sigfusson, took us on a tour around the building while explaining his vision for the hub. To get an office and make proper use of the services and contacts provided there, Sigfusson told us, entrepreneurs should have passion and good ideas, and appreciate the value for cooperation. If you prefer to keep your ideas for yourself and work behind closed doors, you should know from the very beginning that the Ocean Cluster House is not the right place for you.
Personal responsibility leads to happiness and prosperity
If we want to live in a safer, more peaceful and more prosperous world, we should all master the art of reflection and acquire a clear sense of personal responsibility. Instead of searching for external explanations for our mistakes and failures, we should start looking at ourselves in an attempt to see where we might have taken a wrong turn. In the hectic and information-rich world we live in today, we need to get into the habit of thinking about our own health, relationships, values, hopes, dreams, interests, concerns, disappointments, and short- and long-term goals.
Complaining 24/7 won't take us anywhere. Indifference and apathy won't help us, either. Instead, we should adopt a more constructive approach whereby we know what we want to accomplish, have a plan how to do it, and strive to contribute to the common good by making proper use of the ideas, energy, time, knowledge and skills we have at our disposal. If we genuinely want to contribute to the well-being and progress of our species, we should first get to know ourselves better. I really liked the idea, which came up in one of the sessions, that we don't really fail but simply stumble over every now and then on our way to happiness and success.
Original article @mladiinfo.eu