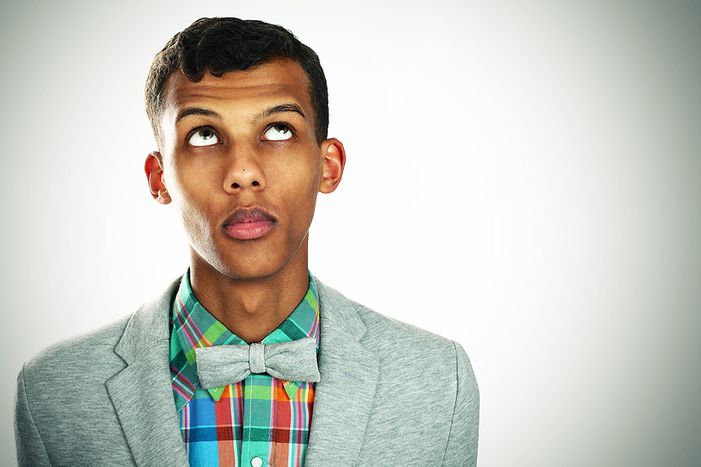 Stromae: 'Role model? Me? At 25 you shut your mouth and listen'
Published on
He picked up the Belgian Hit Of The Year award for 'Alors On Danse', but the skinny singer insists he wants to move forward from his chart-topping eurodance hit - which conquered most of Europe in 2010 – as well as move out of his mother's house. Interview
Every now and again you get a pure dance anthem to rhythm out the walls of the decades: the Scottish DJ Blueboy's Remember Me in 1997, or the eurotastic Dragostea Din Tei by Moldovan band O-Zone. It's a dubious mash-up, but you get the idea – thudding repetitive rhythms mixed with foreign words to spice up the mix. 2010's charts handed the honours to Belgian musician Stromae. From Germany and Switzerland to Austria and England, Stromae's alter ego Paul van Haver admits he couldn't have imagined the success a French-language hit could bring to Europe; the single Alors On Danse ('And So We Dance') topped the charts in fifteen out of the twenty-seven countries of the European union. 'It was exotic and original enough I guess,' Stromae explains at the Transmusicales music festival in Rennes, north-western France. 'In a perfect world I want to believe that people understood the message, at least through the video.'
Stromae, everyone's man
In the music video, van Haver is dragged across split screens from the tedious pores of a dead-end desk job through the motions of daily life on the street and finally to a club before being slumped back in his office chair. 'The song is about nightclubs,' says the 25-year-old from Brussels, whose trendy reindeer-esque jumpers, brightly coloured socks and easy moccasins hide his skinny frame. 'I used to party a lot. I'd see people like myself drinking, looking and pretending to be happy but I saw sadness in people's eyes. I criticised it initially but then I came to like it; it's not about being as sad or as happy as working for a living, for example.'
Stromae isn't slumped in his chair this afternoon at the Transmusicales, though he is full of modesty despite his gigantic continent-wide success. The jarring clue is also in his stage name: 'Stromae' is a typically French slang called 'verlan', where you inverse the first and second part of the syllables in a word, in this case 'maestro'. He claims he speaks a little English, that he's 'not that good', but he manages well when it's one-on-one and he's prone to taking the microphone himself to direct a press conference, choosing to engage actively in a crowd rather than be dominated by it. '[The festival's organiser] Jean-Luc Brossard really had the balls to get someone like me along, someone popular,' he explains about his residency at the four-day indoor music festival. It's helped the grateful Stromae actively fight his mainstream, teenager's favourite image. 'There were lots of young people at my shows but then came the more curious adults. I want to speak to everyone.' Add to that a dollop of his hard work ethic for appeal's sake: 'I wrote and composed everything on my album myself. I sleep, work and breathe my work. You've got to rehearse as if you were at school; I recite my lyrics at night and if I make a mistake, I start over.'
Belgian, not Rwandan
Stromae has questioned if his music was successful because it was exotic for a European public, but 'exotic' is another word wrongly pinned on his hind. He has a Rwandan father but he refuses it to be one of his defining features. 'I never really had any attachment. My family is Belgian and lives here,' he replies honestly and firmly. If he is a role model, he claims, it's down to the media and his success. 'Aged twenty-five you shut your mouth and listen,' he smiles. 'I would never claim to be anyone to try to teach anyone anything. The only message I'd pass on is to smile and say cheese. I'd also say that anyone can make music, as you can see from my own.' Van Haver started rapping at sixteen after having played percussion from the age of twelve and being raised in a house which played a mixture of French rap and Latin music. 'Entourage' is a more convincing keyword in understanding who Stromae is today; two of his brothers help manage his career and he still lives at home for the moment, though not for long, he smiles.
'I never really had any attachment to Rwanda'
All that's left is a man waiting to break through the cocoon. If his lyrics are anything to go by, he's one to watch. One song on his latest album sees him singing about paedophilia and domestic violence from the point of view of a young child. 'I asked my family and friends if it could be too shocking or extreme to talk about sexual abuse in the household but I think the taboo is the main problem,' he finishes enthusiastically. 'It's sad, because everyone knows someone who has experienced that kind of stuff.' As Stromae embarks on a year of touring and festivals he'll be certain to see some more of those raised arms across packed venues which pleased his modest yet confident self so much as here in Rennes. He's able, charismatic and despite claims he's a nobody to heed, he proved the contrary when he first worked out the truth behind why people dance until dawn.
Images: main (cc) @Dati; in-text ©Renata Burns; album cover courtesy of Stromae at myspace