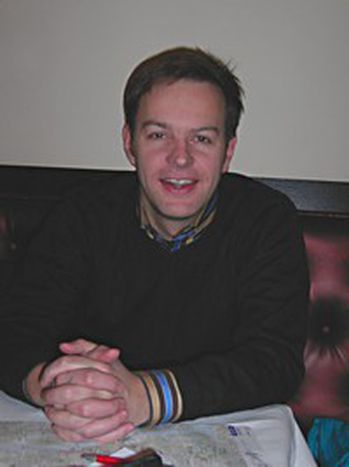 Steffen Möller, the "nice neighbour"
Published on
Translation by:
fiona wollensack
In Germany he is a nobody, in Poland he is a star. Ten years ago Steffen Möller moved from Germany to Warsaw. Now everyone in Poland knows him as the funny German off the television.
"This is my favourite restaurant" Steffen Möller says as he pushes open the door to an Italian restaurant. "I really like coming here, back there is my table". With these words Steffen Möller directs me to a welcoming, comfortable looking corner table.
Outside, at the corner of Solidarnosc Street, the dreary winter grey drapes the Eastern Bloc charm of the Polish capital. Inside, it is a western paradise– pretty ladies and well dressed gentlemen sit at unashamedly comfortable leather upholstered benches, whilst the ceiling of the restaurant, elaborately decorated with plaster, reaches for the skies. The people sitting at the black wooden tables are talking shop during their lunch break, switching between Polish and English as they do so. They drink black tea served in pots and order Pizza Ruccola and spaghetti "Frutti di Mare". Welcome to the new Poland.
"I always wanted to live in Italy"
In the midst of all this sits Steffen Möller, a fairly inconspicuous guy in his mid thirties, with a well-kept short hairstyle, today sporting jeans and a jumper and with the "Gazeta Wyborcza" under his arm – which, as I later learn, is his favourite newspaper. It is clear that he feels at home here as he basks in the looks from the waitresses as they try to interpret his every move. "Truth be told, I always wanted to live in Italy, in Florence" says the former theology student. "But in the end I really didn't like it."
A two-week language course in Krakow was all it took to tear him away from 'Italy complex'– that's how the "German-in-Exile" refers to his soft spot for the country. "I felt that the mentality of the Poles suited my nature – simple as that", and with that Steffen Möller arrived in Poland. His only luggage was his degree in theology and philosophy and very rudimentary Polish.
The nice German Neighbour
To begin with he earned money as a German teacher at a Polish high school, and later gave lessons in conversational German at the university in Warsaw. But after six years he had had enough of noisy school children and lazy students. "I had something of a crisis, an upheaval, and I moved to Krakow." His eyes light up as he remembers his first attempts as a cabaret artist there and his radio debut in Artur Andrus' show, Poland's number one stand-up show. Second place in a cabaret competition helped him garner a role in Poland's favourite TV series "M jak Milosc" ("L for Love") and his big breakthrough.
"The series is the social event in Poland, it is the hit television show" he enthuses in a bubblingly self-confident way. "It is watched by 10 million people and is aired at prime-time". Steffen Möller is the showpiece German, the "nice neighbour". A farmer who grows potatoes, runs a pub and is permanently unlucky in love. "For many rural Poles, I am the only German they have ever met" Möller comments, pointing out that "though there are increasingly more Poles in Germany, the other way round is more the exception than the rule". Given his special status he has become something of a cult figure, significantly influencing the Polish perception of the Germans. Everything that Steffen Möller says or does on TV is instantly considered typically German.
One can like Europe
One thing is for sure – he would never take undue advantage of his position, especially not for political ends, given that he is really not that keen on politics. "I quite like the fact that I can keep out of political issues. If I consider how much time I would have lost in the run up to the German federal elections if I had always had to debate politics with friends!" says the Pole-by-choice.
The time Steffen Möller saved there has been used for other things. Three years ago he got a part on the TV show "Europa da sie lubic" ("One can like Europe"), a quasi talk-show in which, accompanied by "polophile" Europeans, he does what he likes to do best – getting to the bottom of the differences in mentality which exist amongst Europeans. In addition he hosted the first series of the Polish version of "You bet!" and has started to write a book on the Polish personality. "My book is utterly unimportant, all that matters is the Polish mentality" he insists.
The Bundestverdienstkreuz on one Lapel
The successful cabaret artist quite deliberately chooses to leave critical topics out of his show. Jokes about the Poles can be found, but only ones without a political punch-line and, more importantly, without reference to the Pope. Because if Steffen Möller has learnt something, then it is to respect the Polish mentality and to practice self-restraint. "German directness is an absolute no-no here" he reports. "One does not criticise another person directly to their face. One doesn't say anything; only in the most extreme situations does one dare to say a few harmless words."
But even without a clear political direction – or perhaps because of his lack of one, the media star collects prizes like others collect stamps. In addition to the highly desired Polish TV prize "Telekamera", he has also had the German Bundesverdienstkreuz (the highest honour bestowed by Germany, usually to citizens for services to their country) pinned to his lapel.
Just between you and me, Mr. Möller, do you sometimes think back to the time before you were a star? Why really did you stay in Poland? "Because I like the mentality, the language and the people – and of course the women!" Ha! Exactly – the women! He has not yet found the love of his life, but he has the love of life – a love that he, one person, extends to forty million others.
Translated from Steffen Möller, der "nette Nachbar"