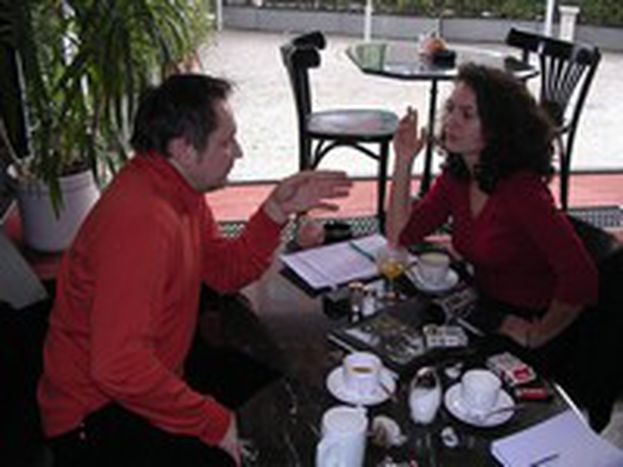 Stanislaw Mucha, the quest for the centre
Published on
Translation by:
ruth ahmedzai
Polish director Stanislaw Mucha has been led all over the continent by his cinematographic research to find the 'centre' of Europe. Cigarette in one hand, cup of coffee in the other, he talks to me about his films and the problem of EU enlargement.
"Are you happy? What's the most important thing in your life? And the least important thing?" This is how Stanislaw Mucha greets me when I met him for a coffee and a freshly squeezed orange juice. It seems to sum him up well. Anyone who's seen his latest documentary, Die Mitte (The Centre) will have noticed the flair with which this Polish-born filmmaker, resident in Germany, so casually addresses the most profoundly significant things in life. When I turn the tables in this game of questions, I discover that they are the same ones he directed at the people he encountered on his travels. "I thought, if I was going to find where the centre is, I would need to find the edges, the outer limits," says Mucha, with cheerful eyes twinkling from a still sleepy face. It's 10.30 on a Wednesday morning in Central Berlin, and Mucha looks like he could have done with a few more hours' sleep. Yet he seems content, like someone who has found his centre - if not quite the geographic one of Europe…
The Michael Moore of Europe
In Die Mitte, that is exactly what he was looking for. The director likes to recall the two years that he spent travelling to places in Central and Eastern Europe, "most of them in the arsehole of nowhere," but which all assert their claim to be located at the continent's centre. He is full of anecdotes. He tells me about the time in Poland when the drunken mayor of one town told him that he'd shit his pants trying, but he would never find the centre. "He was right about half of his prediction," Mucha says with a wink. In his film, Mucha shows the human face of the EU enlargement and has since been described as the Michael Moore of Eastern Europe.
But the comparison with the director of the film Fahrenheit 9/11 horrified him, "I lost 10kg at the very thought!" He doesn't even know anymore why he started making films. "It just turned out that way" he claims. Mucha has lived in Germany for ten years now and studied at the Konrad Wolf Film and Television Academy in Potsdam-Babelsberg; a qualification for which he left behind full-time employment as a company actor at the Old Theatre in Krakow. "It wasn't an easy decision," he tells me. It seems, however, as though it was the right one: now he can look back at a string of awards, including the Adolf Grimme Prize for Absolut Warhola.
He makes his films for himself – and against Brussels. "The idea of Die Mitte was, for me, an attack on institutional Europe." He doesn't hold out much hope that his film will exert a positive influence on the bureaucrats in Brussels, but he did make an appearance at the European Parliament with Absolut Warhola. "It was jam-packed in there. The [German TV station] ZDF helped organise it. I stayed to watch the film and then I left. I was so bored." He's woken up now, as have I – the coffee has done its job.
In the Polish jungle
Mucha tackles the theme of the EU's spread eastwards in his own particular style in the third film of his trilogy, Reality Shock, which is in the final stages of production. "The film is set deep in the middle of Poland's virgin forests on May 1 2004 [when 10 new countries joined the EU]. Suddenly, a UFO lands, which is a nice parable for EU enlargement – it's something that just sort of descends on people." Even if he sees enlargement as the only way for Europe to create a balance, so that something exciting can emerge, he claims that it has "trampled all over the people there [in the new member states]. I'm really angry about that." It's not exactly a look of fury on Mucha's face, but he's definitely beginning to break free of his attachment to Europe. "Now that I've nearly finished my trilogy with Reality Shock, I've finally got sick of Europe," he tells me. "It feels like Europe is all people ask me about as if I were some kind of specialist." The most important thing to him is to be close to the people he's filming: "I'm intrigued by the intimate sphere which is very difficult to achieve in a documentary, it's difficult to get close to people." To this end, he now he wants to work with actors, who are paid to do this: "a job's a job, and they have to do it."
Looking towards new horizons, Stanislaw Mucha is far from being settled in his manor house with his little dog (a pug) on his knees. His manor house? Yes, that's right! He has been living with a Bavarian Baroness in her manor house, Gumpertsreuth, for six years now. "Pug-owners have a natural affiliation" he jokes, ordering a cup a cup of Earl Grey. He then proceeds to tell me about his next project, and first feature film, Hoffnung (Hope). "Now I feel psychologically more mature, I feel like I have more to say", he says. What that is exactly, is not something he's going to give away to me now. He divulges only that his next film will be shot in Poland, in Warsaw, where hope doesn't come easily. "The scenario is exciting, it's got elements of a sensationalist film, but that's not what it is." Stanislaw Mucha will probably carry on defying genre classification, as someone who loves contradictions. One minute it might be the centre and the edges of Europe, but his passion also reveals itself when he talks excitedly about a waitress who poured her heart out to him about her husband "who would go to the moon for her". Mucha's favourite city is Warsaw, "a city of contradictions." Warsaw has become what a few years ago he had hoped Berlin would become; that is to say, a multicultural city. On the other hand, Berlin has what the whole of Europe seems not to have: a centre.
Translated from Stanislaw Mucha: Filmen gegen Brüssel