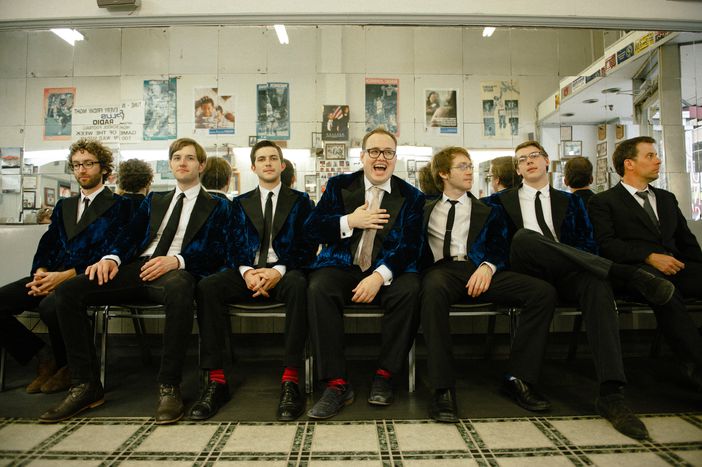 St. Paul and the Broken Bones: religion, rock n' roll
Published on
From almost becoming a church preacher in small town Alabama, and then an accountant, Paul Janeway, the lead singer of St. Paul and the Broken Bones, was close to never sharing his awesome talent with the wider world.
Perhaps, the most direct way to describe St. Paul's vocalist Paul Janeway is if British comedian Alan Carr was given the voice of the great Otis Redding.
Decked out in a black suit, replete with an Alabama pin and a red AIDS awareness ribbon, Janeway tells me the band's hope is to pay homage to their heroes, from Booker T. & the M.G.'s to The Muscle Shoals Swampers, albeit with the obligatory modern twist.
Janeway's warmth and confidence transmits to an impressive stage presence, captivating audiences and drawing in new fans with every gig played. Tenuous perhaps, but maybe it has something to do with his religious upbringing, having been trained to be a preacher when he was a teenager?
"Yeah, for me the whole music experience is spiritual in general for me – I don't want to put lofty goals on it but anytime a group of people get together and there's music exchanged… it's not all the time but I think when you have this moment where someone's baring their soul, the crowd's kind of receptive to that. There's this moment of "Oh… what is going on here!" That to me is a spiritual thing."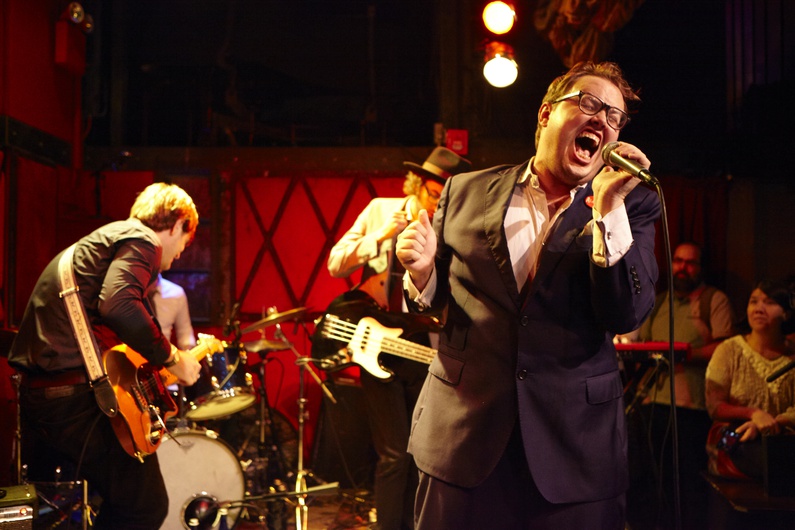 For someone from a small town in Alabama, a community of around 700 people, religious conservatism pervades almost every aspect of daily life. We're talking the day after the US Supreme Court voted to legalise gay marriage across all 50 states – and Janeway is ecstatic.
"It was amazing, I was almost in tears. It's weird being over here and that happening. I felt patriotic - and that's not all the time! In Alabama, that's taboo, that's a sin. You start realising that kind of stuff and your world view changes. Parts of this I like and parts of this I don't – when you think of someone like Gandhi, if there's a heaven, that guy's in it! You know what I mean?
"But in Alabama that wouldn't be the case as he wasn't a Christian, so you kind of start living beyond that and I kind of fell out of love with it. I always say that if God and I had a Facebook relationship status, it'd be 'complicated', you know what I mean? But I don't think I'm in the minority of people that are that way - I think everybody has a share of this but, yeah, it's still there." Hence, the ironic 'St. Paul' bit in the band's name.
Bank teller to front man
Now riding the wave of the recent US soul revival movement, along with the likes of fellow Birmingham natives Alabama Shakes, Janeway was actually close to calling it quits on his musical dream, working as a bank teller and going to community college.
"I was in accounting school and I had been unemployed… me and my dad and sister were living in a two-bedroom apartment and I didn't have a job or anything going for me. I thought, "I gotta figure my life out".
"And me and Jesse [Philips], who's the bass player in this band, are really good friends and we were just like "we're obviously going on this path" so let's just make one last record of our musical relationship and call it over. "This was us" we have a record of it, we had a good time."
Yet, this wasn't going to be another story where a musician's talent is consigned to the daily grind of a 9-5 job. Rather than a last hurrah, it was a second wind.
"The first song we recorded was "Broken Bones and Pocket Change" and it was then that I knew this was something I'm really going to have to pursue. You know when you're suppressing that voice, something inside of you going "oh, you need to be doing this." I mean, who doesn't think they shouldn't be singing - you know what I mean?"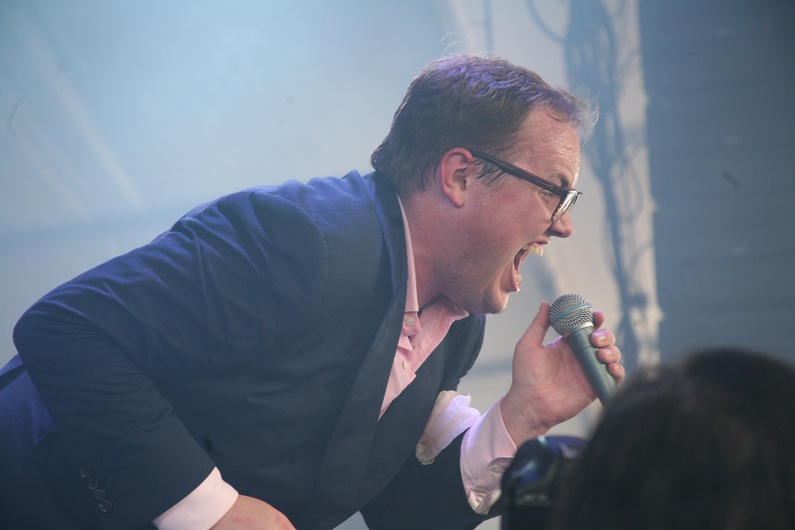 They quickly assembled a band, complete with trombone and trumpet players, curated around Janeway's old school soul screamer style. Five months later, their debut album Half The City being produced by Ben Tanner of the Alabama Shakes.
They've already begun writing the next record, which is "going to be deeply rooted in R&B and groove stuff" but this time there will be more breathing space, touring and time to introduce themselves to crowds around the world.
The varying gig etiquette across countries has piqued Janeway's interest, especially in France.
"Back home, it varies, because they can get a little rowdy. But here, most of the time the French crowds are very respectful. What I've noticed is they'll applaud and that's it. And when you're done with the set, they'll just go crazy! And you're like, "Oh, you like it!" There's an obvious language barrier… I know "bonsoir" and they told us, if you can just say a couple of words in French, you win. I've got that."
He's right - whatever it is, he has it, they have it, and crowds across Europe will hear it soon enough.
YouTube: St. Paul & the Broken Bones - Half The City (Live on KEXP)