''St. George Papandreou''
Published on
Chinese investors are furious with the Greek bureaucracy since the latter forms a huge obstacle to their investment plans in Greece. Through OLP, the port-authority of Pireaus, the Greek state creates problems for COSCO and its investment in Pireaus, and therefore Chinese officers demand from the Greek Government to clarify their intentions.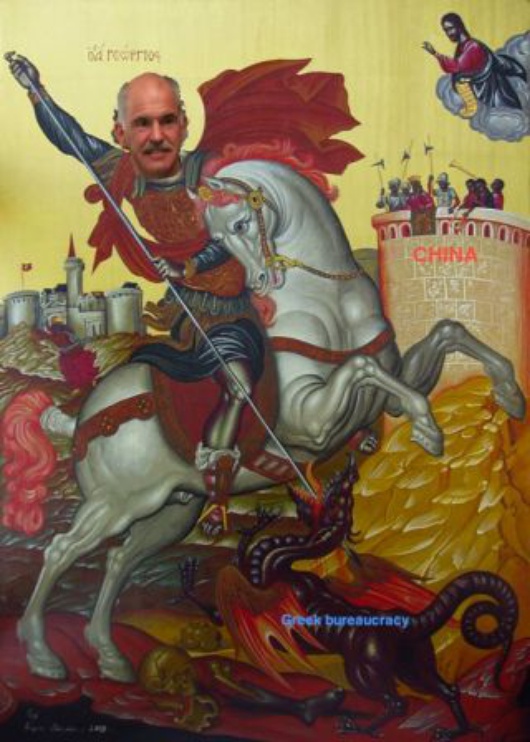 ''St. George Pap. and the dragon of Greek bureaucracy..''
''If you dont want any other Chinese investment simply inform us. But if you still want China to invest in Greece you have to prove it'', is the message sent by Beijing, almost two week before Chinese Prime Minister Wen Jiabao arrives to Athens.
Mr. Jiabao along with the Greek PM Papandreou are about to arrive in Pireaus on the 3rd of October in order to discuss the framework of the Chinese investments. Until that day where an overall negotiation will occur, the Chinese warn Greek officials that China is reconsidering from a zero basis its initial plans of making Greece the ''chinese bridge'' to Europe.
In Beijing, they regard as top priorities to create a commercial rail center in Thriasion and COSCO to enter to the port of Thessaloniki. Plans also include the management of the Kasteli International Airport, which is under construction in the island of Crete.
The Greek government is trying to calm down the Chinese until the 2nd of October, realizing that way the political and economic importance of such an investment.
However, I cannot still realize how a country, which tries to convince the international community that is still a ''serious'' state and that is going to reform and progress,  is able to create so many problems in an investment of such a scale. Greece has not the luxury of leaving such investments!
The monster of the Greek bureaucracy holds away any potential foreing investment. Instead of renaming the ministries, Papandreou has to prove that is a capable St. George in order to kill the dragon..
Georgios Kokkolis