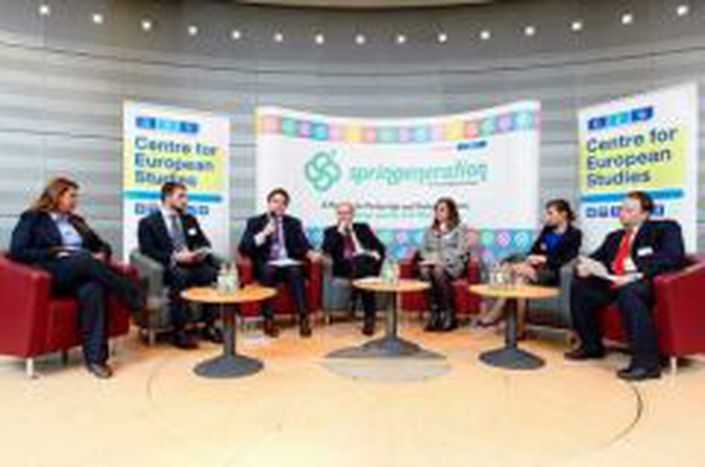 Springeneration: from political survey to public opinion
Published on
By Jan Nils Schubert What if the opportunity was given to "Arab Spring" witnesses to express themselves on their idea of potential partnership with Europe? That was this question that gave rise to the "Springeneration" survey. Nine of its participants were invited by the Centre for European Studies (CES) to discuss some of their views in the European Parliament on November 16th.
A survey, a conference and a general consensus
Conceived as an interactive forum, the "Springeneration" survey was launched at the European People Party (EPP) Congress in Marseille in December 2011. By June 2012, 70,000 participants from countries in the Middle East and North Africa (MENA) had expressed their concerns, hopes and dreams for the future, and on potential partnerships with Europe. As a follow-up, nine participants from different countries and age groups were selected to speak at a conference attended by high level officials from the European institutions.
Focusing the discussions on education as a core issue to stable democracies, the conference stayed in line with the main concern raised by the survey. Other themes such as economic opportunities in the MENA countries, human rights, religious issues or the dream of an Arabic union were also raised by the organizers and their guests. And despite some differences of opinion, a general consensus seemed to pervade the session; this was particularly true on the question of the necessity of democracy and the need for European assistance in achieving it.
The guest-speakers were randomly chosen among the participants of the survey, without considering the expressed opinions. However, all of them spoke perfect English and had some sort of higher education, which seemed to restrict the pool. Concerning the survey, the figures show a high participation of people aged from 24 to 34 (over 80%). This can be partly explained by a strong advertisement through social media and the higher use of the Internet among these age groups. However, the question arises: do these figures not undermine the impact of the survey as a general opinion of people in the MENA countries?
Questioned on this observation via e-mail, Ana Maria Martin (CES Project Assistant) answered by the following statement: "The fact that there was some consensus on core issues probably stems from the fact that those who participated in the survey likely tended to already have a common interest in politics and democracy, foreign relations and European issues, as well as a similar education."
Despite the stated goals, the survey seems to have its limits. If some of the speakers were optimistic on some common solutions to the region's challenges, others outlined the differences between the MENA countries. Every country is specific and must be treated as such, in order to prevent any global and potentially destructive action.
Addressing the guests, Antonio López-Istúriz (MEP for the Christian democrats) concluded the conference with these words: "Your voice has been heard!" And according to Ana Maria Martin, the EPP and its political foundation, the CES, "will be in the lead to promote a stronger cooperation with the MENA region."
(Photo Credits - David Plas)