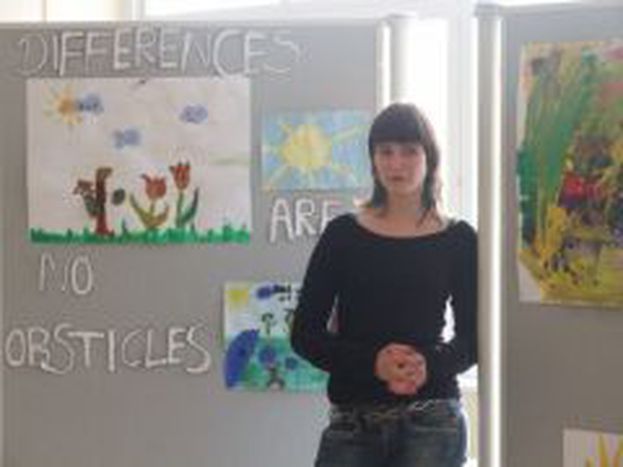 Special Europeans for special people
Published on
"It is just a small step. But now, those ones who did not feel like even sitting together with a disable children, are doing so. They are not afraid of doing it anymore.
"
Katrin Hirsch, an energetic German brunette arrived in Estonia for working into the European Voluntary Service (EVS) framework is all smiles when during the 5th of May, in an hall of the Saksa Gymnasium in Mustamae, she inaugurates a small exposition, follow up of a greater event organized some weeks earlier in the rooms of the central Euroopa Maja, 'The House of European Union'.
And I must say that if EVS goals are also to increase solidarity and make Europeans aware of what being part of the same project means, today's event can surely be recorded as a successful example which need to be shared and exported elsewhere soon.
The international audience (there is people from Macedonia, Spain, France, Hungary, Italy...and Estonia, of course!) is visibly captured by the works exposed: nothing is not even close to a Picasso nor a Matisse, it is true, but the power coming out from the colors and the shapes marked on the papers, the faces of smiling suns painted in bright skies are the best signs for understanding how much, a project like this one, brought to its participants.
"It is amazing to see a foreigner spending so much energy in for making my country grow" compliments someone when the German teacher of the school gives Katrin some flowers. " We are glad that she agreed to come to classes and talk about her experience" she says. " It is important for everyone to understand that disable people are like the others, are people with special needs" and not condemned to live hiding as it still happens around here.
The ceremony is quick and informal but, once we all left the building, there has still been time for some talks: "You should have seen them when they were painting. They where happy!" comments a girl reminding me that I did not make it on the 25th .
" I do not want to leave this country" says Katrin " I wish I could stay here and keep working in the same field once my EVS will be over" and according to what we have seen today, she really knows what she is talking about.
Anyone interested?