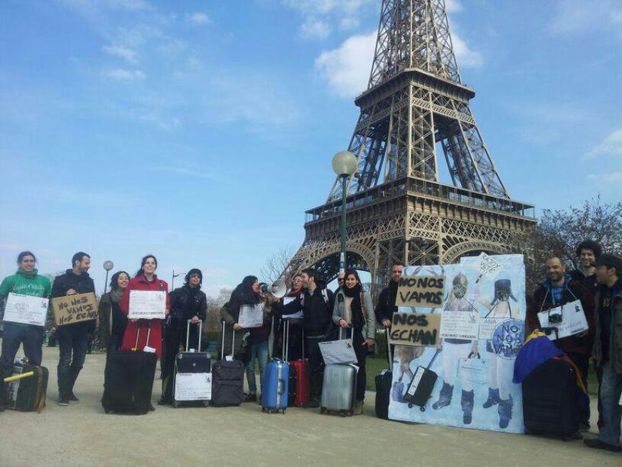 Spanish Immigrants in France: The Good, the Bad and the Ugly (Part I)
Published on
In the last four years, more than 25,000 Spaniards have arrived in France, ready to find the job opportunities that Spain hasn't been able to afford them. The figures provided by the Spanish Embassy are constantly rising, and the Government insists that the numbers may even be three times higher, because registration isn't compulsory. Some of the Spaniards living in Paris share their experiences.
In early September last year, Spanish filmmaker Icíar Bollaín premiered her documentary, En Tierra Extraña ('In a Foreign Land'), a portrayal of the conditions experienced by Spaniards who have emigrated to Edinburgh in the last few years and their motivations for doing so. Spain's 'lost generation', 'young people with no future', and the 'outward mobility' which is leaving the country with a 'taste for adventure'. Call it what you will, there's a generation leaving Spain in search of opportunities that they can't find in their homeland. Although a lot is said about the United Kingdom and Germany, France – and Paris in particular – is another one of the countries where the most Spaniards live. The proximity to Spain and the familiarity of the language – clearly easier than German – attract close to half a million Spaniards. At CaféBabel, we wanted to speak to some of the Spaniards living in Paris and find out about their impressions and the stories which have brought them to where they are now.
According to the figures provided by the Spanish consulates in France, a total of 238,612 Spaniards were registered as residents in 2013, which is 8,239 more than in 2012 and 26,761 more than in 2010. However, the Spanish Embassy insists that as it isn't compulsory to register, they may not have the real figure regarding the total number of Spaniards living in France.
The sectors hit worst by the crisis
In the case of Spain, when the real estate bubble burst and the construction industry took a nosedive, the architecture profession was especially affected. After six hard years studying at the Technical University of Madrid – one of the most demanding in the country – Ana Rosa left the city which had taken her in during her studies to head for Paris. It's been one year since she arrived and she's just moved into a flat near Bastille with her partner, who is also Spanish. They pay just over €1,000 for this small apartment, consisting of a tiny kitchen, bathroom and a modest bedroom which also acts as a lounge and study.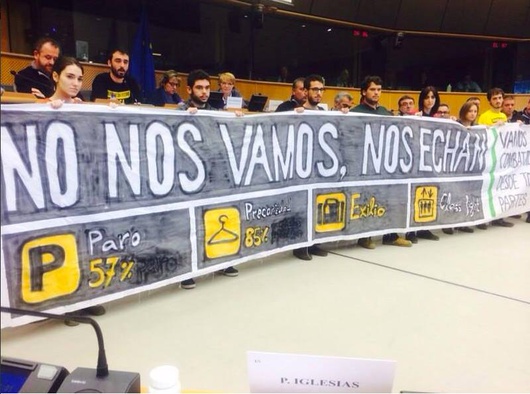 Ana admits that she didn't send off a single CV in Spain: "I knew several friends who were working in studios and their conditions didn't appeal to me at all. I didn't want a bad first experience to shatter my dreams," she says. She points out that her first month in Paris was "very difficult", with the city giving her one disappointment after another. As well as having to search for a job, she also had to look for a flat and do a whole series of administrative tasks, such as registering with the Consulate, which she was putting off doing out of laziness and because the Consulate itself made out like it wasn't important to be registered as a resident. She moved into a small room measuring 12m2 – bed, kitchen and bathroom all-in-one – which she rented for five weeks and from there she moved to a flat shared with two other foreign women, where she lived for a year just before moving in with her partner.
Just one month after arriving, she found a job in an architect's studio. Despite admitting that when she arrived, her lack of experience meant that she was willing to accept certain conditions regarding her salary and working hours, the job interviews didn't give her good vibes: Her employers were looking for students to give contracts and internships to. One company finally offered her a contract for a set amount of time. Six months later, on the day of her departure from the firm, they offered to renew her contract for another month, but she had been very astute in already getting another job – with a fixed-term contract, of course. Ever since then, she has been working for a new studio where she is very happy, albeit a little uneasy again, not knowing whether they'll keep her on. She's had to wait until January for them to tell her whether or not she'll still be working for them in February.
Has she made the right choice in coming to Paris? "Yes, I know that if I were working in Spain, the conditions would be much worse – both in terms of my wage and working hours – and that's only if I'd actually found the opportunity," she says suspiciously. "I'll be staying in Paris for the time being, because I can see more possibilities of growing here," she adds.
From a Master's graduate to a maid
I come across Rosa by accident after finding some photos on Facebook of a protest led by young Spaniards on the streets of Paris; their banners read: "No nos vamos, nos echan" ("We're not leaving, they're throwing us out"). Rosa studied journalism in Malaga and then she went to Madrid, where she did a Master's degree in International Relations. Thinking that she wouldn't find any other work apart from an unpaid internship, Rosa decided to be an au pair to look after the children of a family in Geneva. After a bitter experience lasting two months with parents who breached the contract time and time again in relation to the agreed hours and tasks, she caught a train and moved to Paris, again as an au pair.
"I didn't have the money to leave Spain on the off-chance of finding work," explains Rosa. "And it was a way of learning languages and having food and a roof over my head. I had a friend in Paris who had to leave her host family for personal reasons, and I came to take her place. I'm quite a bit better here than I was in Geneva, but it's infuriating not being able to work with what you've studied for," she complains. This position as a nanny is an option for many young people – especially young women – given how attractive the offer is: Wages can vary between 200 and 500 euros plus accommodation, public transport passes and food, in exchange for looking after children in the afternoon and some evenings in the week. Like Rosa, a large amount of aux pairs leave their host families in the first few weeks, because the conditions don't match the ones which were agreed.
As a result of her bad experience as an au pair, Rosa decided to create a Facebook page to help people who, like her, found themselves in a difficult situation: "SOS au pair". "In Geneva, I went from working five hours a day to eight, and from helping out with the household chores to having a timetable, made by the mother, telling me exactly when and how much I had to clean," complains Rosa. An au pair contract has a maximum of 30 hours per week, supposedly dedicated exclusively to looking after the children.
Strangers in Paris
Another sector where people are trying their luck in France is public health. Doctors and nurses, in particular the latter, are looking for better working conditions and better offers than those made currently by the Spanish National Health System. Such is the case with María Ruiz.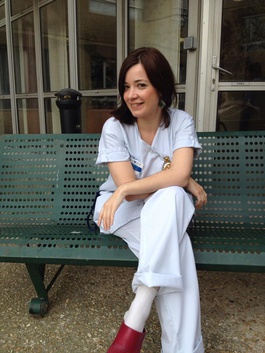 After working for a year in the South of France, María applied for a job in the public hospital system of Paris, APHP ("Assistance Publique – Hôpitaux de Paris"), where she managed to get into an oncology department. Even though she seemed to have realised her dream, María came across a boss who reproached her for her accent and was distrustful of her because, as she put it, "in Spain, the health service isn't the same as in France". María explains that that was an exception: "I never had any problems with my colleagues, with doctors, families or patients, and I've still got friends there," she says. She moved to the Emile Roux hospital, again part of the public healthcare system, and now she's proud to be sure of her position in the hospital, helping to train other nurses in certain nursing techniques.
"It was always very clear to me that I wanted to experience living and working outside of Spain," explains María, "but I never thought I'd be almost forced into doing so, and in the end I was: I could either leave the country or never work as a nurse in my life – that's how sad it was."
María has fallen in love with the city, although she does admit that adapting to society was difficult: "At first, when you don't speak perfect French, they pull a face like they don't understand you (even though they do)," she recalls, "they made me feel out of place, I've always felt like an immigrant here, it's as if they were doing me a favour in giving me a job. That's not just in the workplace; it's when you go shopping as well… But to be honest, walking through Paris makes me forget everything. I don't think I would be able to lead the life I lead in Paris in Spain. For the time being, France has given me the security and professional recognition that Spain wouldn't even be able to offer me in 20 years' time."
Read the second part of this series here.
Translated from La cara y cruz de la emigración española en París (I parte)