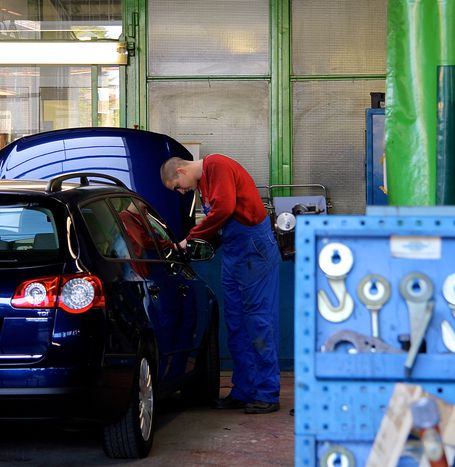 SPANIARDS IN GERMANY: wHAT ON EARTH IS THIS GENITIVE MALARKEY?
Published on
Translation by:
Hannah Critoph
They are young, educated and driven. Yet with no prospects in their home country, many Spaniards are trying their luck in Germany. Ricardo Garcia Méndez is among them.
Osnabrück. Ricardo can still vividly recall his first week in Germany. It was April, and cold: much colder than in his Spanish hometown of Vigo, Galicia. Arriving with only a smattering of German yet high hopes, he was confronted with rye bread, weiss beer and a level of punctuality bordering on the painful. After seven months in Osnabrück, punctuality has become second nature to the 21-year-old automotive mechatronics engineer, as has precision - something on which his German training supervisors lay much emphasis.
Now when Ricardo lays down under a car in his overalls, no movement is amiss. With speed and proficiency, the 21-year-old fixes nuts onto the right screws, takes engines apart and refits rear windscreens. "Car cosmetics" they call it here, at Osnabrück's Volkswagen centre, where Ricardo has been working since 5 April.
What on earth is this genitive malarkey all about?
Ricardo is one of 19 Spanish apprentices to have arrived in Osnabrück in April for a three-month "test drive" of working life in Germany. The project is the brainchild of Jürgen Claus from the Department of Education, Culture and Sport of the administrative district of Osnabrück. He knows that the prospects for young Spaniards have been pretty dismal in their home country since the crisis hit. According to current statistics, unemployment in Spain stands at 26%, with youth unemployment higher still at 55%. "If we don't do something about it, who else will?" asks Jürgen Claus. Since 2011 he has already set 40 Spanish apprentices up with work experience in Germany. In October 2013 a further seven youngsters will embark on the same journey that Ricardo once made.
By Spanish standards, Ricardo's day starts early; by nine o'clock he is expected to be in the workshop. After a quick "Hola chicos", it's German only from then on, as Ricardo needs to practise. "Communication was a struggle at the beginning," he says. "I understood little and would just nod, hoping that I hadn't been asked a question." Self-consciously, he laughs, and two dimples creep into the cheeks of the six-foot-tall man. One question comes up again and again: What on earth is this genitive malarkey all about?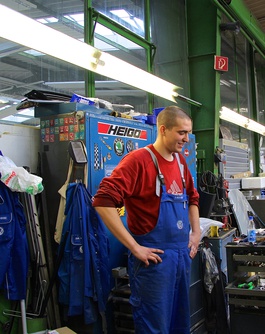 Ricardo's workplace specialises in bodywork damage. Broken-down cars, dented crumple zones and, every now and then, write-offs may be nursed back to health by the automotive mechatronics engineer. "The work is a lot of fun," he says. "No two cars are the same." Oily-fingered, he then bends down over the open bonnet and uses a screwdriver to delicately retighten loose screws. The feedback on his work is mostly positive. "We are a business with 113 people. It's crazy how well Ricardo has fitted in, despite the linguistic barriers and his sheer size and strength," says Helge Stütze, Ricardo's mentor.
Such high praise leaves Ricardo blushing again slightly. He pretends not to have heard and shyly slips both hands into his work overalls, on which a badge proudly bears his name in big letters. The badge implies that this is where he belongs. That he has made it. Ricardo is employed as a specialist at the Volkswagen centre. He brings in over 2,000 euros per month in gross earnings and has a fixed contract until at least August 2014. Just like him, a further 10 of the original 19 apprentices have signed employment contracts. Jürgen Claus sees this as a sign that his idea is a success.
When work is over for the day, Ricardo likes to take a trip into Osnabrück's old town, where he treats himself to a German beer or two. Is there anything - apart from German beer - that he really likes about Germany? "Salchichas – sausages," he says. And there it is again: the self-conscious laugh. Lost in thought, he stares into his cool weiss beer, as if it might hold the answers to his many questions. Will he manage to settle permanently in Germany? Will his girlfriend Raquel, who followed him six weeks ago, get a place as a medical student? And will Spain ever recover from the crisis?
Sun, sand and sea - a far cry from Germany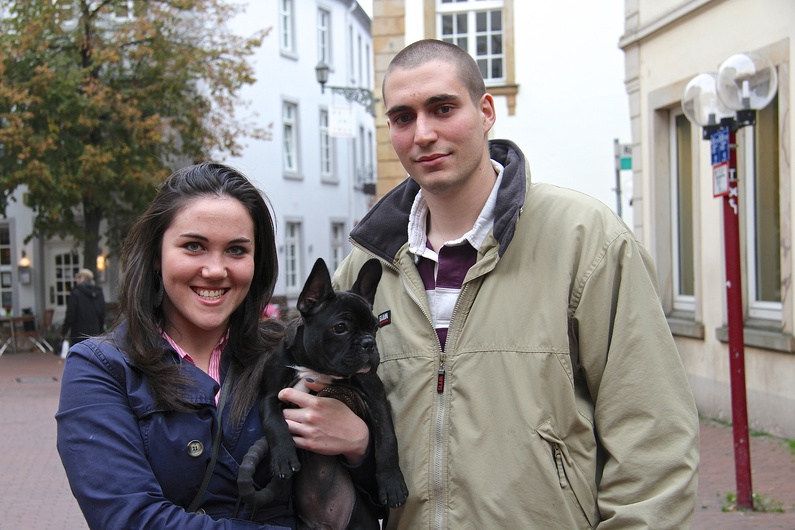 Ricardo's eyes light up when he talks about "la vida española". You can see how much his home country means to him. Nevertheless, the 21-year-old knows that he would have no future in Spain right now: "If I were in Spain now, I would be jobless," he says. Many of his friends who have stayed in Spain are out of work. By contrast, in Germany Ricardo is now even able to afford his own apartment, which he shares with his girlfriend and their puppy, Bruce. This four-month-old boxer pup is the centre of Ricardo and Raquel's world and makes living abroad in Germany that much more homely for the couple.
The couple bought the dog on the same day that Raquel left Spain, before driving some 1,200 miles, bound for a foreign country. "We arrived without a sofa, a TV, or even so much as a clue as to what we were letting ourselves in for. But we had a dog," says Raquel, a real chatterbox. Do they get homesick? "We mostly miss our friends and family," says Raquel. And so the couple are planning to fly back home, to Vigo, for the Christmas period. With Bruce in tow, of course.
Hand in hand, the two go for a stroll that takes them past Heger Tor, through the old town and to the park. A young, optimistic couple and their dog heading off towards an unknown future, neither of them knowing what it holds in store.
Translated from Spanier in Deutschland: Was zum Teufel ist dieser Genitiv?