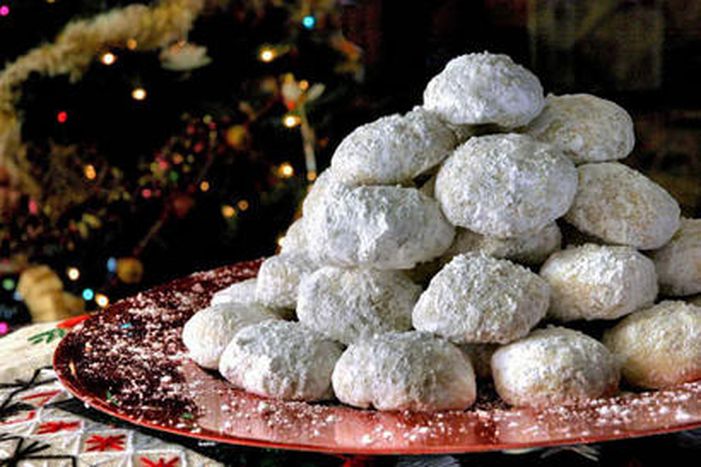 Smells like Christmas
Published on
by Helene Varvaritis-Tourikis EVERY homemaker in Greece at some point in December will say ''Tha ftiaxo kourabiedes yia na mirisi to spiti Christougena'', or I'll make kourabiedes for the house to smell like Christmas.Christmas celebrations are not only marked by sparkling decorations but with the holiday table laden with the three core sweets found throughout Greece.
Apart from kourabiedes (butter biscuits), there are another two Christmas specialties, melomakarona (spiced syrup biscuits) and diples (fried pastry twists). Kourabiedes are made throughout Greece, with slight variations depending on the region. Some recipes use sheep and goat's milk butter, others use cow's milk butter and some recipes substitute the butter with olive oil, an interesting alternative. The common denominator, however, is that these biscuits are always covered with icing sugar and melt in your mouth.
Both melomakarona and diples take advantage of the new season walnuts and honey, a distinctively Greek combination. Melomakarona that are filled with walnuts are known as finikia in parts of Greece, named after the Phoenicians from whom the Christmas sweet originated. Light and flaky, diples are drizzled with honey, walnuts and cinnamon, so always use a good-quality honey and fresh walnuts.
That's entertainment!
Entertaining is made easy when friends and family drop by during the festive season because all three sweets have a long shelf life, so stack your platters high. Remember, these sweets are not served for dessert, just as accompaniments to coffee or as a kerasma (treat) for visitors. A tip when making the dough for both biscuits is not to over-knead the dough because it will become heavy and the biscuits won't rise.Do you want the recipes or the shops in Athens where you can find the traditional sweets? Click to see the full article, from