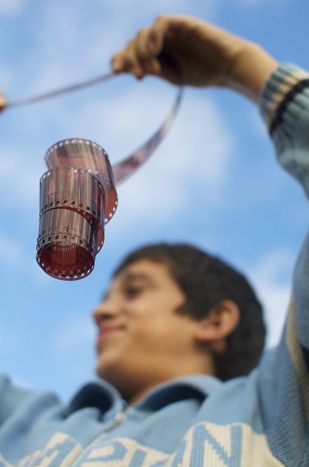 Small money, big things: four film and art initiatives in Kosovo
Published on
The economic climate ensures the making of only one film financed by centre for cinematography per year, whilst exhibition opportunities are spare. Young Kosovars are working where they believe they can help – in society, with ordinary people
Young generations of Kosovar Albanians don't speak Serbian, which is very similar to my native language, Montenegrin. So I am speaking with Rron Ismajli in English over a macchiato in a quiet bar, Living Room. The NEWBORN monument, the symbol of independent Kosovo, is nearby. Our conversation is far from the street crowds celebrating the third birthday of the youngest Balkan country.
Kosovo film festival mania
The 21-year-old is a Marubi film school student in Tirana; the MFMS was Albania's first private film and TV academy from 1999. Rron, who is script-writing a new short documentary is about how books are produced, is satisfied with the support that Kosovo's young artistic people get from different organisations. 'People are interested in helping and investing in young talent,' he explains. He finances himself by working as a freelance director of photography for commercials and music videos. 'You can find a job if you want to and look for it,' he insists.With his colleagues from Albania, Rron plans to take part in the ninth edition of DokuFest between 23-31 July 2011 in Prizren, in the south of Kosovo. 'The only way to do this job is to meet people through festivals and universities. It's one of the top European film festivals,' he explains.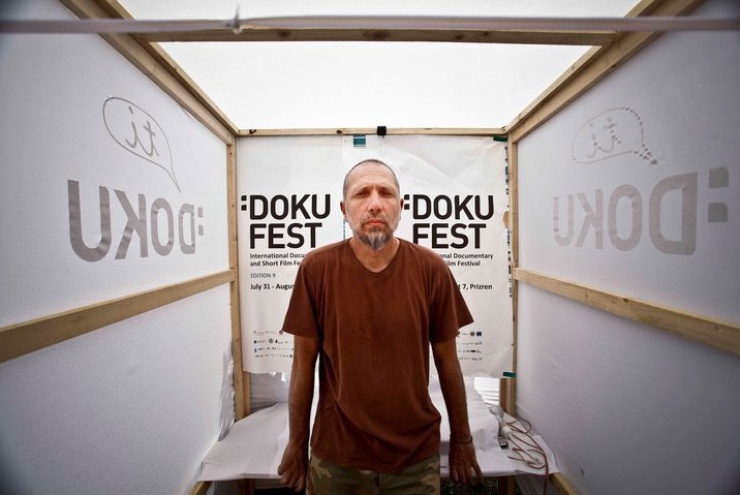 Dokufest co-organiser Veton Nurkollari agrees. 'DokuFest is very important in raising awareness about the documentary film but also in bringing to attention different important issues that are commonly associated with documentaries, such as human right and environmental issues.' Social change through art, not politics, is important to these Kosovars. 'Artists don't want to be political,' explains Charlotte Bohl, the 26-year-old French co-ordinator of a younger festival called Rolling Film, which is in its second edition. 'Here politics is seen as something bad, conflict, war. It is not seen as a tool to change things.'
In their office in the centre of Pristina, the team are checking festival promotion videos. Between 2–5 March 2011, Rolling Film Festival showcased more than 30 films made by and about Roma from all over the world. Four days of film screenings in Pristina is followed by an eight-day trip through Kosovo between 21 and 30 March, visiting schools, projecting films and discussions with students. 'The festival costs around 28, 000 euros. It is not as expensive as it would be in France or Spain due to the low wages here. There it would cost at least five or six times more,' the team explain, with funds coming from the Kosovo foundation for open society, Swiss and French embassies amongst others. 
Art: Roma in Serb villages to the capital's streetnames
'It started when I realised I couldn't make enough films to present Roma culture and way of living,' says artistic director Sami Mustafa, an independent filmmaker and Roma Kosovar himself. Along with two of his team of five, we drive to the small Serbian village of Lepina to meet Farija Mehmeti, a Roma painter. Paintings on the walls of the poor house, including portraits of women of different ages, show the wonderful talent of this girl and her brother Bajram, who are inspired with everyday life in village. The last exhibition the thirty-something pair had was in 2004. From Lepina we travel to North Mitrovica to see puppet theatre and step dance lessons. The school events are part of the Balkan sunflower organisation, an NGO founded in 1999 to help Kosovo refugees. During the weekend these Serbian and Roma children play together as they prepare for their performance, which they will show in three weeks.

Back in Pristina, I join the influential visual artist Alban Muja for a walk. His last work was a documentary called Blue wall, red doors in 2009, about geographical confusion on the capital's streets. Many residents, including taxi drivers and postmen, don't know exact addresses here. 'There are lot of new buildings and people lost orientation for street names. Since 1989 they were changing names all the time, from Yugoslavia to Milosevic's time, then during the war and in the interim UN-led government until now, in independent Kosovo.' Twenty years of history of this part of the Balkans shows its changes, confusion and lack of tolerance. The academy of arts graduate has been a painter, photographer, video- and documentary maker. He sees the medium as a tool for expressing opinions and ideas. 'If I could ever open an art school, I would teach students about different arts and give them a chance to see where they feel better, to explore.' Despite the changing nature of his work Alban has remained consistent in exploring sights, names and ever thinking globally. 'If you work in local concepts, probably only the people living there will understand and nowhere else. An artist creating something exclusively on a local level is meant to fail.' True to form, Alban has just returned from New York and is preparing to go to Berlin for the film festival, where he has worked with a Swedish artist to encourage fresh thinking. Like Rron, the folks at DokuFest or the Roma-promoters at Rolling Film, culture is seeing new ideas germinate from old experiences in Kosovo. That is the picture of this country: lots of things are in need of change, but still more people are willing to make that change, no matter what language they speak or discipline they have.
This article is part of cafebabel.com's 2010-2011 feature focus on the Balkans - read more about the project Orient Express Reporter
Images: main © Rolling Film festival; DokuFest 2010 © Jetmir Idrizi/ DokuFest on facebook; portrait © Alban Muja