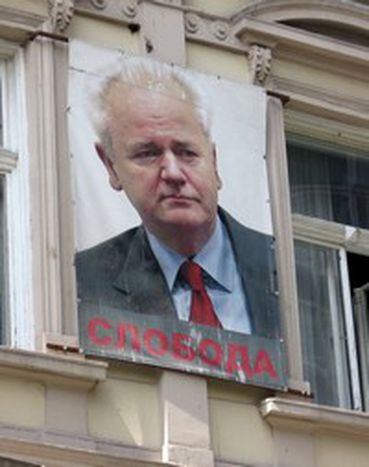 Slobodan's long shadow
Published on
Slobodan Milosevic's death has left some of Serbia suspicious of international justice and Europe more generally. Most however, want to move on
Two months after his death, a lonely portrait of Slobodan Milosevic, former Yugoslav and Serbian head of state, presides over a small square in Belgrade. These are the headquarters of Sloboda (Freedom), an organisation that aspires to preserve Milosevic's memory in Serbia.
The organisation, comprised of die hard supporters of Milosevic and members of his Socialist Party of Serbia (SPS), was busy helping Milosevic fight the charges of genocide and crimes against humanity that he faced in the International Criminal Court for Former Yugoslavia (ICTY).
At the funeral
However, its activities were abruptly brought to a close following Milosevic's death in Scheveningen prison on 11th March.
"We are all sad and bitter that our president was not allowed proper medical treatment. He was killed in the Hague," says Mirjana, one of the volunteers in Sloboda.
"We will continue to follow in the steps of Milosevic's vision and his politics," she adds.
She claims that even after Milosevic's death, many people, young and old, are coming forward to join their organisation. Their animosity is now turned towards the ICTY. These die-hard nationalists believe the Court is a dungeon reserved solely for the Serbs.
They perceive Milosevic as a fighter for freedom and the dignity of Serbian people, as a hero of the modern age who was ready to stand up to the world powers. They say an innocent man has been killed, a man "who was incapable of hurting or hating anyone regardless of their ethnic and religious background," as some of the speakers at the funeral pointed out.
Marija Bursac, a Serb refugee from Kosovo, said the news of Milosevic's death had left her feeling devastated.
"My whole world came crashing down once I heard the news. I am glad I lived in his time, since this kind of man is rarely born," said Marija.
She voiced the suspicions that many Serbs harbour about the Hague tribunal.
"All the pressure in The Hague was on the Serbs" she noted. "Only Serbs died. We are treated as murderers, though we were only defending our houses," she added.
At Milosevic's funeral in his home town of Pozarevac, the animosity was at its peak. Some people displayed banners pronouncing The Hague "a Nazi camp." Some Belgrade newspapers added further fuel to the fire by carrying headlines on the day of his death that simply said "Killed."
Looking to the future?
Milosevic was on trial in the Hague accused of 66 counts of war crimes, including genocide and crimes against humanity. More than 300, 000 pages of oral and written evidence were gathered from the many victims of his wars. Now his abrupt death has meant justice seems far away from his victims.
Many Serbs are also far away from recognising their role in the wars that led to disintegration of former Yugoslavia. They believe that Milosevic was killed because the ICTY run out of evidence to prove his guilt. "They thought he would be an easy target but he came across as someone who was very tough," said a street vendor in Belgrade.
However, in a stark contrast to the sobbing pensioners who were waiting for hours in a long queue to bid a last farewell to their dead leader, it seems that ordinary Serbs are sobering up and slowly forgetting he ever existed.
"I don't care about Milosevic. All I care for is my family," Natasha, a 40 year old mother of three, confirms the majority view.
Yet, whilst the memory of Milosevic is beginning to fade in Serbia, the animosity against the International Court persists, jeopardising the extradition of other war crimes suspects such as Bosnian Serb leaders Ratko Mladic and Radovan Karadzic.
Extraditing Mladic represents an international obligation for Serbia. On May 3, the EU put the Stabilisation and Association Agreement talks with Serbia and Montenegro on ice. The reason was Belgrade's failure to hand over Mladic, former commander of the Bosnian Serb army.
"I would like all those responsible for war crimes to be punished. But I am against my country being blackmailed like this," says Natasha. "Europe does not want us. Mladic is just another excuse," she added.
A country divided
Serbia is still split between those who think Serbs did no wrong in the wars of the Nineties, and those who want Serbia to reconcile itself with the extent to which war crimes were committed in its name.
The concern amongst the latter is that Milosevic's death deprived the trial of a result, and deprived Serbia of a way to come to terms with its past.
Andrej Nosov, of the NGO Youth Initiative, which campaigns for a public debate on war crimes, says many in Serbia believe the court is biased.
"Milosevic's death cemented the belief of some people in Serbia that The Hague is an anti-Serbian court," said Nosov.
He added that some intelligence and security forces, high positioned police and army officers who were participating in Milosevic's wars, are now instrumental in hiding the fugitive Mladic.
"They are all here and are enjoying great support," Nosov added. According to him Milosevic continues to have a backing amongst those on the poverty line and those who do not understand what Milosevic's policy really meant. "The legacy of Milosevic is still powerful here in Serbia," said Nosov.
The optimist
Dejan Gvozden, a 36 year old rock and roll musician, is still an optimist. He thinks that progressive forces could still win.
"Although we are a polarised society, the majority wants to join Europe. We just need to get rid of the burden of the past," said Gvozden.
His band is politically engaged; fighting against Serbia's failure to confront war crimes and trying to make it adhere to its European goal.
"My idol was John Lennon. He was a politically engaged artist. It is impossible to be an artist here if you are not politically aware," said Gvozden.
The optimism of people like Gvozden will have a big role to play as Serbia attempts to come to terms with its past and looks to its future.