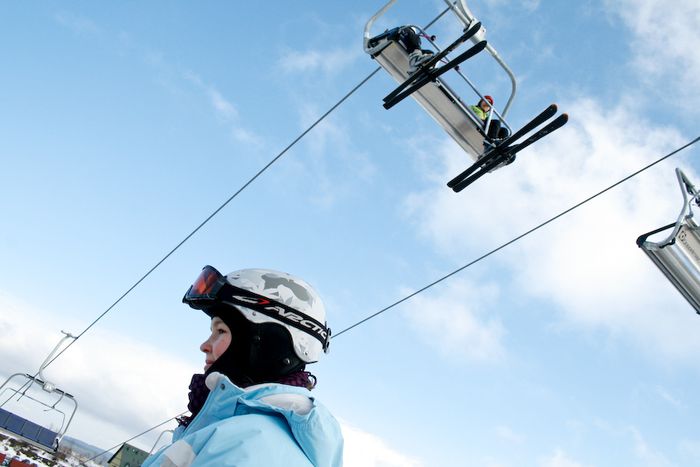 Ski in Poland: cheap and multilingual
Published on
Translation by:
Andrew Christie
Along with the winter health spas Zakopane and Szczyrk, Zieleniec in the Sudetenland is one of Poland's best-known winter sports centres. For many foreign skiers, lower prices make it a more attractive winter holiday destination than the Alps or the Dolomites
Ski instructor Piotr Machalik from Zieleniec has a lot of foreign pupils, to the extent that he often holds his ski-school lessons in German or English. 'We teach people the technique fairly quickly,' he claims. Someone in good shape, he says, can safely ski downhill after just an hour with him. 'Snowboarding is a bit more tricky,' Machalik goes on – he recommends building extra time into your schedule for this. An hour-long one-to-one class with Piotr costs 15 euros (£13.19) – a price that the many foreign pupils are happy to pay.
Along with the winter health spas Zakopane and Szczyrk, Zieleniec in the Sudetenland is one of Poland's best-known winter sports centres. Over twenty ski-lifts zip up and down the busy, floodlit pistes on 150 days of the year. Zieleniec has around 150 days' snow cover per year, and skiing is possible here from November through to April. One day's skiing including one hour-long lesson and a ski pass costs around 40 euros (£35.19) per person.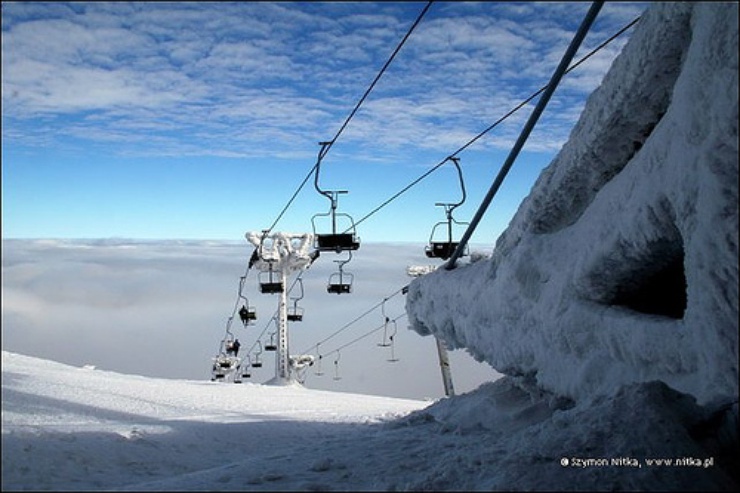 In the ski hire shop on Zieleniec mountain, Janek Fąk's door is rarely quiet. 'We get fifty to sixty customers a day,' beams the owner, a sturdily built man with a glowing face who serves his customers from behind the counter. Skis or snowboards can be hired for 10 to 12 euros (£8.80 - £17.6) per day. 
Ignazio Arena is preparing for the next descent. This is the third trip to Zieleniec this season for the Italian from Berlin. The German capital is only 450km from the winter sports region, so it is a quick trip across, he explains. 'Everyone thinks that skiing in Poland is just cheap, and not as nice as in Austria. But even professional skiers don't necessarily have to travel to Austria,' he says.
Upmarket spa packages have also sprung up in the area, an attraction which remains a luxury to many Poles. Grażyna Pierzchała, a raven-haired Polish lady from Breslau, is skiing in Zieleniec for the first time and has booked a skiing coach. 'For three people, I paid about 300 zloty – around 75 euros (£66) - for an hour, without a ski pass. Although that includes the equipment, it's a lot of money to me.'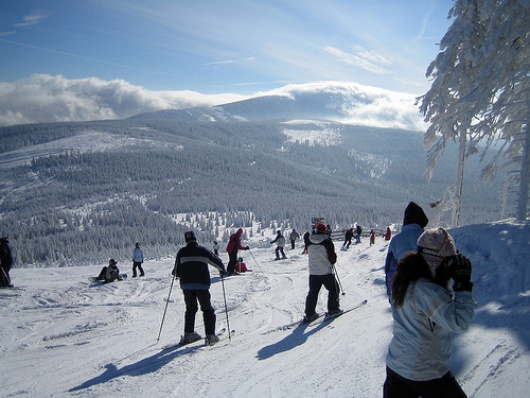 Beklem Pranti from London has a different view. 'I've been skiing twice in Austria, but it's better here,' he enthuses. 'Everything is pretty affordable.' However, the Prantis think Zieleniec is missing one thing: 'In Austria or even Italy, the main difference is that there is more for the kids to do,' says his wife, Elizabeth. 'There, I just leave my kids at the ski school for six hours. When they get bored with skiing, they go the childcare centre.'
Zieleniec offers plenty of bars, restaurants and hotels where visitors can warm themselves up and enjoy the après-ski. In recent times, Maja Kamyczek has served large numbers of Japanese, Koreans and Germans, in particular. They often order hearty soups and mulled wine. A full lunchtime meal in one of the slope's cabins starts at four euros (£3.50).
Accommodation for tourists is either in Zieleniec itself or in the surrounding towns. Around seven kilometres away, in Duszniki Zdrój, things are a bit more secluded than in the resort's centre. A room with a mountain view costs around eight euros (£7). This small spa town lies in the valley of a mountain river, in a picturesque corner of the Ziemia Kłodzka basin tucked away between the Bystrzyckie and Orlickie mountains.
At around 700 metres altitude there is a large youth hostel with about 70 beds, where a night in a two- to six-person dormitory with your own sleeping bag will set you back roughly four euros per person. Zdzisław Kędzierski, the manager, lays on Polish bigos (stew) and homemade dusznickie (pierogi, a type of dumpling).
The author of this article, Katarzyna Tuszynska, is a member of the German writers' network, n-ost
Translated from Polen: "Low Cost" Ski in vielen Sprachen