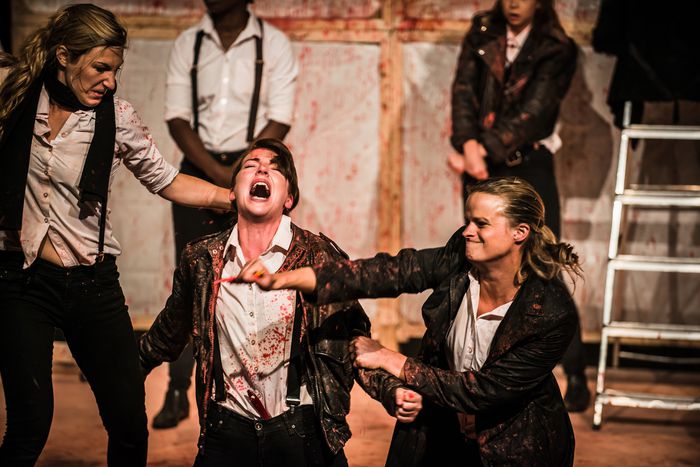 Shakepeare's Titus Andronicus at the Edinburgh Fringe
Published on
A dynamic and visceral production of Shakespeare's most violent play Titus Andronicus at the Edinburgh Fringe Festival, by the Smooth Faced Gentlemen, the only all-female Shakespeare theatre company in the UK. A review:
This is a fast-paced production, previously performed at the Fringe in 2013, of the Bard's first, if slightly-flawed, tragedy, with background music and sound effects used sparingly but effectively. Dynamic and full of energy, we are immediately caught up in the sparring and infighting of the disputed succession to the Roman Empire among the brothers Bassianus and Saturninus after the death of their father. The general Titus Andronicus (Henri Merriam), returning after years away fighting the Goths – with the Goth queen Tamora, her two sons and Aaron the Moor as prisoners –  is offered the position of Emperor.
He is generous and gives this position to Saturninus, who is clearly boastful, egocentric and stirs up trouble deliberately. At first he claims Lavinia, Titus' daughter, as his queen, but she is already betrothed to Bassianus who is furious at this suggestion. Saturninus then claims Tamora, the defeated Goth queen, as his Empress, and she is outwardly happy with this decision. She had pleaded with Titus for the life of Alarbus, her eldest son but according to custom, he is put to death.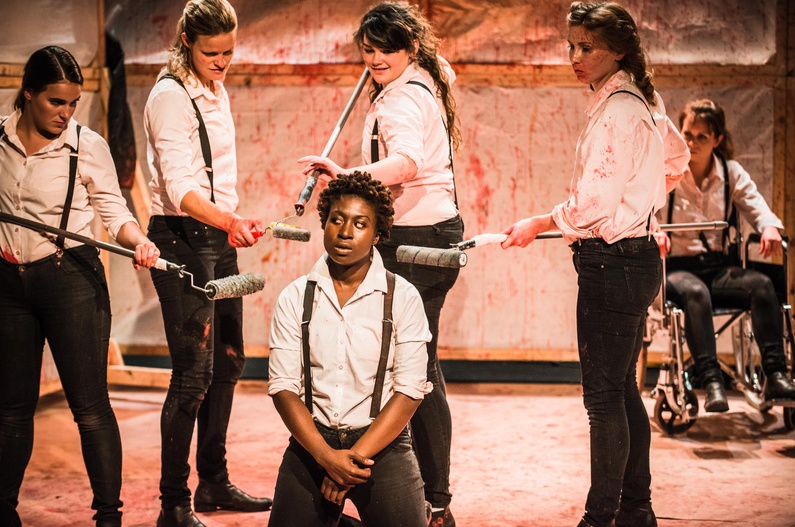 And Saturninus more than meets his match when it comes to double dealing and plotting, for Tamora is determined to get her revenge, having just begged in vain for her son's life in front of all the Romans, and because of this humiliation, she hates all Romans and the Empire as a result. The plethora of violence (with paint brushes/rollers for daggers), the contrasting and often confusing intentions and actions in the play's opening act sets the stage for further carnage down the line.
Further plotting between Tamroa and Aaron, her secret lover (played by Anita-Joy Uwajeh), leads to Tamora's quarrelsome sons Chiron and Demetrius murdering Bassianus and raping and disfiguring Lavinia, Titus' daughter. Titus' sons are blamed and put to death. Titus then seems to have lost his reason but after he finds out who was to blame for Lavinia's rape and torture he engineers things so that all the guilty parties are punished.
The vivid energy and emotional authenticity at times had me damp-eyed - as well as laughing - yes, there is humour here too! What struck me particularly is the movement, the choreography which has the lithe and sensuous beauty of dance. This light, sure-footed movement both accentuates the horror and destructive nature of the darker human emotions, creating masks of drama, which simultaneously reveals and detaches from the action. There's also clever use of lighting and shadowplay and terrific performances by all the cast.
This takes place in the far-off days of the Roman Empire, but it is viscerally in the present for there's not a toga in sight in stage as the aesthetics of this production are dominated by anachronisms. The part that revenge plays, however denied, in humanity's self-destructive acts, is something that hasn't yet gone out of fashion.  
If you're not afraid of dollops of blood (red paint) and bucketfuls of woe, I highly recommend this production.
-
Catch William Shakespeare's Titus Andronicus, by the Smooth Faced Gentlemen (an all-female production) at the Edinburgh Fringe Festival at Pleasance Dome, King Dome from the 5th-31st August (except 13th & 20th).