Shake-up Europe! Afters'
Published on
Strasbourg. Twelve youth organisations with a European interest. Each share one thing in common: reinforcing the active citizenship of youth through media practice. Between 28 January and 1st  February forty participants from Germany, Italy, France and the UK amongst others had the opportunity to exchange their knowledge and elaborate joint projects and create partnerships.
The preparations for Shake-up Europe! started in early 2010. I have to admit I was sceptical about how responsive people would be - I am not a journalist, moreover I am quite new on what European online media means. I fought my scepticism with the support of a very bright and dynamic local team in Strasbourg and the perspective of Alsatian cuisine…
Before contacting the participants, would it be possible to get 'potential' competitors together? Would they share their experiences and know-how? Would they be willing to build up projects together? The answer came faster than I expected and struck me like a high speed train…Yes it was possible! And yes, they all came, and we all put down some great projects together on paper.
Days one and two were organised around different workshops on the main activities of the European online media. The aim of the workshop was to make an inventory of the most common (successful) practices of citizen media. Our efforts were rewarded with a selection of more than 30 best practices around Europe from citizen media.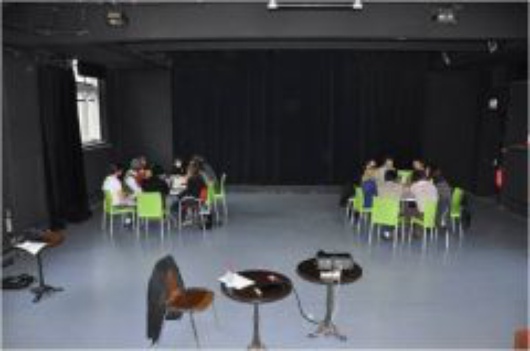 For the first 2 days of the seminar we were hosted at the Theâtre du Jeune Public in Strasbourg. During the workshops the participants worked in 4 groups and shared their ideas.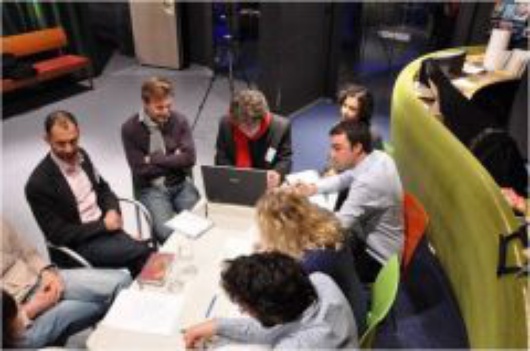 31 January, Club de la Presse Strasbourg. We are face to face for a debate on the traditional media versus the citizen media. The first round of this confrontation of ideas took place in the morning in the presence of Clémentine Forissier, (Editor in chief - Euractiv.fr), Anne-Camille Beckelynck (Reporter Europe - DNA), Seamus Kearney (Seniorjournalist, Euronews) and Eric Maurice (Editor in Chief, presseurop.eu). Seamus Kearney and Eric Maurice participated in a media battle: the principle was to create a synopsis on a random news subject. Four mixed teams worked on different topics for almost four hours, re-creating the atmosphere of a real editor's team.    
Both speakers were impressed by the high professional quality of the participants (normal, seeing as it had taken place after lunch ). This meeting was followed at noon by a rich clash in the traditional restaurant Striessel, where we confronted the topic ofeveryday Europe, our concerns for this reality and Europe as a complicated administrative mystery for traditional media.  
Day four, climax. The ten-year anniversary conference of cafebabel.com on 1 February in the FEC, a well-known debate room in the Strasbourg student community. For a debate questioning the notion of generation "Generation without identity?', cafebabel.com invited Nawel Rafik-Elmrini, deputy mayor in charge of European Relations at Strasbourg city hall, Bérangère Portalier, Editor in Chief of "Causette",   Bruno Laforestrie, President of Radio Generation 88.2, Paul da Silva, President of Pirate Party and Henri Lastenouse, General Secretary of Sauvons l'Europe. The reflections were on the identity of 'our' eurogeneration.
The debate was followed by a glamorous closing party in the Hall of Strasbourg town hall and spiced with an exclusive 'avant-premiere' of a short documentary directed by Argemino Barro, starring Federico Iarlori and featuring the graphics of Cédric Audinot!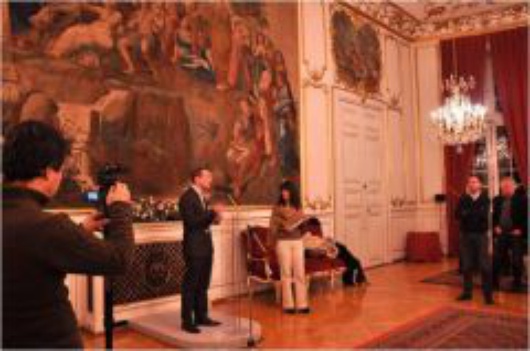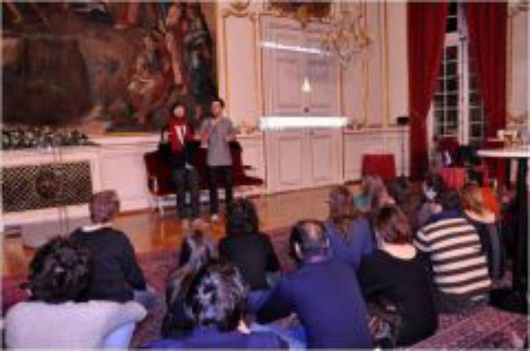 Shake-up Europe is only the beginning of long term collaboration that we hope to fructify with concrete projects.  
 Special thanks to : Strasbourg city hall, TJP, Club de la presse Strasbourg, Strasbourg local team (Jean- Baptiste and Tania).
Thank you all the participants:
MPnews.it (Italy) Europe and me (Germany, UK) Euros du village ( France, Germany, Italy, Belgium, Spain, Switzerland, UK, Denmark), Cineuropa.org (Belgium), Euradionantes (France), European Alternatives (UK), European Youth Press (Belgium), Europocket TV (Spain), Eurotopics (Germany).
This project has been funded with support from the European Commission.