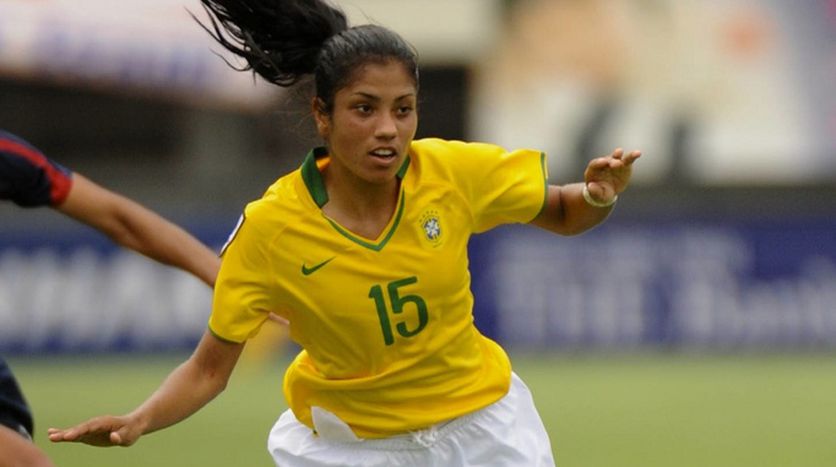 Seville, where South Americans dominate women's football
Published on
When Latin American immigrants began emigrating to Spain in the early noughties, a curious phenomenon marked positive signs in the integration of its people on the city's multicultural landscape: women's football
In the Macarena district, thirty-something Bolivians slowly move their pushchairs along the avenue in the pedestrian traffic, looking bored and shaking their heads slightly. Since the crisis hit almost two years ago, many of them can't hold down a job. Their partners come home late, just in time for bed, or they meet up mostly at the weekends. These wives and girlfriends work as 'internas', looking after the aged or handicapped in people's homes six out of seven days a week.
An afternoon in La Paz
'In La Paz or in Cochabamba you'd never see that,' says Alicia, 26. 'Men don't dare even lay a finger on a cradle or a pushchair. Male chauvinism dominates. Here, we are freer. We work and have a social life and play football.' Alicia is a member of the trophy-winning Bolivia football club, and she plays an important role in the 'mundialitos' which takes place annually in Seville. 'I asked my employers if I could have two or three hours off to play at the weekends,' she explains.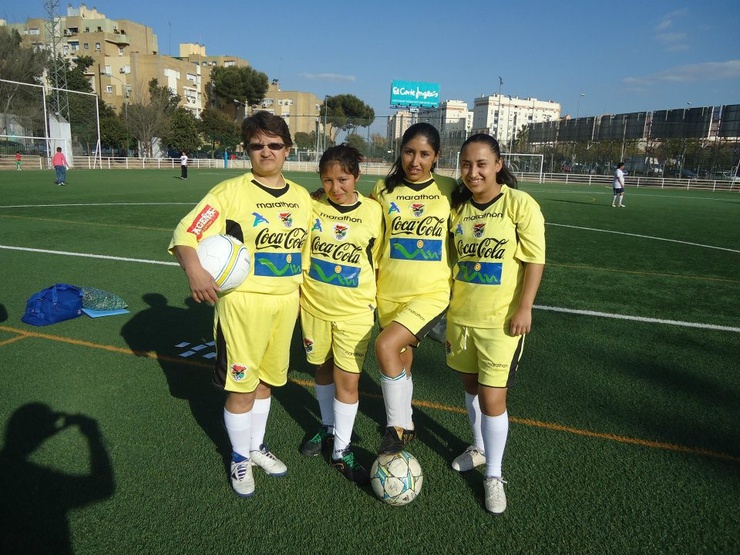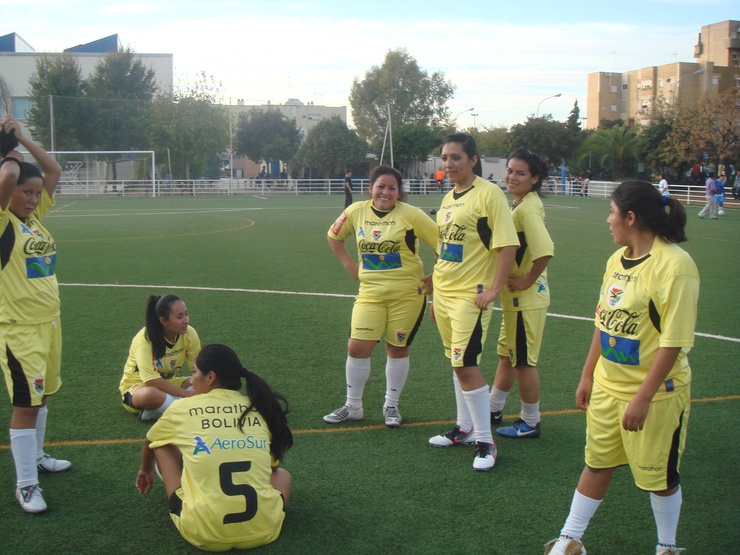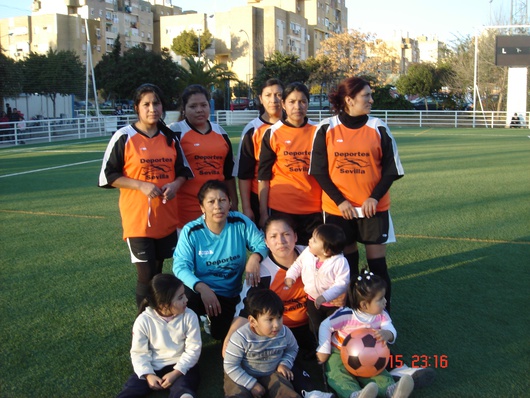 Seville is the biggest temple of women's football in Spain with a dozen South American teams playing in teams of eleven, seven and five, reaching at least 150 female players. The Bolivians have dominated the regional championships for many years now, although they have strong contenders with the Ecuadorians and the Spanish, who recently beat then. It's a phenomenon across many Spanish cities where Andean immigration started in the early noughties ; thousands of Bolivians, Ecuadorians and Colombians came to Andalucia to find work and send money back to their children who had stayed home with their grandparents. Of the 30, 000immigrants in the region of Seville, at least half (46%) come from South America. It's normal that Seville transforms into a Quito or La Paz on a Sunday afternoon, when they come together for barbecues and dances after their football or volleyball tournaments.
How South American men and women fare in Seville
'These tournaments are an excellent way to stay in touch with the locals,' explains Francisco Cuberos, an anthropologist at the university of Seville and expert in associative strategies for immigrants. 'Those are the ideal moments to meet other communities in a festive atmosphere.' However, some local NGOs accuse them of isolating communities in this way. 'It's normal if you arrive in a country where you don't know the social or traditional norms; you want to be with people like yourself,' continues Cuberos. 'These tournaments can be credited with creating professional networks of solidarity. In fact, South American immigrants work in very specific sectors such as in construction or agriculture. These jobs were abandoned by the Spanish during the nineties, and which were the first to be compromised by the economic crisis.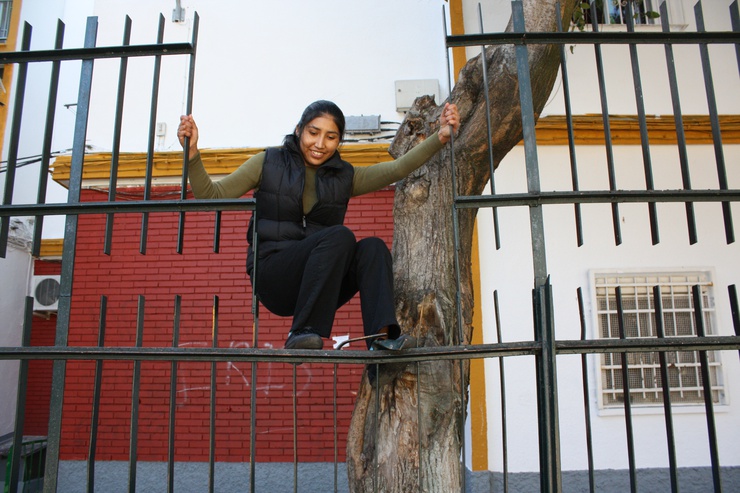 Women tend to get along better as they often work in people's homes. This is a domain which was untouched by the crisis, especially in a region where many pensioners reside. 'My colleagues are all my friends, as we all arrived here in 2006,' explains Alicia, who comes from Potosi, one of the highest cities in the world. She works as an interna during the weekdays and looks after an elderly person over the weekends. 'We help one another a lot to find work because it's easy to come into contacts with families who are looking for hired help. That also goes for our adversaries, of course.'
Pioneer of women's football in Seville
Walter Vivanco Torres extols himself as the 'pioneer' of women's football and organiser of various championships held in different parks in the city, as well as radio stations for the immigrants of Seville. We meet in his little studio at Radio Integracion, on the mezzanine of a bar-club in the new industrial neighbourhood of Parque Empresarial Torneo. 'We get 125, 000 listeners a day in Seville, which means we've even reached more people than some national radio stations,' says Torres, who is also the president of the Ecuadorian association of Seville.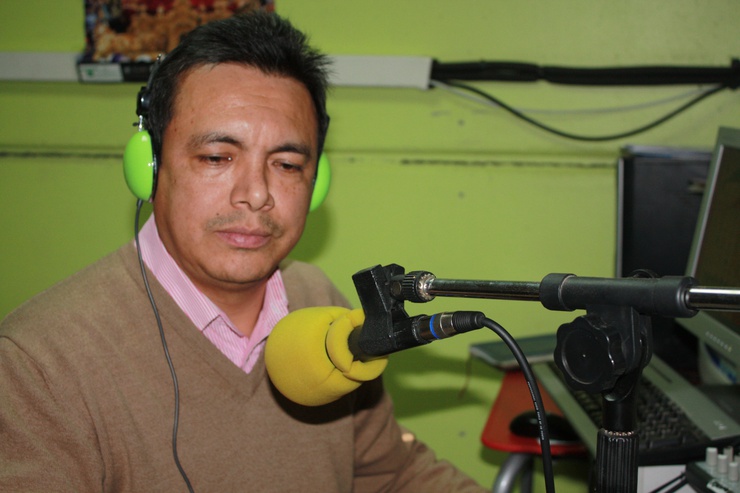 On the first Sunday in March, Torres was live commentating the final of the Liga Gool between the Bolivians of the Sudamerica football club and the Ecuadorians of the Willsterman club at the Miraflores park. Hundreds of men came along to support their partners, and as always, the Bolivians brought the trophy home. 'Everything began in San Jeronimo in 2004,' says Torres as we discuss this northern neighbourhood of Seville, where a small sports centre started hosting the first football tournaments between immigrants, as well as the ecuavolley (Ecuadorian volleyball) competitions. 'We had to leave after the management changed,' he adds.
Mixed tournaments
For a few years the NGO Anima Vitae has been running the football grounds and in a bid to increase integration, introduced the concept of mixed teams from different nationalities to promote participation in the regional championships, and also meet more locals. 'We find it absurd that the town hall finances the mundialitos with public money – those are for championships solely with South American teams,' explains María Angeles Huete García, a sociologist and volunteer at the association. New rules have restricted parallel activities in certain tournaments, such as the sale of food or alcohol around the fields and betting on the ecuavolley matches. The mixed nationality tournaments have worked in part because mundialitos remains the most popular championships, and because the regional competitions take place on dates and times that don't correspond with the working hours of the Bolivians, Ecuadorians or Paraguayans. 'We often take part in friendlies organized by Anima Vitae, but they sort of shut the door on us,' explains Alicia. 'For example we can't play five-a-sides in San Jeronimo because the association doesn't allow it.'
'We find it absurd that the town hall finances football championships solely with South American teams with public money'
The anthropologist Francisco Cuberos calls football between immigrants 'everything except an obstacle to integration'. When you see the results in terms of social and professional networks its success is evident, as well as the surprising progress between the genders. 'Many of my friends separated from their other halves because they didn't feel respected anymore,' says Alicia. 'But when married and engaged couples play football, they get on a lot better!'
Many thanks to Juliane Moeller, German anthropolofist, former player of the 'Bolivia team and author of 'La práctica del fútbol entre mujeres bolivianas en Sevilla' - you can read her PDFhere
This article is part of the fourth edition in cafebabel.com's 2012 feature focus series on multiculturalism in Europe. Many thanks to the team at cafebabel.com Seville
Images: main (cc) curoninja/ flickr; in-text teams courtesy of © Liga Gool Seville; Alicia and Walter © Nicola Accardo
Translated from A Siviglia come in Sud America, nel calcio femminile vincono le immigrate