Serbia: organising a brain drain debate and seeing that social energy is still flowing
Published on
The best thing about Orient Express Reporter II is having a chance to learn something new about your own homecountry, writes the co-founder of cafebabel Belgrade, Senka Korac
A group of five journalists - Spanish, French, British, German and Bosnian – spent five days in Belgrade and roamed its streets in search of good stories.
Although the old bohemian cobblestoned Skadarlija is considered to be the most appealing area to tourists, it didn't really impress Babelians (as cafebabel contributors are called) that much. However, the alternative cultural centre Bigz was the place that grasped their attention, for some of them even all night long.
Bigz: alternative life
The seven-story building looks abandoned from the outside. It doesn't really look much friendlier once you're inside, either. The hallway and the stairs are not very well lit, the smell makes an obvious statement that somebody was using the corners as a toilet and the cramped elevator doesn't look very safe.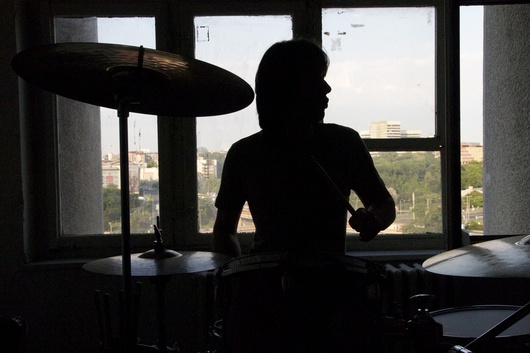 (Image: at Bigz © Alpin Charbaut for Orient Express Reporter II Belgrade)
What attracts them to it, you might ask. Only when you get to the upper floors, you see that the place is not abandoned. On the contrary, each of the former offices of what used to be one of the biggest publishing houses in former Yugoslavia has now been occupied by young artists who attract young people by organising music performances or just simply playing music on stereos. Practically, it looks like a bunch of little clubs, all lined up in one place. And there's even a guy selling popcorn in the hallway. For the past couple of years, this has been the centre of underground cultural scene in Belgrade.
Although places like Bigz aren't one of the reasons why Belgrade was proclaimed as 'the capital with good night life', it definitely should be included in the guidebooks on Serbia. I've realised that the underground scene can be even more interesting to foreigners than the turbo-folk barges that are usually portrayed as the symbol of Belgrade's night life.
Debating brain drain in Serbia
However, 2012's Orient Express Reporter was more than just guiding the journalists through city clubs and introducing them to people that can help them with their stories. For the first time, Cafebabel Belgrade organised an event on 10 May. I don't know whether it was beginner's luck or a job well done, but the event on brain drain with the title 'Should I stay or should I go' attracted more people than expected. Around 50 people attended; some of them were standing for the 90-minute debate.
(Image: © Cedric Audinot)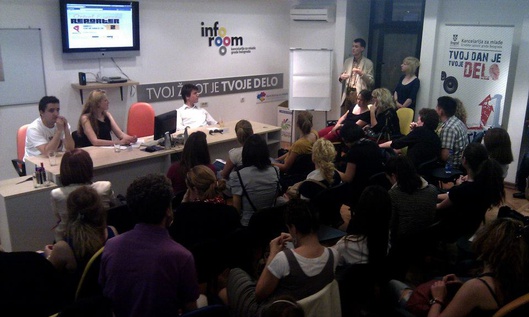 People actively participated and most agreed that young people should leave Serbia if they ever want to have any kind of prosperous future. One of the speakers, the Serbian-Canadian director Boris Malagurski, didn't really persuade the audience that they should stay in their home country and fight for a better future because there weren't any concrete suggestions on how to do that. On the other side, blogger Nebojsa Radovic aka Eniac thinks that you can have a professional carreer in Serbia only if you're involved in politics.
(Image: Aca Todorovic)
The common opinion expressed was that the politicians don't really care (or have an effective solution) for the rising youth unemployment. The last-minute cancellation by one of the expected speakers, Milica Delevic, head of Serbia's European integration office, certainly contributed to that feeling.
Bulgarian activist Stanimir Panayotov shared the experiences on brain drain phenomenon in his home country. He argued that the whole concept of percieving brain drain as a negative process is in a way nationalistic because it excludes mobility of the work force. In the end, the answer to the topic question wasn't found, but the majority of the audience expressed the will to meet again and work on solutions to prevent the brain drain and somehow diminish the feeling of hopelessness among young people in Serbia.
If somebody had asked me before this event what the response was going to be, I would say that perhaps only a handful of people, mostly friends and colleagues, would come to offer their support. In a country that has been drained of social energy, no initiative is really expected. But just like the young people from Bigz cultural centre willing to establish an appropriate universe for themselves, the audience at the debate has once again shown the interest into creating a better future. And that was what I learned about Serbia via this Orient Express Reporter project.
Read the Belgrade special editions from 2012 here, and from 2011 here.
Snapshot of Belgrade 2012 special edition for cafebabel.com: