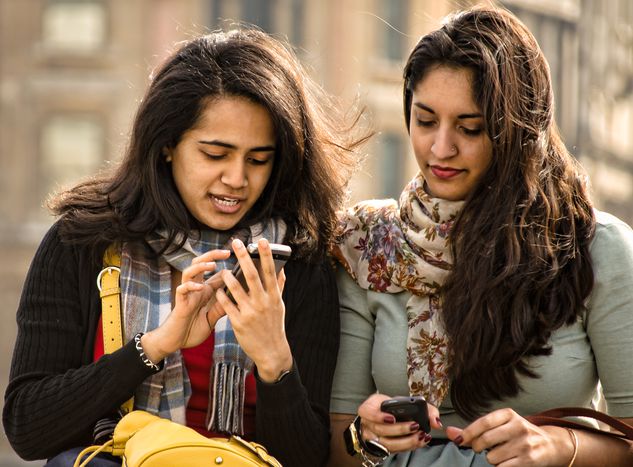 SelfieJobs: the app helping immigrants "swipe, chat and get to work"
Published on
Thousands of refugees are arriving in Europe, escaping from war with the hope of a better life in Europe. One challenge facing many refugees is accessing the job market. A Swedish start-up has developed Selfiejobs, an app allowing immigrants and refugees who've been granted asylum to create a CV, translate and get in contact with companies. We spoke to its creator Martin Tall.
cafébabel: What is your professional background and what persuaded you to develop Selfiejobs?
Martin Tall: I'm educated as an economist and SelfieJobs is my third start-up. It is based on my career as entrepreneur in Telecoms and outsourcing, and later on, within employment agencies. I saw young people from here and abroad and their needs. When they were looking for jobs, they were not fulfilled.
cafébabel: How did the development continue? Is there anything that gave you inspiration for Selfiejobs?
Tall: It's me and the core team of developers who had the idea. Now we are a team of nine. In spring 2014, there was a rapid development of apps like AirBnB and Tinder. So when I saw their developed solutions and how they gained popularity among young people I realised that we can take this concept into job search. We wanted to make it super simple for young job seekers to post up a CV and interact very quickly in the app, and for companies to post up a job advertisement. All our branches have the kind of similar need: young high-energy people. Typical young people in their twenties. I'm glad to have them in Sweden, Denmark, Great Britain and Germany. They like their mobiles and they are used in this interaction. We want them to feel at home, like when they use Facebook or Tinder. The same experience should be felt.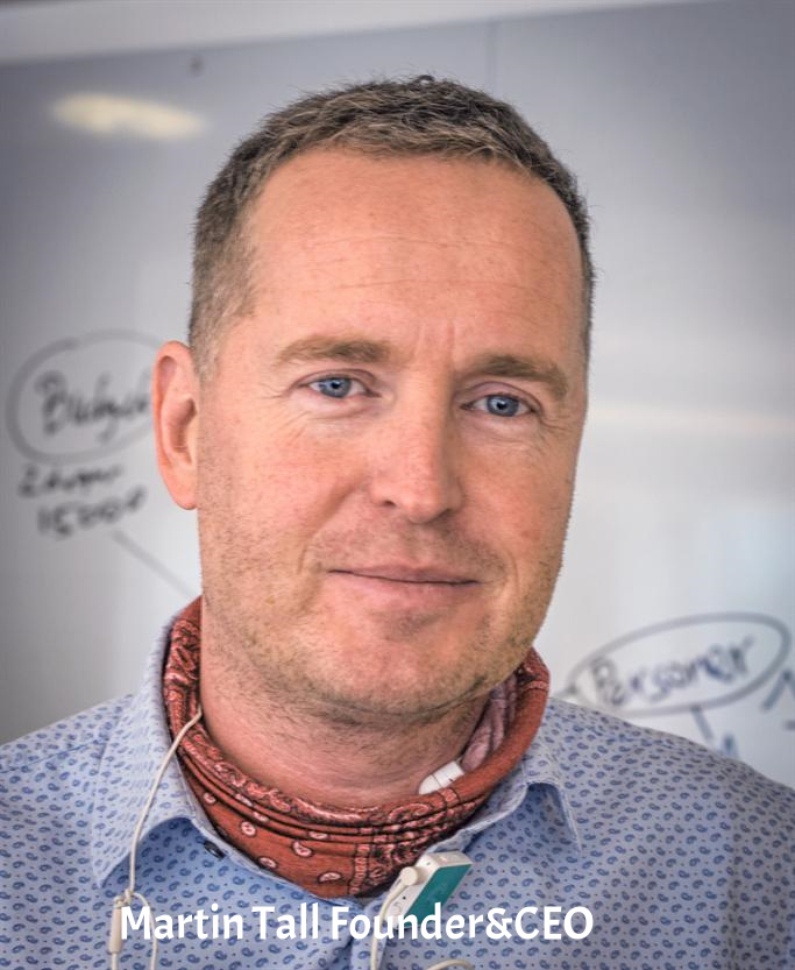 cafébabel: Who are the users of the app and what kind of jobs can be found?
Tall: Today we have approximately 20,000 users, which are companies, but most are job seekers. There are many users in Sweden and Denmark, fewer in Germany but mostly in Berlin.
The typical jobs available are in the service and sale sector, for example in restaurants, sales, traineeships, as nannies or in start-ups. Our core cites are London, Copenhagen, Berlin and Stockholm.
cafébabel: Is the development of Selfiejobs completed or are there mechanisms to improve?
Tall: There are many more things to come out. We had criticisms in Germany for the translations and, of course, we are sorry about that. We will improve, so it will be perfect. In addition we have done a new feature for video connections between candidate and the company. So the people can promote themselves. And by 2018 there will be a lot more. We want to be the high-speed alternative when you want to recruit. If you need help right now you should be able to post a job in two minutes. Swipe, chat and get to work. There are many more ideas but also many improvements.
cafébabel: Another project you have is called AutoCV. It will help people from abroad in finding a job in another country. So it can be useful for the many refugees who are coming to Europe (ed. should they be granted asylum). How did you have this idea?
Tall: AutoCV was formed this summer. When we looked at Selfiejobs we had three target groups which used this app: mostly immigrants, locals, and higher university graduates. Then the Swedish government asked Selfiejobs and other companies to improve the situation for people from abroad, in cooperation with Vinnova, the Swedish agency for research and development. The current job system means it takes a lot of time to create a CV and get started with all kinds of manual work. So we thought: Can we help these people from abroad create a CV first in their native language and then allow them to search for jobs quicker?
The Swedish government wanted us to take this to a higher level, with a bit of money. We have made the first prototype. All the CVs are translated using plug-ins from existing applications like Babel or Google. You manually input text and it's translated in the app in real time. So the first contact can be made between foreigners and local companies in a simpler way.
cafébabel: How has this project advanced and when will it be available as a part of the Selfiejob app?
Tall: We began in spring and we now have the prototypes and concepts. We have to take the concepts and ideas into development. Then we will be able to launch it in December. It will be available in the Selfiejobs app in the four countries. We have Swedish, English and German as the market languages and then we take those which are common among immigrants, like Spanish or Arab. These will be the languages we focus on.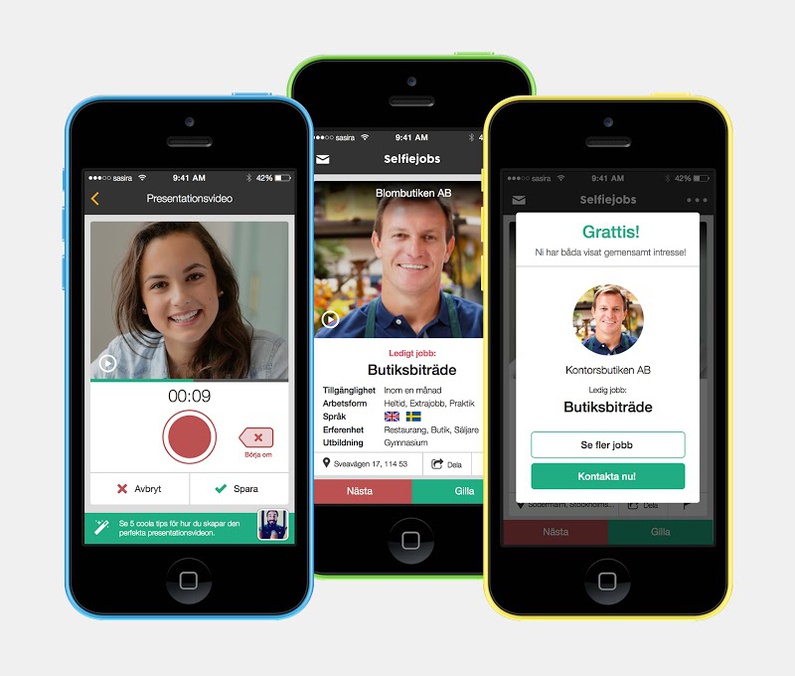 cafébabel: Can you give an example of the technical use of Selfiejobs in combination with AutoCV?
Tall: Let's say you come from Colombia to Europe and you are a skilled person in restauranteering or gardening. You are accepted in the new country as citizen. Then you download the SelfieJobs app, you connect with Facebook or e-mail login and you start typing your basic data: name, age, location, languages spoken, schools and degrees, two or three of your most recent jobs and your number one and number two skills. Once you have that typed in on your native language you can start looking at the translated job ads. So you select the city where you want to look for a job and then you start swiping and get in contact with a company. We will rely on the quality of Google Translation and other open technologies so it is possible that here will be translation errors first. Our focus is on smart phones but all our products support PCs as well.
cafébabel: I looked up some job offers in Berlin. All of these want people with a job experience and a license. Do only well-educated immigrants have the chance to find a job with your app?
Tall: The market is as the market is. We don't know how it is for newcomers in Europe, be it Germany or Sweden. We know that unemployment rates are high among people not born here. And that the local language is important. But we also know that having a CV and promoting yourself is a start. We can't solve all these issues with AutoCV but this is one way to help people apply for jobs in countries other than their own. So we will see how far we can take it. It's a lot of uncertainty but all people need to work if society should work. We have to create one solution and then another. So more people can get through the barriers of language.
cafébabel: How will you reach job seekers and companies and convince them to use your app?
Tall: SelfieJob's core business is the Selfiejob app and the young active doers. And AutoCV is an own project which has its attributes and charm. So we will see. For sure it's a hot topic, if the solution is good, it gets viral, and so on.
cafébabel: Can the refugee crisis be solved with ideas like yours or do we need greater political decisions?
Tall: We are a commercial company. So we can't think so much about politics. We see that there are many people with other languages who want to work. And it's a problem to get that basic CV. Here they can do it as soon as they are allowed to work.
cafébabel: Many companies support initiatives to help refugees. In the media there's already talk of a commercialisation of the current crisis. Do you make money with the situation of the refugees?
Tall: We ourselves have not made any money on anything actually. We have invested almost 300 000 euros in developing Selfiejobs and the grant of the Swedish government is just a small one. So we are not making any money. The ads for the companies in the app are free. But we hope to make money one day.
-
See the list of job seekers and job offers on the Selfiejob page.