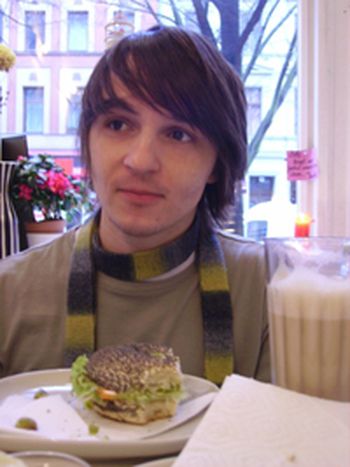 Second Life in 1984
Published on
Translation by:
John Smith
Twenty-something baby losers. Often disparaged, yet the 'eighties generation' harbour multiple talents. Third part of a series of portraits exchanging Paris and Berlin
Felix is 28, and although he wasn't born in 1984, my early morning discussion with him at a cafe in Friedrichshain reminds me of George Orwell's novel. My impression of Second Life radically changes after hearing his perspective on the new Internet generation and mass media lovers.
Its been a while since Felix was officially a student. He now works full time for Universal and is responsible for establishing new marketing viral ideas to make Web 2.0 the alternative to traditional medias, and to create new publicity possibilities for Universal artists. For example, holding a piano concert with Chinese virtuoso pianist Lang Lang within Second Life's virtual 3-D world. The celebrated valedictorian was one of the first on the revolutionary virtual game.
In fact, according to Felix, Second Life isn't simply a game. 'It's a media in itself, a platform for communication. You can take classes, use the telephone, go shopping...'  When it comes to Second Life, Felix knows what he's talking about. He's been thinking and working on its phenomenon for several years; it was his thesis topic at university. He really didn't want finish with his research, or his Political Science and Media Studies degree.
Second Life: mirror of our real society
Felix raises a very simple question: what point will structures within the real world, (relations between the sexes, use of space...) find themselves a part of the virtual world? Felix started to explain the big lines to be drawn from his research. He appears to be utterly composed in his reflections, but I can feel his overflowing curiosity.
'When players create their characters, most people choose to follow the real world beauty codes: women give themselves blond hair and large breasts. Others try to stay faithful to themselves too.' Some players decide to change their own sex in the game. In which case, men always emphasise what they believe to be quintessentially feminine, and visa versa; the clichés about the differences between men and women are flagrant.
Journalists who tried Second Life were offended by what they saw; but Felix would retort that the game is a form of social criticism. The only reason most of the women look the same in the game, or if there's paedophilia, its only because it's a mirror of our real society. In real life too, we're always playing some role or another. 'It's as if human beings were looking down on themselves from above, and shocked at what they see.'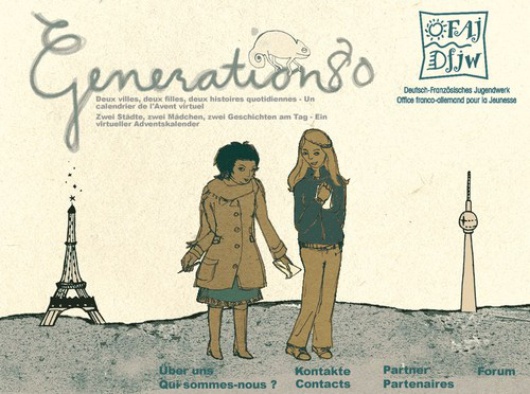 Generation 80 (Blog illustration: © Eva John/ Romy Straßenburg)
From Warcraft to McDonalds
Analysing through observation, in the same way a scientist observes particles through a microscope, is Felix's real passion. When it comes to the famous role-playing game Warcraft, Felix enjoys observing other players more than participating in the game himself. It's the same thing as when he had to work at a McDonald's for a summer; he loved it. Everyday, with each hamburger he sold, he remained a fascinated spectator of the whole organisation.
For his work at Universal, Felix has subscribed to fifty or so social platforms, including Facebook and Xing. That makes him smile; for most people it's a mere hobby, but for Felix, it's a serious sociological study, the very purpose of his work.
Felix is bathing in the Internet generation, but at the same time, keeping one foot on the outside so that he can have a better view of what's going on. He defines this generation as being 'a mix between enthusiasm and as having lost its bearings.' We're offered infinite possibilities, but at the same time, that infinity is what makes us completely apathetic.
Felix takes care to put a distance between his virtual world, and the real world, because he understands the limitations. And so, he's decided to live without a mobile phone. 'I don't want to be always reachable.' Today, Felix hopes to finish this thesis and also to have more time to spend with his friends. As paradoxical as it may sound, despite Facebook and Second Life, Felix has the impression of already having lost contact.
gen80.eu. A blog devised as a calendar of the virtual advent, dynamic, participative and inevitably Franco-German in order to discover each day. For one month, Eva John and Romy Strassenburg, two young journalists aged 24, exchange their flats and their towns so as to write on a daily basis their life stories, fears, doubts, dreams... that young people their own age have wanted to talk to them about. A project supported by the Franco-German Office For Young People (OFAJ)
Translated from Génération 80 : Un petit goût de '1984'