Sculptures near the Neris
Published on
Nothing was done to engage the public and provoke reactions to the work of art. I went to look at it - it simply hangs over your head and looks ugly. The only thing you can do with the corroded pipe is to... draw some graffiti.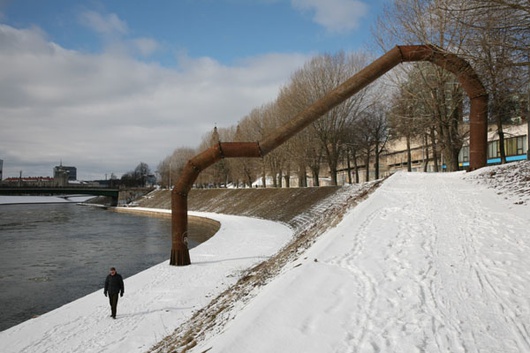 Have you seen these new sculptures on the banks of the river Neris? They are a part of the Vilnius - European Capital of Culture project. Personally, I find them ugly and completely off-topic in terms of their integration into the landscape, but it's just my personal opinion. The sculptures cost LTL 275,000. The fans of the project say that these sculptures provide a chance for the renewal of the public space and develop a still-absent tradition of abstract art.
Photo borrowed from balsas.lt
I know that the society is rather conservative with regard to abstract art and so on. But, I'm sorry, such ideas as this one stink of high-class elitism: first you build a costly "work of art", which many people who use this public space find ugly, and then comment on it, saying that the society has to "grow up to it". If you're using public money for works of art in the public space, consult the public - full stop! That's my opinion. The banks of the river don't have to be very educational - they have to be cosy to hang out. I won't go to sit under this thing, no no :) I won't be surprised if someone does it. I don't want to sound like I'm encouraging graffiti, which is against the law, but graffiti is one way of saying "well, hello, this space is ours".