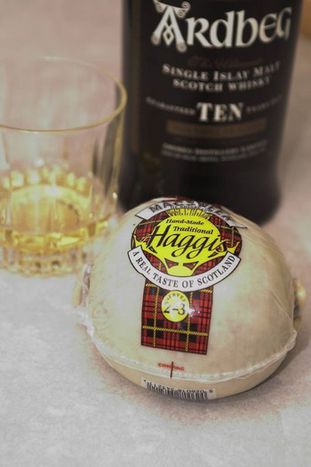 Scotland: address to haggis and Europe
Published on
25 January 2012 marks the 253rd birthday of Robert Burns, the most famous Scottish bard. Supermarkets all over are going haggis-crazy. Haggis is delicious, but not for the faint hearted. Recipe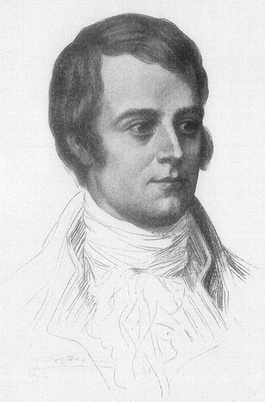 A potent figure for Scottish nationalism, Robert Burns'* status is on a par with William Wallace and Robert the Bruce. But of course he is renowned for the sharpness of his pen, not his sword. The annual Burns night is filled with tradition and folklore, changing little since the poet's death in 1796. The Selkirk Grace, a short prayer written by Burns, goes:
Some hae meat and canna eat, (Some have meat and cannot eat,)
And some wad eat that want it, (Some cannot eat that want it;)
But we hae meat and we can eat, (But we have meat and we can eat)
Sae the Lord be thankit (So let the Lord be thanked).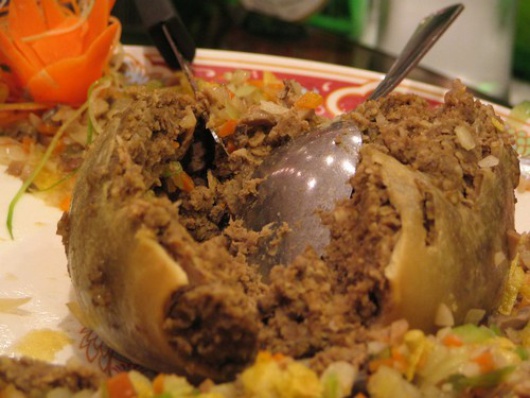 Accompanied by the tunes of a piper (bagpipes), the prayer is followed by the cutting of the Haggis - boiled sheep stomach filled with intestines, oats and spices - is cut. The name comes from 'hageis' (1375; 'to chop, hash'). The stomach is punctured with a sword at the right angle and with the right force so the meat and oats ooze out. Burns's famous Address To a Haggis poem and a loyalty toast to the monarch follow. The night continues with reciting of other Burns' poems such as To A Red Red Rose, To a Mouse and To a Louse. Men drink to women's health (Toast to the Lassies poem). The night may be complemented with some Ceilidh dancing (Scottish folk dancing) and, as with every Scottish event it is always finished with everybody holding hands and singing Old Lang Syne.
Traditional Haggis
Haggis is eaten year long, its richness making it popular during cold winter months. A traditional Scottish breakfast also features Haggis. Personally, I find Haggis delicious, but it is not for the faint hearted. Interestingly, vegetarian Haggis is available and does not taste dissimilar.
Ingredients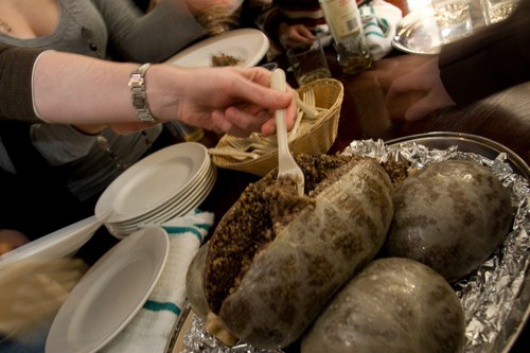 1 sheep's stomach or ox secum, cleaned, scalded, turned inside out and soaked overnight in cold salted water heart and lungs of one lamb 450g/1lb beef or lamb trimmings, fat and lean 2 onions, finely chopped 225g/8oz oatmeal 1 tbsp salt 1 tsp ground black pepper 1 tsp ground dried coriander 1 tsp mace 1 tsp nutmeg water, enough to cook the haggis stock from lungs and trimmings
Method (*source BBC)
Wash lungs, heart and *liver (*optional)
Place in large pan of cold water with the meat trimmings and bring to the boil. Cook for 2 hours
Strain off stock, set aside
Mince lungs, heart and trimmings
Put the minced mixture in a bowl and add the finely chopped onions, oatmeal and seasoning. Mix well and add enough stock to moisten the mixture. It should have a soft crumbly consistency
Spoon mixture into sheep's stomach, so it's just over half full. Sew up stomach with strong thread. Prick a couple of times so it doesn't explode while cooking
Put haggis in a pan of boiling water (enough to cover it). Cook for 3 hours without a lid. Keep adding more water to keep it covered
Serve: cut open the haggis and spoon out filling. Serve with neeps (mashed swede or turnip) and tatties (mashed potatoes)
*Robert Burns (1759-1796)
Article first published 23 January 2009 on cafebabel.com