Sans A_: Giving voice to the homeless
Published on
Martin hasn't taken a holiday in two and a half years. It is safe to say that he has been pretty busy recently, overseeing the development of 'Sans A_', a website devoted to the homeless and those who have fallen victims to poverty.
Wearing a sailor shirt and a winter jacket, with tired eyes from a lack of sleep and a cigarette hanging from his lips, Martin Besson doesn't have the look of a Parisian. At only 20 years old, he already runs a website. Two and a half years ago, when the crisis of information was in full swing, he created 'Sans A_': a "pure player" which tells the life stories of homeless people through photography. Thanks to his smooth talk and determination, Martin quickly recruited 80 volunteers to help with the project, raised funds, and captured the attention of 5,000 readers.
The daily reality is a little less rosy, however. On the heated terrace of a café, he lists the never-ending stream of tasks that need to be completed: "Meeting after meeting is needed to make even the most basic of decisions." There is a need to find a business model; to manage egos; to change status from that of an association to a business; to respond to 70 emails. "It is complicated, but we believe in it," he says assuredly as he looks for a lighter to relight his cigarette. And it is with that same conviction that, before his first beer of the day, he meets with cafébabel to tell us about the project that now occupies almost all of his thoughts.
cafébabel: At 18 years old, how did you come up with the idea of creating a media organisation for the homeless"?
Martin Besson: One day when I was 17, I was walking down the road, when I saw some homeless people. I stopped to talk and have a cigarette with them. I was by then moderately aware of the homelessness issue. Then, after having passed my professional baccalaureate, I decided that I wanted to do something meaningful with my life. It's all well and good to have passed the baccalaureate and to spend all day sitting around playing video games, but if there is nothing more to your life than that, life isn't interesting and you most certainly aren't doing anything for the greater good. So I told myself, "I will spend a week on the streets in order to experience what life is like for a homeless person." Ultimately, I ended up spending only one day, rather than a week on the streets because it was extremely tough. One day was sufficient for me to understand what the homeless needed: to be visible.
cafébabel: In what ways was it tough?
Martin Besson: You find yourself sitting on the pavement, freezing in a middle-class neighbourhood, you don't have any cash and you see people talking about their plans, their lessons, etc. You feel a great deal of frustration. People don't look at you, or they give you a look that makes you feel utterly worthless. But in the end, you tell yourself that they look at you in that way because they simply don't have time to spare. Why would they be interested in a homeless person?
cafébabel: So the aim of 'Sans A_' is to raise bring attention to their plight? 
Martin Besson: Indeed. I wanted to make them visible to the public because many stereotypes about homeless people are rooted in ignorance: we don't know their stories. If we knew their life stories, we would be more likely to approach them and talk to them. They would no longer be just a down-and-out, but Jean-Claude, Jean-Marc, Sophie… someone who has a story and a past. 

cafébabel: Do you remember the first homeless person that you interviewed?
Martin Besson: Yes, of course. The experience was something of a wake-up call. The interviewee told me about his journey and it made me realise that anyone can become homeless.
cafébabel: There are not many people who would stop to talk to a homeless person, not out of indifference, but because they are a little intimidated. What happens when you approach a homeless person?
Martin Besson: Often, they are quite surprised. Sometimes they take it badly when we tell them that we are journalists because they think: "Ah, they only come to see us when something bad has happened when they want a story." But afterwards, we explain what we do and they start to lighten up a little.
cafébabel: And how does your media organisation differ from traditional media organisations?
Martin Besson: In general, traditional media organisations tend to talk about statistics and they have a production imperative. We also want to talk about statistics, but first and foremost, we want to tell a story and take the time to do just that. Recently, 'Sans A_' started to seek out people in all sorts of precarious situations because ultimately, the problems of the homeless are visible: when we're walking down the street we see them but we don't talk about people who are living in poverty,  we don't discuss the problem of ill-housing, we don't talk about problems associated with disability and ill health… We have chosen to examine these problems, all of which are interconnected, to promote awareness and to encourage people to take action. 'Sans A_' isn't a militant media organisation, but it is a committed one, which believes that we need to talk about the root causes of these problems.
cafébabel : And what do you hope for when you publish an article?
Martin Besson: What is interesting is that it inspires readers to interact with the homeless. For example, Brigitte told us that after her feature, lots of people came to see her,  and her sister-in-law contacted us. So you see, it shows the power of social networks, of what happens when we do some good. There are also people who say to us: "Thank you, thanks to you my outlook has changed." And that is terrific!
I can also read you the message that Samuel – a member of 'Sans A_' – sent me the other day: "Sometimes, things happen, which reaffirm your faith in this job. Yesterday evening, I had a coffee with Caroline. Caroline is the ex-girlfriend of Pierre, a former barman who I had interviewed a few weeks earlier. She hadn't heard from Pierre until she read the article yesterday evening. The tears came streaming down her face, and it confirmed to me that our work wasn't all for nothing."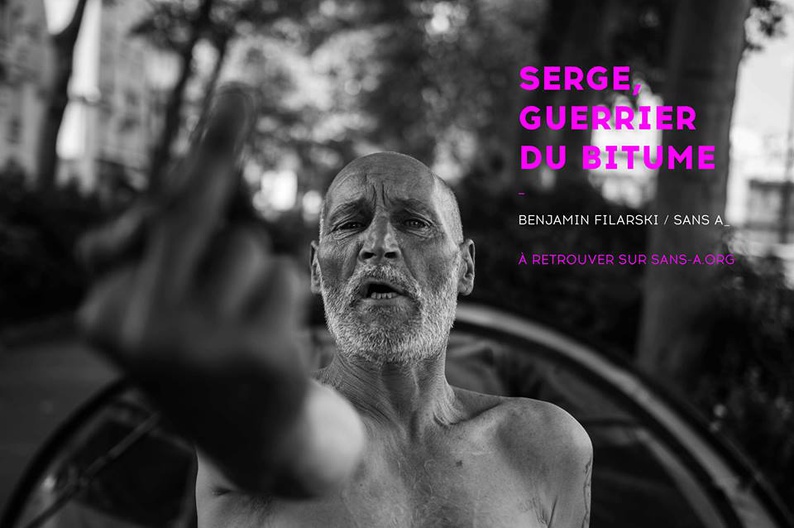 cafébabel : Do you expect much from policy makers?
Martin Besson:  No, not at all. I am very removed from all of that. And I don't fancy 'Sans A_' being reclaimed by a politician because together with our readers, we are managing very well. For 30 years, businesses have been doing incredible work to tackle these issues, it is a significant amount of time that politicians have been aware of such issues, but they are incapable of changing things, we see it right now with the labour law…
cafébabel: You no longer want to use journalism as a means to bring about change?  
Martin Besson: You can't be an activist while working in media, the two are incompatible. You cannot do activist work and simply afterwards say "hello, I should like to talk about..." It isn't our job to be objective.
cafébabel: Yes, but isn't the journalism that you practice a form of social action?
Martin Besson: Yes, but it isn't activism. However, in the future, we will do less. We will throw ourselves into alternative journalism. We will interview someone who will tell us: "That is my dream" and, with the help of our readers, we will endeavour to realise these dreams. The readers will be free to be involved as much or as little as they wish.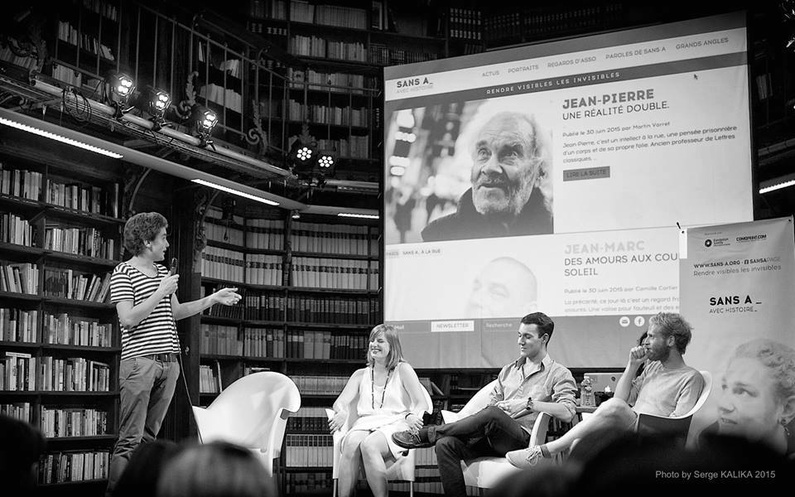 cafébabel: What sort of dreams do people who are in precarious situations have?
Martin Besson: It is difficult to generalise. Take Serge for example his dream was to open a café for homeless people. Emmanuele, she wanted to meet her favourite singer in Barcelona. They all have desires and different ambitions. But when we interviewed them, they are just happy to tell their story, to talk and to share. They hope that it will bring about change.
cafébabel: What sort of change?
Martin Besson: For homeless people, they hope that people in the street will look at them with more respect, that they will be paid attention to. Disabled people hope that we will recognise that daily life is a struggle for them and that we will fix these problems.  There are plenty of things… But what we try to to do is to bring happiness, some positivity into their lives by telling their story. And if thanks to that, we manage to convince two –  three people, that is great. If we manage to convince more, all the better.
Translated from Sans A_ : le média qui tient chaud