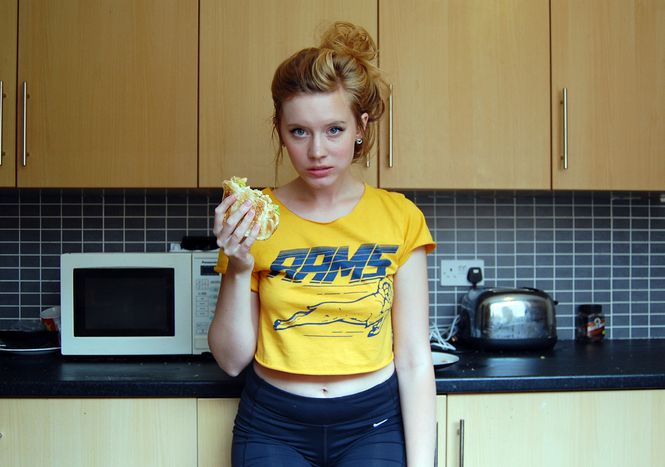 'Sandwich protest' by underpaid interns in Brussels
Published on
Eva, a 24-year-old from Germany who is currently interning in Brussels, is one of the organisers of this eyecatching 'lunchtime protest' which will take place on 17 July in front of the European parliament
cafébabel: Eva, how did you come up with the concept of the protest?
Eva: We were looking for something catchy which people would remember. The sandwich symbolises two things for us - interns in Brussels are underpaid, if they are paid at all, so that's kind of all we can manage to afford at lunchtimes. Secondly, a sandwich is all they can really manage time-wise considering the number of hours they have to work. 
cafébabel: Who created the movement?
Eva: We are a group of five interns from England, Germany, Spain and Norway. We want to reach people from all over the continent. When we met up in our spare time we found that the topic of our work conditions kept cropping up. We are working in different European organisations, but there is a clear consensus that the situation in general is problematic. After three or four months of simply talking about our experiences, we decided to grab the opportunity to protest before our respective internships came to an end.
cafébabel: What are you hoping to achieve with this protest? 
Eva: We're not talking about our personal problems per se because we're working for different organisations - we just want to create a forum where everyone can talk about how they feel, about how they are finding their working life. Definitely it's something a wider audience needs to know about. Brussels attracts so much young talent who want to work for Europe and its institutions, but the competition is so tough, and the work conditions so unfriendly. 
Then don't forget those people who don't have the luxury of being able to move here, since any potential internship would not be paid or paid badly. Since bringing this topic into the public consciousness we have already been contacted by some of the members of the European parliament (MEPs), who want to side with us. Perhaps we'll be able to find some kind of solution together. In any case, this may be our first event, but it certainly won't be our last. We're all on the verge of moving out of Brussels once our internships are over, but hopefully we'll pass the flame on to all of the future interns who will be heading here.
'Sandwich protest' (6 images) by Valentina Cala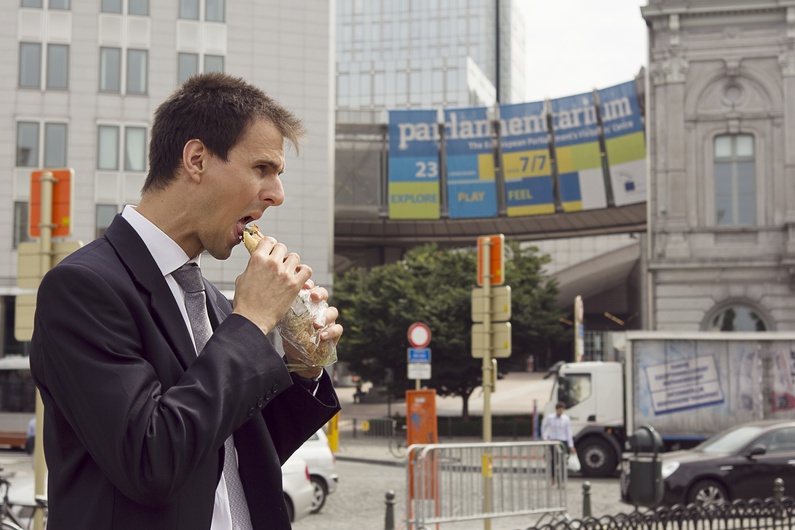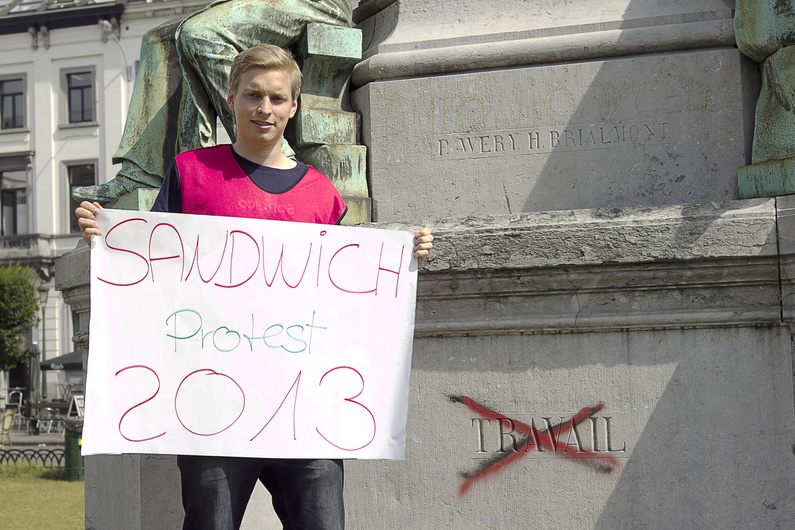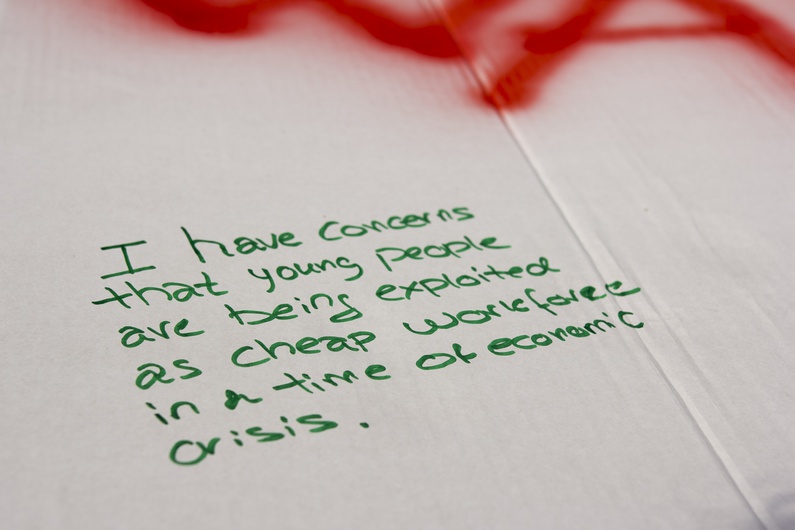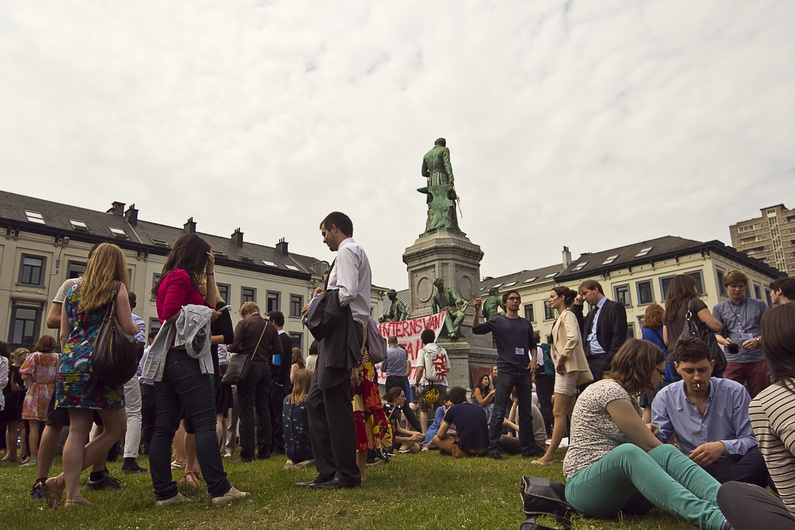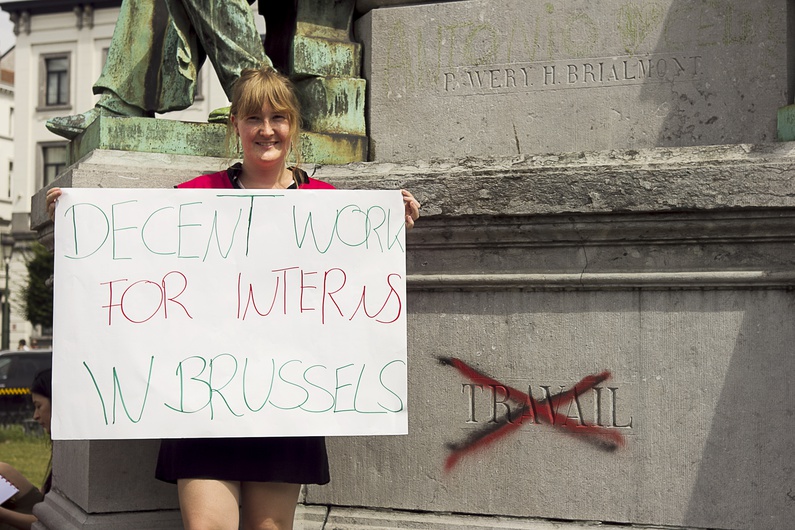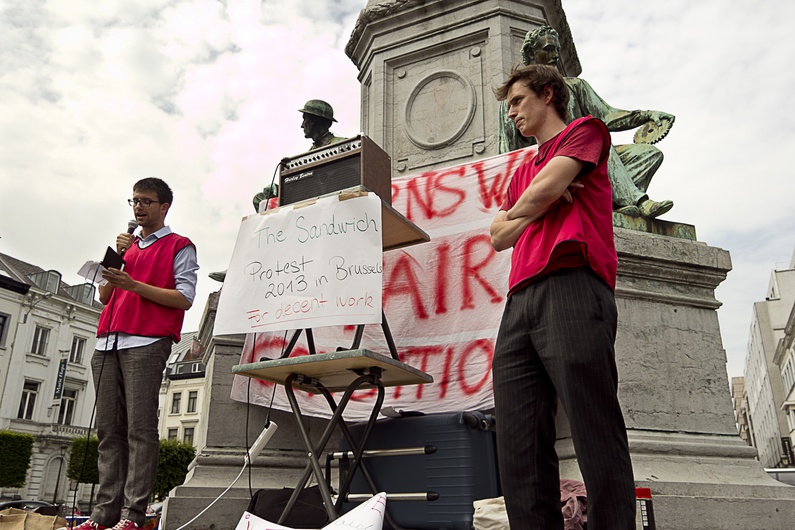 Translated from Sandwich protest : sois stage et tais-toi !