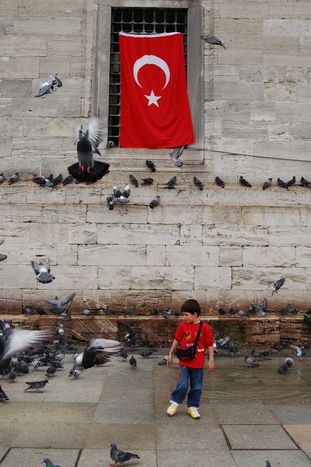 Run-up to Swedish EU presidency: Turkey-EU blame game
Published on
Sweden, one of the most pro-Turkey member states, takes over the EU presidency in July 2009. But this may not be enough to kick-start negotiations for Turkey to enter the EU, which began in October 2005. Is there a common interest? Analysis
'Let me be clear: the United States strongly supports Turkey's bid to become a member of the European Union.' President Barack Obama, visiting Ankara in April, could not have been clearer – unlike his European counterparts. Since Obama's speech, both German chancellor Angela Merkel and French president Nicolas Sarkozy have spoken out in preference of a privileged partnership with Turkey, rather than full EU membership. French foreign minister Bernard Kouchner, formerly a supporter, now opposes Turkey's accession after the fuss they made over appointing Danish premier Anders Fogh Rasmussen as Nato chief in the same month. Indignation in Turkey at this shifting of goalposts then prompted hasty reassurances from the European commission of the EU's commitments to Turkey.
Dashed hopes
Such disagreement is hardly surprising – the Turkey question is one of the most controversial and divisive facing the EU. Ankara signed an association agreement back in 1963; four decades later, membership is only expected in 2014 at the earliest. Official negotiations began in 2005. Kader Sevinç, Brussels representative of the Turkish opposition Republican People's Party (CHP), recalls the optimism back then. 'Everyone was hopeful. We felt the Cyprus problem would soon be resolved.' Instead, 2005 marked the end of a decade-long 'golden age' of relations with the EU. Turkey remains bitter about Cyprus being granted EU membership, and a solution to the island's division, which continues to block EU-Turkey negotiations, is unlikely before the end of 2010.
'They are defining the EU as Christian. This is unacceptable in today's world'
The most recent opposition to Turkish membership has compounded the sense of betrayal and confusion. Nor does the French and German view fit in with what is supposed to be a European peace project, says Sevinç. 'They are defining the EU as Christian. This is unacceptable in today's world.' Sabine Freizer, a Turkey expert at the Brussels-based international crisis group, also sees the French and German statements as 'extremely negative' both for Turkey and for the EU, where they reinforce the view that Turkey 'does not deserve to become part of the EU.'
Shared responsibility
Of course, there are two sides to the story. 'It is very clear that several key EU member states are much less keen now than in 2004,' says Freizer. The blocking of some chapters – the different areas of negotiations where reforms are needed – by some member states has only added to Turkey's disappointment. But, as Sevinç says, 'the Turkish side also has a responsibility to fulfil requirements. Since 2005, we haven't seen enough effort or enough motivation.'
This stagnation is largely due to domestic upheavals facing the governing justice and development party (AKP), says Freizer, including an escalation of the conflict with the terrorist PKK group, and a fight to survive after coming close to being banned for anti-secular activities. Speaking in Brussels in January, prime minister Recip Tayyep Erdoğan admitted his party's crisis had delayed accession talks and significantly knocked Turkish public support for EU accession. The European commission's progress report of 2008 found that the pace of reform in Turkey was not matching EU expectations, nor were enough staff or resources being allocated to the process. The promised new constitution has also failed to materialise. While 2009 seemed to suggest a new start – Erdoğan's Brussels visit was his first since 2004, and in January the new post of chief negotiator to the EU was created – EU officials today talk despairingly of Turkey 'dragging its heels' on reform. To date, of the 35 chapters to be negotiated, only one has been successfully closed.
More so than for any other candidate country, the Turkey process provokes finger-pointing and calls on each side for the other to 'prove themselves'. Speaking in Brussels in May, Sevket Pamuk, professor of Turkish Studies at the London School of Economics, said the EU should take the opportunity 'to show that it is not an inward-looking club that adheres to a 'clash of civilisations' philosophy, but one that sticks to the Copenhagen criteria.' An EU official retorted that it was up to Turkey to prove the sceptics wrong – and to stop blaming others.
When the people say no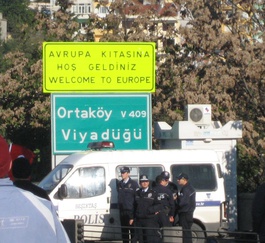 The responsibility does not lie entirely with politicians. Most European governments are in favour of Turkey joining the EU – rather, it is their citizens who are not. A 2008 Eurobarometer survey found that only 31% of EU citizens were in favour of Turkey joining. Aside from the value-based argument – Turkey not being 'European' enough – enlargement fatigue is a major factor fuelling opposition to Turkey, believes Freizer. Ongoing corruption in Bulgaria, for instance, prompts the view that future enlargement 'should be done more carefully.' Public opinion is however closely linked to the messages communicated from above. The European right presents a 'major obstacle' to Turkey, says Binnaz Toprak, a professor from Bahcesehir University in Istanbul, and not just the extreme right. European christian democrat parties have made it clear that they consider the EU a Christian union. In the run-up to the European elections, the French centre right UMP party is campaigning on a promise to keep Turkey out of the EU.
Weakened support within the EU for Turkey damages the EU's credibility among Turkish citizens, argues Freizer, and thus affects public support for EU membership. According to Eurobarometer polls, 61% of the Turkish public had a positive overall image of the EU in 2005. By autumn last year, this figure had dropped to just 41%. The popularity of the EU project began to decline in 2005 and, as prof Pamuk put it, 'the eurosceptics in Turkey and the Turkey sceptics in the EU have been feeding on each other ever since.' In 2008, 61% of Turks said they were in favour of joining the EU, compared to 71% of Croats, and a whopping 94% of Macedonians.
Communicating Turkey
A 2008 'nation branding' study by Anholt-GfK Roper, which measures the world's perception of a nation, ranked Turkey 36th out of 50 countries, below both China and Russia. Sevinç says her party opened a Brussels office partly to address this poor international image. 'The lack of a communication strategy is the main issue – Turkey is currently not sufficiently able to explain their position on certain issues.' Bilge Firat, an anthropologist who has spent the past year studying Turkish-EU interaction in Brussels, agrees, and is surprised that so far only the CHP has opened a Brussels office. Turkey is not only unaware of how to communicate effectively, she says, but also fails to understand the need to make an effort to convince. She attributes this to a Turkish 'equality complex', perhaps even arrogance, in its dealings with Brussels. Furthermore, she says, though 'Turkey is recognising more and more the need to communicate, I'm not sure they are clear on what message, or messages, they are trying to communicate.'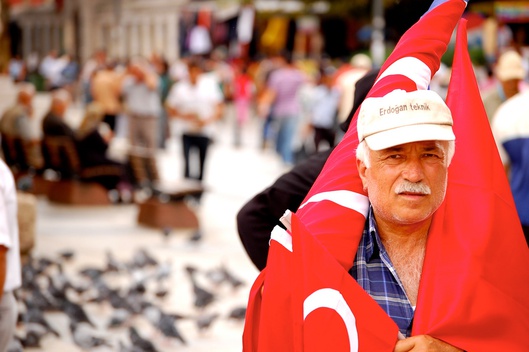 Turkey's image is still seriously compromised by its human rights record and its treatment of minorities. But there are opportunities to improve European perceptions in other areas. Turkey's increasing international role – as an important player in Nato, and in Middle East diplomacy – could help counteract negative perceptions, as could current steps towards normalisation of relations with Armenia. The impressive performance in recent local elections of the CHP, a secular social democratic party which places more emphasis on women's rights, may also promote a more balanced image of Turkey abroad. And one should not forget Turkey's role as a popular holiday destination: in January, the world tourism organisation revealed it was one of the few countries to resist the global downturn of tourism during 2008. Istanbul, increasingly seen as a cosmopolitan – even 'European' city, has been named European capital of culture for 2010.
Sweden, one of the most pro-Turkey member states, takes over the EU presidency in July 2009. But this may not be enough to kick-start negotiations again. Bilge Firat's research suggests the divide runs deeper than many admit, and this has made her question the sustainability of Turkish integration in Europe. 'There is almost a division between Turks and Europeans when they negotiate. In terms of my practical observation, I don't see a common interest between the two sides.'
*This article was the winning entry for the European Young Journalist Award 2009, Ireland