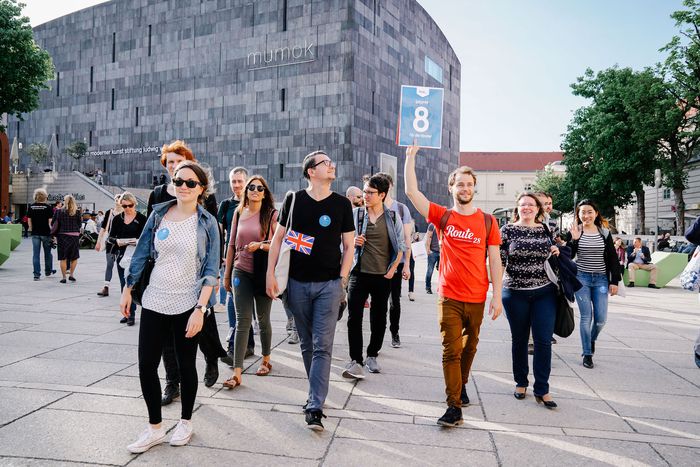 Route 28: All roads lead to Vienna 
Published on
"Our goal is a feeling," says the Route 28 team. One day in May, the organisation allowed 800 visitors to travel across Europe, without leaving the centre of Vienna. Founder Katharina Moser explains how the European journey of discovery works in the city she calls home.
cafébabel: Katharina, who or what is Route 28?
Katharina Moser: Route 28 was inspired by Route 66. Everyone in America knows it, and we wanted to create something similar in Europe - a place that people could travel along in order to experience the continent. Lots of people don't realise where the name comes from, though, and that's a good thing. We wanted to create an event with a catchy name that could be used as a brand, one that doesn't have a direct association with Europe. We are trying to bring Europe closer to people without shoving it in their faces. 28 is obviously a reference to the 28 member states, but then Brexit happened two months later...
cafébabel: Will you have to change your name to Route 27?
Katharina Moser: We did have a moment where we thought: "No, what are we going to do with the name now?!" But we are going to stick with it. We have held the event twice now and people know our name. Besides, we see ourselves not as an EU project, but as a European project. It wasn't just EU states that took part this year. 28 isn't a requirement. In fact, we would prefer to have 30 or 40 stations and really represent all of Europe. But we'll see if we keep the name, we've still got time before 2019. 
cafébabel: What was the motivation to bring Europe to Vienna?
Katharina Moser: Many of my positive feelings towards Europe have come from travelling. My co-founder, Stefan Apfl, and I felt it was important to give people the opportunity to experience travel, particularly those who can't afford to go on vacation all the time. Being European is something which concerns us all. 
cafébabel: Feeling European is central to your project. How can you get people to grasp this idea? 
Katharina Moser: Feelings have to do with individuals. When Stefan and I were developing the concept we asked ourselves: Why do we feel European? Why is that something positive? I spent a year in Spain and lived in a flat with people from seven countries. I saw all the differences between us as very positive. We have also both been on Interrail trips and were enriched  as individuals by the experience. We are all human beings with our own feelings and that's exactly what we want to show. You have to communicate a feeling to individual people, you can't convey it to a whole nation at once.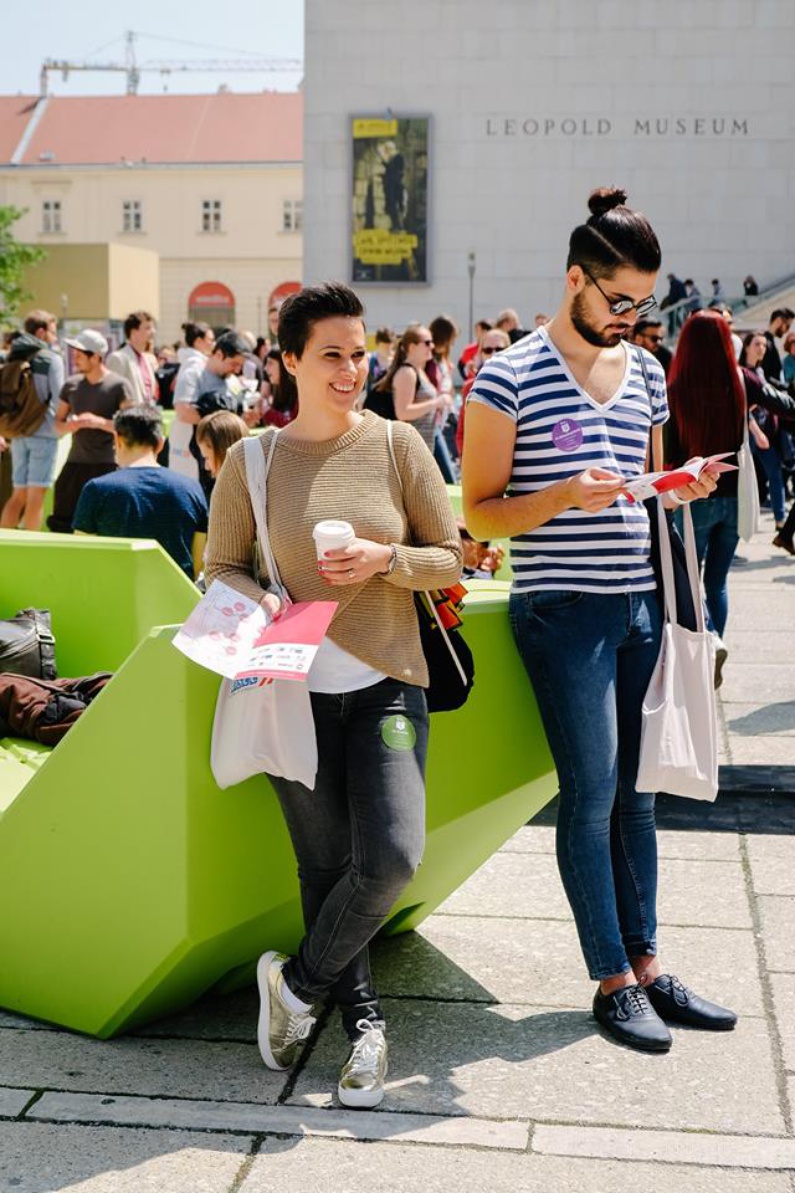 cafébabel: So Free Interrail would be a good way to get this feeling across. 
Katharina Moser: Yes, I'm also a Free Interrail Ambassador and am good friends with the founders of Herr und Speer. The idea was born two years ago. The nice thing about the story is that these two boys from Berlin had a simple idea: young Europeans need to experience Europe in order to feel European. And it's exactly this idea that I'm pursuing with Route 28. It's a nice example of how individuals can change things. We have to strengthen and spread this idea. We have to support each other.
The feeling comes from experiencing different realities, from inside jokes, famous personalities, smells - the little things that make up a way of life. We know them from travelling: they're the things that we remember. The things that are different from where we live. I also wrote a book with young Europeans who were spending time in Austria. All these small things started coming up, like how they find it absurd that on Sundays in Austria there are bags of newspapers just hanging around. In Italy, they would be stolen straight away. Or the fact that we greet each other by saying 'Mahlzeit' ('mealtime') at midday, as if we have to remind ourselves that it's time to eat. The things they noticed seemed normal to us, and these two perspectives don't need to contradict one another.
cafébabel: How long has Route 28 been running exactly?
Katharina Moser: We first tested the concept in 2016. We had five countries and 200 people, and what happened at the stations was pretty random. The first instinct is natural: you have to work with people who come from the respective countries. For Poland, we came across a Polish pierogi chef so it was obvious - in Poland, we would cook. I knew a singer from Spain, Clara Blume, and she played songs from her new album at her station. It was a lot of fun. 
In 2017 we thought: "Ok, this time, let's go big." There were around 800 people there and we had 15 stations. Of course, we struggled with the question of allowing stereotypes into the programme. But traditions that are still alive will always have a place and will always inspire people. We play with clichés but we use them as bridges too, to make people curious and to encourage them to examine things more closely. 
cafébabel: Where will Route 28 lead us in the future?
Katharina Moser: I'm already thinking about that. The question isn't whether the motivation is there because it is, it's about feasibility. Besides our own readiness, there is the question of finding partners who are willing to take on the project with us. I also have the idea of taking Route 28 out of Vienna and of touring Europe; bringing Europe to Europe!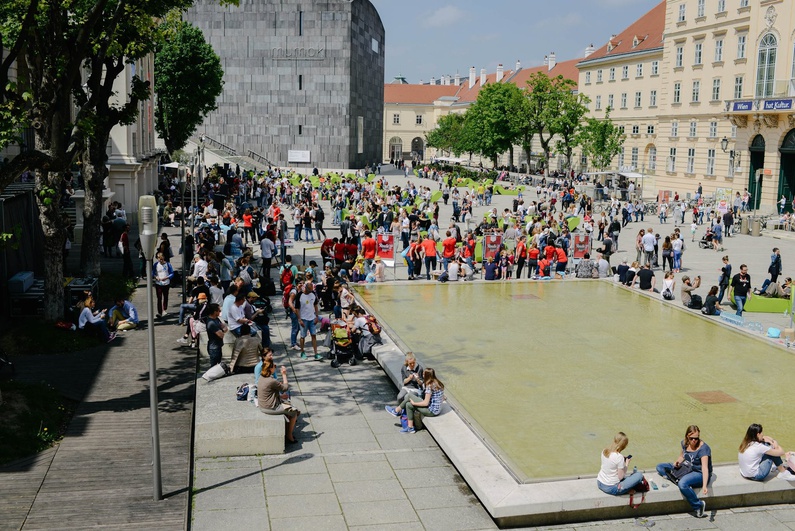 cafébabel: To the UK in 2019, for example?
Exactly, why not? There are enough people there who feel European and the others should also get to know Europe - it's not going to be less important, even if they're not in the EU any more. 
cafébabel: Europe is currently somewhat divided. How can initiatives like yours help improve the situation?
Projects should always demonstrate that they have long term goals. Our goal is to generate a feeling and that will only emerge over a long period of time. We don't want people to take it for granted that we should celebrate being European. The continent's current condition is a wake up call for Europe, and we want to support that. Just as the Life Ball shows that Vienna is an open-minded city, Route 28 should establish it as a European one. That would be really great. Right now there are many passionate European projects, while in politics they are wary of discussing the subject of Europe, often claiming the "European narrative" has lost its way. I think it's very important to trust yourself to be more creative and unconventional. I absolutely do not believe that the vision has been lost. There are many narratives and many enthusiastic people in Europe. You just have to trust yourself! 
__
Official Website of Route 28
Translated from Route 28: Alle Wege führen nach Wien