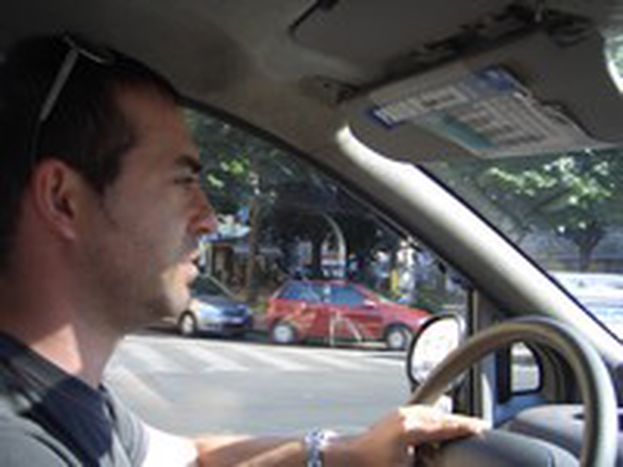 Rome's invisible taxis
Published on
Third in our summer series tracking Europe's taxi drivers, where finding a taxi in the eternal city is like trying to find a needle in a haystack
Rome, Monday morning. I've called five different taxi companies. 'One moment, please,' and cheesy background music plays for 15 minutes. As always. Best bet is to go outside and flag one down instead. But there's no sign of a taxi on the street either. And I live five minutes from Termini, Rome's main central rail station!
Muhammed will come to you
Back in autumn 2006, Rome was hit by disruption from long strikes, protests and a spate of arguments between taxi-drivers themselves. Pier Luigi Bersani, Minister for Economic Development, suggested liberalising taxi-licensing in the capital; the more licenses, the more taxis.
Rome's taxi-drivers fiercely opposed this suggestion, maybe in a grapple to hold on to their status quo. Perhaps they are also part of the 'the caste' ('La Casta'), that Italian journalists Sergio Rizzo und Gian Antonio Stell talk of in their book about Italy's powerful, untouchable politicians. If Muhammed can't go to the mountain, it shall come to him. I walk to the tourist-loaded square, Piazza Risorgimento, which is two streets from the Vatican.
This time it's only all too easy – rows and rows of white cars wait patiently for passengers. My driver Antonio is 32, tanned and jovial. He's worked as a taxi-driver for seven years, clocking up up to eight hours per day in his cab. Although he didn't want to be a taxi-driver, he was born into the profession, following in the footsteps of his father. His voice is friendly and quiet against the background of the Italian music that the radio blasts.
Foreign testimonies
I don't think twice as I bombast Antonio with 'why does it take so long to get a taxi around here?!' 'Between half seven in the morning and 10pm, Rome collapses,' he tells me, convinced by his reasoning. 'Its taxis stay in traffic jams all day long, that's why it's hard to fine one which is free.' But I tried to hail a taxi last Sunday evening, again by Termini station, where trains come in from all over Europe – and there's never one around.
Antonio likes his job, although he is aware that 'I do it for the money, not because I want to.' He speaks English well, and he enjoys chatting with the foreigners who climb into his taxi. 'In general, they are usually quite amazed by the amount of traffic in the city, by the double lines of parked cars in every street, by the 'no parking' signs which are ignored and the pavements replete with vehicles who load and unload in the full blare of the sun.'
After years of listening to the comments of his foreign passengers, Antonio's built up a fair vision of what Rome is like in comparison to other European cities. 'Public transport in Rome is like wishful thinking!' he laments. We've only got two underground lines (one shuts at 9pm), and the streets are permanently jammed. The numerous bus and taxi lanes appear more to be like royal gullies set in the old times.' A damning report – but the taxi business in Rome suffers from the insufficiency of the public transport network.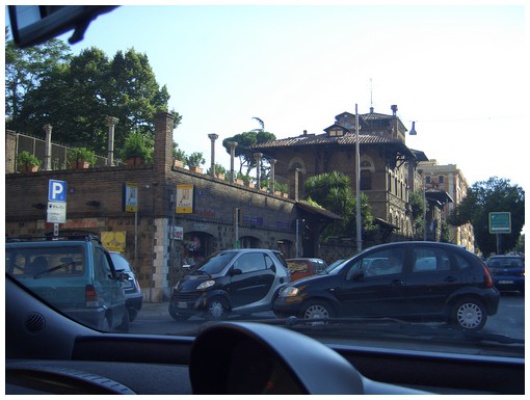 Another issue is the abuse of taxi licences by those who get their licenses in other Italian cities but who come to Rome for work. 'It's just illegal competition,' he complains. 'They come here and rob us of our jobs – there must be 4, 500 coming in every morning.' The maintenance of his car hits him hardest in his pocket. 'You've got to bear in mind the everyday costs, even if you don't go out to drive. I spend 25 euros a day on things like going to garage shops, paying insurance and tolls.'
Insurance and low-cost
But not everything is so dismal. 'Rome is one of the safest cities in Italy. Being a taxi-driver doesn't have any risks or uncomfortable surprises.' He says this despite the hard times being suffered by his countrymen in recent years, a card well played with by politicians during election time.
Who gets into Antonio's taxis, apart from the tourists? 'Recently a survey showed that 5% of loyal passengers are Romans themselves,' he says. 'The other 95% are those who don't get their bus on time. At night, it's mostly women who hail taxis.' Taxis in Rome aren't too expensive either. 'The tariffs were frozen in 2001 – they're now the third lowest in the European capitals. Lisbon and Athens are the only ones who have cheaper taxis than Rome,' according to the driver.
And being a taxi-driver in Rome? 'We taxi-drivers all have the same problems,' he says. 'The EU hasn't said anything on the topic up until now. Although the 2006 Bolkestein Directive. which liberalises services, does have some impact.' Antonio doesn't see himself moving to another Italian city for the moment, 'but I would change job – go to Australia, New Zealand, young and dynamic countries. I'd open up a restaurant. I love food.'
Translated from Roma in taxi. Buona fortuna