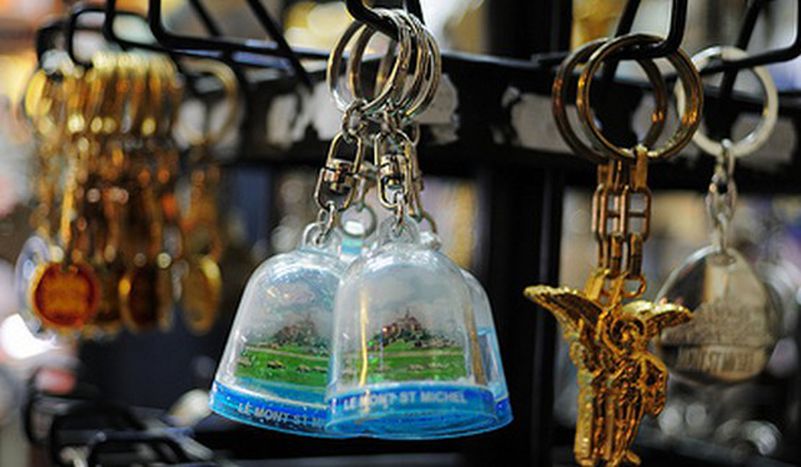 Road trip to... Mont Saint-Michel!
Published on
Two Italians, a Ukrainian, a Chinese woman and a Frenchman in a Citroen Berling. An account of the roadtrip spent in enthusiastic discovery of the famous Mont Saint-Michel, source of pride for France and a cause of rivalry between Brittany and Normandy
Unique and incomparable, one of the 'wonders of the Western World' as a number of tourist guides describe it, Mont Saint-Michel is not to be missed. Despite this, there are plenty of people who have lived, for many years, only a few hours away from it, and yet have never visited it. A confession; I was,
scandalously, one such failed tourist. That is, until I decided to organise a short road trip, destination Normandy (where Mont Saint-Michel can be found, defying what all Bretons would have you believe.)
The road to St Malo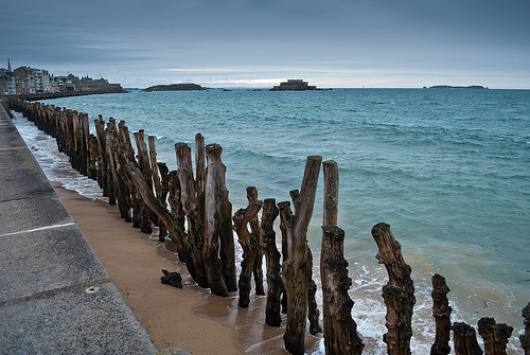 The team are two Italians, a Ukrainian, a Chinese woman and a Frenchman, the latter of whom, as the only male, was consigned to driving duties. The mode of transport is a Citroen Berlingo, on loan to one of the travellers from their academic supervisor on pain of death, successfully obtained only after much pleading. The departure time is Saturday morning at dawn. When I say dawn, I mean before the metro has reopened and before the bars in Oberkampf have closed (bien sur; yours truly, along with the other travellers, lives in Paris). The accompaniment is Royksopp at full volume, in an attempt to keep our eyes open during the drive. As the only intrepid voyagers to venture out onto the motorway at such an ungodly hour, we arrived in Normandy in time for breakfast and, as predicted by the weatherman, grey clouds cast a shadow over our journey. We arrive at St Malo in the late morning, and our first walk of the day is on the beach at low tide, and along the city walls, completely rebuilt after the ravages of the second world war.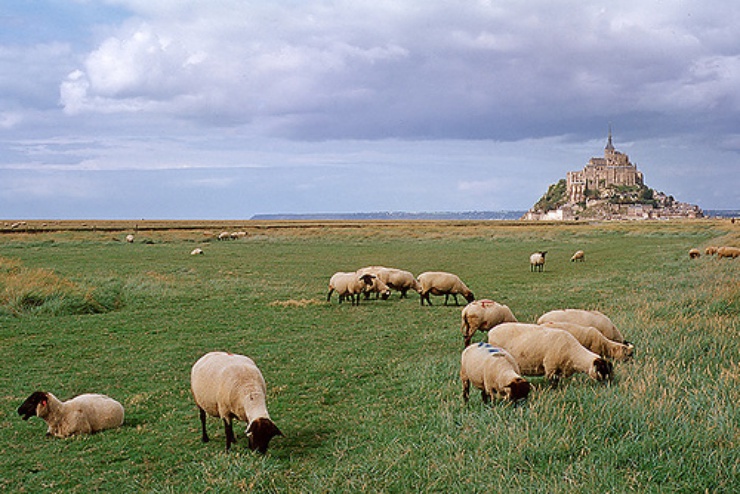 From the beaches to the crepes
Before long, our interest in history gives way to gastronomic urges, and we fall upon a sizeable portion of clams. After leaving the restaurant, a pale and weak sun puts in an appearance: all plans to visit St Malo and do some shopping are immediately dropped, and we head for the beach. The sports enthusiasts among us play badminton; the rest of us assume elegant starfish-esque positions at the water's edge. That evening, we are amazed and delighted to discover that, not only is our hostel  spacious, clean and welcoming, but also good value, all of which are characteristics that Paris has helped us to forget. That evening, we eat crepes by the plateful (are we or are we not in the middle of crepe country?) and we stagger to bed before midnight. After all, our ultimate goal is to reach the legendary Mont Saint-Michel and in order to succeed in our quest, we need to be on top physical form for the day ahead.
The assault on Mont Saint-Michel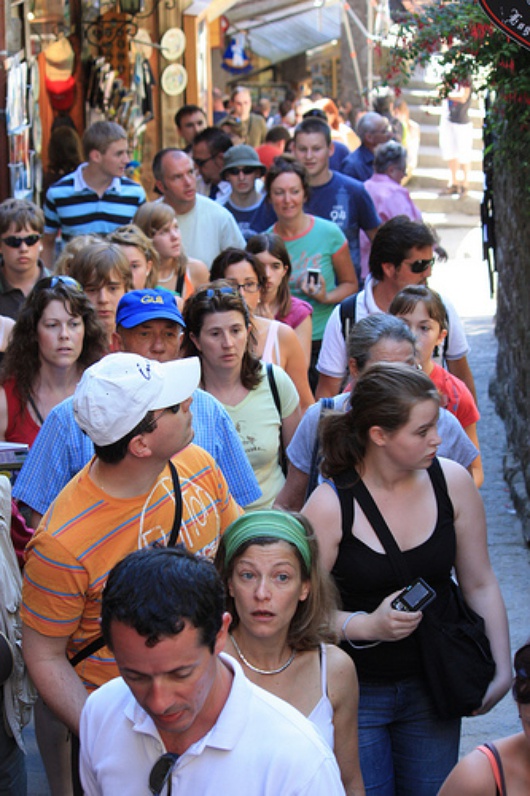 And so, on Sunday, after less than an hour of panoramic coast road, we see it rise up before us (I will resist the urge to say 'like a mirage in the middle of the sea', like every guide before us). We take out our cameras, nip through the hoardes of tourists and arrive at the entrance to the abbey. We explain to a kindly ticket vendor that we are under 26, teachers, unemployed; anything, poor devils, that entitles us to free entry. In any case, it would have been a ten euros (£8.76) well spent; the imposing architecture and the even more impressive view which we all enjoy from on high definitely made our quest worthwhile. We skim through the secular history of the edifice, all the wars and prosperity, revolution and  estoration which has made Mont Saint-Michel what it is today, thinking meanwhile that the ocean view is a calming aid to meditation. The clock strikes the hour - time to go home, but not before this kitsch mood of mine has fully expressed itself through the acquisition of a truly horrible fridge magnet.  However, I must demonstrate to other people and in other places my initiation into the hallowed number of "those who have visited Mont Saint-Michel".
Translated from Road trip al… Mont Saint-Michel!