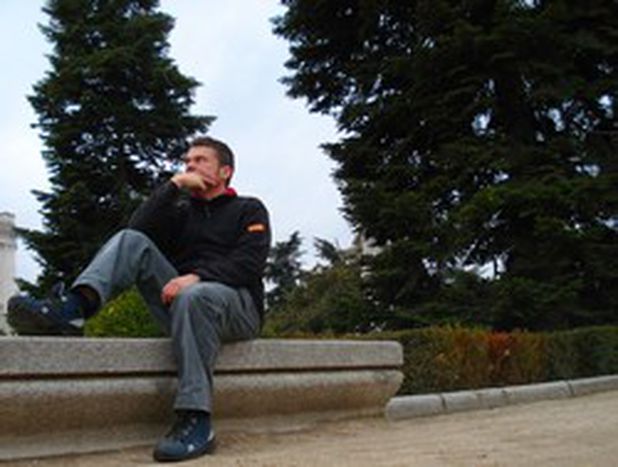 Rhys Hughes: 'the Welsh are very proud'
Published on
The British short-story writer, 41, cites Italo Calvino and Raymond Queneau as his influences, discusses literature, lipograms and Iberia - and why the boy from Wales only publishes in certain languages
It's two o'clock in the afternoon on a cloudy day in mid-December. I am meeting Welsh writer Rhys Hughes, 41, by the Madroño Tree at the Puerta del Sol in Madrid. When I meet Hughes, he seems shy and a little distant. After a hot tea in an Irish pub in the city centre, we start our discussion on the man from Porthcawl, a small seaside resort in south-east Wales, and his literature. We continue our conversation alongst the streets of the Spanish capital as perceived in the eyes of the writer-traveller that Hughes is.
It's all about the modern sci-fi classics
'I don't want to read the work of famous writers, but writers who know how to surprise me,' Hughes begins. That's how he discovered the greats of science fiction, like Clark Ashton Smith and JRR Tolkien, both of whom were members of the Inklings, a literary group which was born in Oxford at the end of the sixties. He began to read authors such as Christa Wolf and Harry Harrison, which drew him into a world of escapism (it's a tendency of modern writers to find inspiration in exotic worlds). Being the extreme form of distraction that this was, the literary and philosophical repercussions allowed Hughes to 'escape from the real world to one that was much simpler,' he describes.
He was only fourteen when he started writing, influenced by science fiction and an 'absurdist' literature which was almost non-existent in the UK at the time. It's how he came to know the 'mega intelligent' Italo Calvino. Hughes says the Italian writer, who died in 1985, has most helped him in his escape from realism.
Logical literature and maths
'When I write I have three main aims,' explains Hughes. 'To not copy the model, crank my wit to the maximum and look for my own style.' That's how he was able to distance himself from Calvino's work: 'I tried to be different and discover my own style.' This scientific background and the discovery of OuLiPo ('Ouvroir de littérature potentiell'), a grouping of French writers and mathematicians which first got together in 1960, set him on the route to logic. Hughes learnt how to manipulate his writing with geometric figures, like using the lipograms (linguistic wordgames where a letter, usually a vowel, is repeatedly left out of a text), to change the meanings. 'Logic and mathematics make literature more schematic. It would be too easy to write on a completely blank page – it's better to put limits on your work,' he says, evoking the base principles of Oulipian literature.
Transcribing reality became something easier and easier for Hughes: he wrote his last novel two years ago. He promises that he will come back to it in the future, adapting a true story to a style a little more like his own. 'The mixture of experiences that I am having right now will help me fill this in.' At the moment, he is working on various novelas, some in English, others in Spanish or Portuguese, and is taking part in various collective works. Some of his famous works include The Crystal Cosmos (2007), The Percolated Stars (2003) and Evelydiad (1996). He also featured in a 2005 collection with fellow British writer Brian Aldiss.
Rhys Hughes: A Welsh writer in Lisbon
Don't stop moving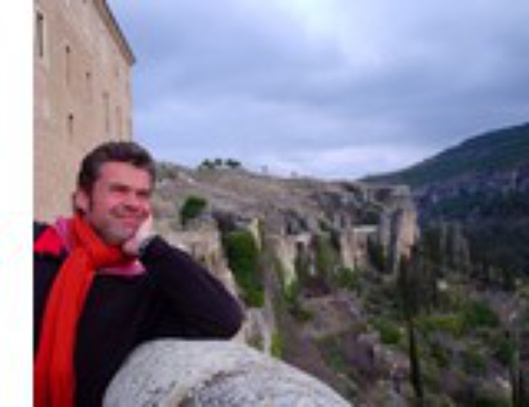 For now, Hughes has a number of projects in mind. The question is what he will do. 'I try to travel,' he says, and continues shyly: 'I want to meet new people, discover new cultures and grow at the same time.' Experiences like spending four months living in a farm near Grenada in southern Spain, where there was no electricity and where absolute simplicity reigned, 'make you want to write,' he reflects. 'Writing is very important so that you don't forget. That's how you transform your stories and adapt them to yourself.' In 2008 Hughes wrote a book which was only published in Portuguese, A Sereia de Curitiba, exclusively for a Portuguese audience. 'It's like a declaration of love,' he affirms, 'to Portugal and all its people.' The experience allowed him to get to know a Portugese audience and widen his perspectives on Europe.
It's not the first time that Hughes has written in a non-native tongue, having published only in Greek and Spanish without even being able to speak the tongues. It certainly marks him as different and special. After winning competitions like the first Open Slam poetry event in Swansea in 2006, he maintains that fame 'is like pretending to be special.' At the moment, he is writing a thousand novelas with interconnected stories - by 1 April he had completed the 450th. His huge dilemma, he says, is to maintain both writing and travelling. There would only be two problems he feels he would have to reckon with – language, 'because I am lazy,' and money, 'because living without money is like writing without a 'w', like French writer Georges Perec in The Disappearance (1969), a huge three-hundred page lipogram.
Loving Iberia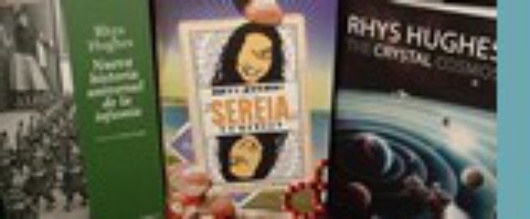 In Hughes' Europe, the cultural identity of every country is important and being a native Welshman helps him feel even more 'different'. Wales is a country where progress is slow. In the past it was a lot like Ireland, which he loves a lot, but he says today 'Ireland is growing at a faster rate. It's a big effort for me to criticise it, but the Welsh are very proud,' he says, comparing his people with the Portuguese. He has spent the last few months living between Portugal and Spain, where he says he found little differences between the two countries: he sees them a little bit like two peripheries, slightly different and closed by their cultures, almost as if they were forgotten. In particular, Hughes has noticed that Iberian youngsters seem to be more united than their British counterparts, and that groups tend to mix more. 'In their heads, they seem more open,' he reflects, which perhaps is the opposite to what many may think. Now he is back in Wales, as he tells us on his blog: 'I have to find a job to pay for my return to Spain. I plan to move there permanently, certainly by 2010. I need to make money first. And learn Spanish properly.'
Some of Rhys Hughes' poetry extracts:
Peace
on two separate Earths is at stake,
the economies of nations
and the sanity of humanity itself!
(The Crystal Cosmos)
No que diz respeito a sereias, o céu
e um país particularmente pequeno na Europa ocidental
são uma mesma coisa.
Mas ninguém mais considera o País de Gales um paraíso
(Sereia)
Eis a razão porque o País de Gales,
Esse país particularmente pequeno na Europa ocidental,
é considerados pelas sereias como o equivalente ao céu
('Sereia')
The Less Lonely Planet by Hughes will be launched on 26 April in London
Photo homepage: (Rosa/ Flickr)
Translated from Rhys Hughes: «Viaggio attraverso l'Europa per crescere»