Reporters Without Borders: Bulgaria 'worrying'
Published on
Translation by:
Fiona Herdman Smith
Luxembourg, Iceland and Norway rank joint first in the 2008 worldwide press freedom index - but why is Bulgaria lagging behind the rest of Europe? Interviews
Reporters Without Borders presented its 2008 worldwide press freedom index on 22 October. Bulgaria, where journalists have suffered persecution and violence, is the lowest-ranked EU country, in 59th place. Serious problems have also been observed in some central European countries. France (35th) has fallen a few places in the ranking due to police and legal intervention affecting maintenance of confidentiality of journalists' sources. Italy (44th) and Spain (36th) have also been downgraded because of mafia threats in Italy and from the ETA terrorist group in Spain.
The situation in Croatia (45th), a future candidate for EU accession, is not improving. The day after the NGO's study was published, two journalists were murdered by a car bomb in Zaghreb city centre. The journalists in questions were Iko Pukanic, owner of the weekly Nacional, along with one of the newspaper's editors. Similarly, Turkey is lagging behind; ranked 102nd out of 173, the country's laws continue to hinder the work of journalists. We spoke to Reporters Without Borders representatives Elsa Vidal and Olivier Basille, based in Paris and Brussels respectively.
What kind of attacks on press freedom have you observed in Bulgaria?
Olivier Basille: Bulgaria is the EU country which worries us the most. It is the lowest-ranked of all EU member states, in 59th place. There are several reasons for this: firstly, several journalists in Bulgaria have been viciously attacked in the last few months, most notably the chief editor of Frog News, Onyan Stefanov, who was the victim of an attempted murder. He was attacked with a hammer, an iron bar and other objects, most likely for having investigated corruption or mafia activity. The situation in Bulgaria is all the more worrying because the EU has repeatedly asked Bulgaria to clean its act up on this matter. To this effect, it created an organisation called DANS which supports the editorial staff of Frog News, in spite of the pressure put on the staff. This isn't a good sign within the EU.
Ten journalists are currently living under police protection in southern Italy
We are well aware that for much of the Bulgarian press, subjects relating to the problems that threaten Bulgarian society have become virtually taboo, or at least very difficult to tackle. Of course, Bulgaria isn't the only black spot in the EU. We must also draw attention to problems in southern Italy, where around ten journalists are currently living under police protection, as is also the case in Bulgaria. This situation is unacceptable within the EU - whether it's in Bulgaria or Italy or in Denmark - where a cartoonist (regardless of whether or not we like his cartoons) has to live under police protection.
What is the current situation in EU accession countries such as Croatia and Ukraine?
Olivier Basille: We can't expect the situation in Croatia to normalise overnight. But, just as for Bulgaria, certain standards of press freedom should be met. This implies that all investigative journalists should be able to tackle any subject, which is not always the case. At the time of Kosovo's declaration of independence in February 2008, we saw more journalists campaigning for the stances they believed in.
This may seem legitimate, but does not constitute truly independent and informative journalism. At that time, several Serbian editorial teams were threatened by Serbian nationalist movements. When suspected war crimes protagonist Radovan Karadzic was arrested, many pro-Karadzic movements came into editorial offices to deliver declarations. They told staff 'this must be published in your newspaper'. If these countries are to join the EU, they still need to make progress on press freedom.
Does Turkey need to make more effort to guarantee press freedom and independence?
Elsa Vidal: The very first reforms that Turkey needs to undertake concern legislation. Article 301 was amended this year. That's a start, but the amendments that have been introduced do not truly guarantee journalists' freedom. They can still be prosecuted for 'insulting the nation', and dozens of journalists have been prosecuted in accordance with this article.
Other texts need to be amended. For example, article 216, the law dated 25 July 1951, protects founder Ataturk's memory from attack. Article 318 prohibits attempts to discourage military service. Elsewhere, certain practices are extremely problematic, especially within the legal system and the political establishment. The army exerts a huge influence on Turkish society. The conflict with the Kurds has led the government to prohibit the media from covering certain events on several occasions, which is particularly alarming.
Does European online media face censorship?
Olivier Basille: There is not much real censorship of online media in Europe, on the contrary. For example, Bulgarian blogs are undoubtedly the places where there is most freedom of expression today. Furthermore, the Frog News affair was partly linked to the online publication of a secret classified document on a site called Opacnite.
No European countries really censor the internet
The internet in Europe and the Balkans is definitely one of the most open. No European countries really censor the internet. At least, the situation is nothing like in China, Burma, Vietnam, Saudi Arabia or Iran. But problems nonetheless exist. In post-9/11 Europe, measures such as e-mail interception, telephone tapping, etc., increasingly restrict the press' scope for investigation, under the pretext of combating terrorism. This is starting to worry us more and more.
What is the situation regarding protection of journalists' sources in France?
Elsa Vidal: There has been good news on this front. The government has reacted positively to our demand to protect the confidentiality of journalists' sources by inserting clauses into the existing law. This project was presented by the French minister of justice and the ministry of justice and was then amended and voted on by parliament. It has now reached the senate. We are very pleased about the government's good intentions, but we have to remain vigilant.
What they say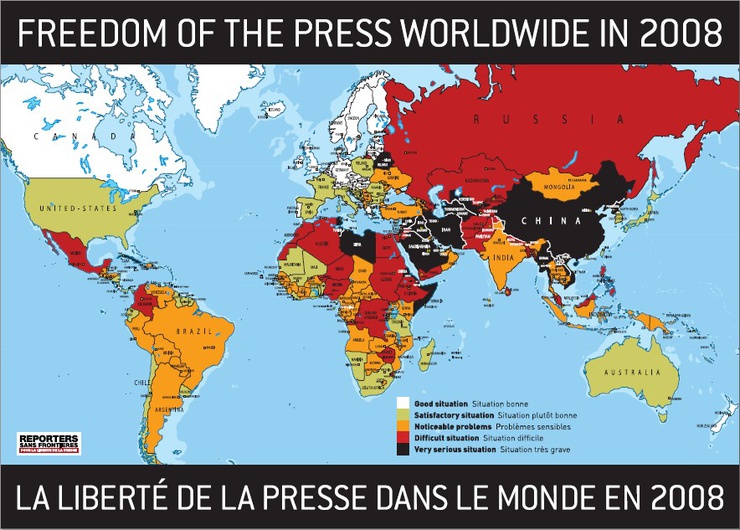 1. Luxembourg
4. Estonia, Finland and Ireland
7. Belgium, Latvia and Sweden
14. Austria and Denmark
16. Lithuania, Holland, Portugal and Czech Republic
20. Germany
23. Hungry and UK
30. Slovakia
31. Cyprus and Greece
35. France
36. Spain
42. Macedonia*
44. Italy
45. Croatia*
47. Poland and Romania
59. Bulgaria
87. Ukraine
102. Turkey
(*) Potential EU candidate members
Translated from Reporteros Sin Fronteras: "Bulgaria nos preocupa"