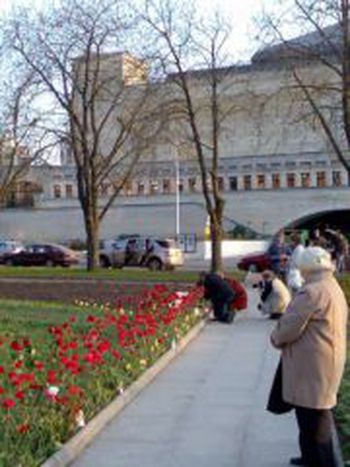 Remembering the riots in Tallinn
Published on
One year later everything passed quietly and, although the Russian MFA would not agree with me, it seems that people have finally learnt a really important lesson: violence does not help on getting anything. Not in Europe, at least.
It was April the 26th when, one year ago, we opened this page keeping in our eyes the absurd nights Tallinn had been living after the removal of the so called Bronze Soldier: crashing windows and police sirens were still echoing in our ears when we uploaded our first shootage ever and we started discussing the explosion of a dangerous situation we had been somehow warning about already some weeks in advance.
But 2008 is different
365 days later Estonians – independently for the language, tradition or appartenence they feel – have something else keeping busy their minds: economy is dangerously slowing down, unemployment is raising, GDP growth is declining and authoritative forecasts are not picturing any bright future anytime soon.
And even though it might sound a bit too pretentious to link these two so different events, I personally cannot stop thinking that the particular moment the country is living this year is having heavy effects in everything. And the anniversary of the last April's nights makes no exception.
A bit more than a hundred people met peacefully outside the Russian Cultural Center, few steps outside the Old Town and, leaded by NightWatch, the have been been demanding the resignation of Prime Minister Andrus Ansip, the punishment of Dimitri Ganin, the young Russian speaking victim of last year's rioting, and the appointment of an international committee for investigating on the events of last April.
And even if some days ago Kristian Jaani, head of the prefecture's law enforcement service warned that "police will definitely respond to all violations", there has been no need for the Estonian blue-dressed men to intervene, not even when someone decided to stand in front of the manifestants holding a provocative Estonian flag.
National library and Woodstock: journalists' playground
Another picket took place later on the day in front of the national library where, while some people still kept asking for the same requests, the majority of the participants silently went to the place where the monument used to stand for remembering its meaning with flowers and burning candles.
Obviously under the eyes of a considerable number of journalists who have been walking around all the sensitive spots throughout the whole day secretly hoping to find something more exciting to report about.
Around 10 pm then, around 15 NightWatch activists passed in front of Woodstock, a bar where Estonian nationalists use to meet – and I must say that, at some point, when two people decided to go out for a smoke, they had to do it in front of the eyes of 9 journalists, me included, who had been presiding the place since hours- for going to deposit flowers and candles in the place where, during the first night of riots, Dimitri Ganin has been stabbed to death.
And, again, everything passed quietly and without any need of police's intervention.
Probably the best way for making people realize that there is still the chance for sitting together and start talking about how to ease a situation that will not be hidden anymore.