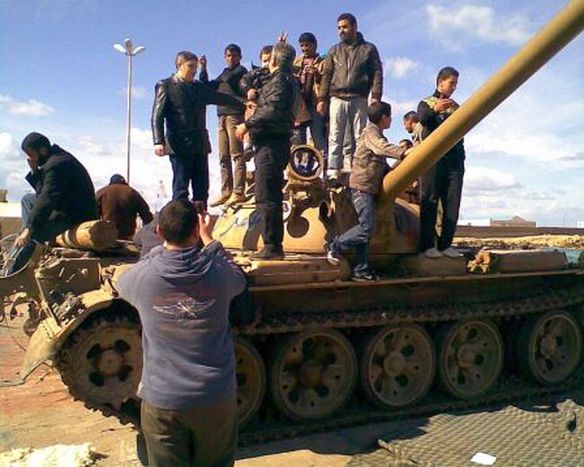 Rebel yell: fighting for recognition
Published on
By Séan O'Dubhghaill
' The European Parliament's Strasbourg meeting last week saw two members of Libya's opposition plead for recognition and assistance from the EU. The E.P., and France, obliged. The outcome of the discussion at today's European Summit will tell us more about the Libyan opposition transitional National Council's struggle for legitimacy.
At the last European Council on Energy and Innovation, held on the 4th February, the message was somewhat overshadowed by events in Egypt. This time the European Council is ahead of the curve, focusing expressly on the issue at hand: unrest in North Africa.
Earlier this week, Mahmud Gebril (58) and Ali al-Essawi (45) both former high-ranking members of Libya's ministry and foreign embassy to India respectively, traveled to the seat of the European Parliament in Strasbourg to plead their case and restate the gravity of Libya's descent into a possible civil war.
The rebels are members of the Libyan opposition transitional National Council. They asked for "military assistance without military intervention". On Thursday, France became the first country to officially recognize the Libyan opposition transitional National Council as the country's legitimate government.
The EU acted quickly in response, first with the European Parliament recognising the legitimacy of the Libyan National Council, and by imposing sanctions. The next step will be to operationalise a no-fly zone so that no bombing runs can be executed by Gaddafi on rebel positions.
While there are still some concerns about auctioning a UN delegation to assess the situation on the ground, many of the aforementioned moves already taken by the EU go above and beyond the UN. The fallout of these events are being felt in the council summit today.
Jerzy Buzek, in his speech to gathered journalists said that though the E.P. has recognised the Libyan National Council, he said they also know that it may not be representative of all Libyan society, and that the European Union should be open to discussion with other interlocutors that may come forward.
Herman Van Rompuy had this to say at the opening of today's events:
"In the light of the momentous developments in Libya and in our Southern neighbourhood, it is important that the European Union acts with determination and sends a clear and positive message to the whole region, expressing full support to the transition towards more democracy, pluralism and social inclusion. This is why I have convened an extraordinary meeting of the European Council..."
It now remains to be seen what the fallout from the recognition of the rebel council will be and in what way we'll see the use of "military assistance without intervention".