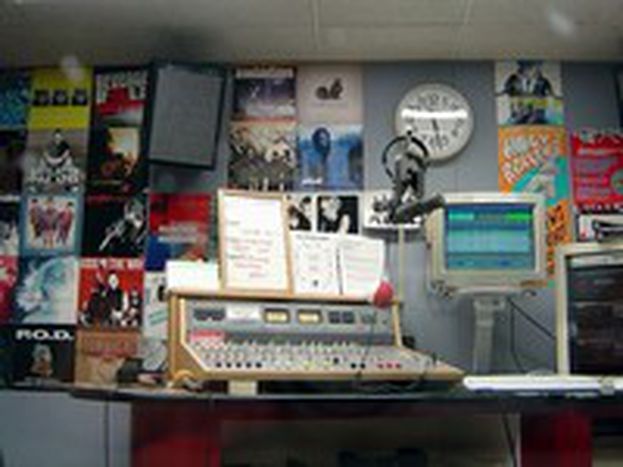 Radio Europe over the waves
Published on
Translation by:
Lucy Davies
Online radio waves are making a splash from French neighbourhoods to the European institutions in Brussels
Feel like listening to an alternative Europe? Europe? How can you talk about Europe when its newsrooms and reporters are 100% British or 100% French? Genuinely 'potluck' radio, two new stations and a programme have recently been launched in France: 'Eur@dioNantes' on 12 May, 'Eurosph'R' and 'Europe N'Roll'.
Initially, the effect on native eardrums can be disconcerting on hearing news flashes read in a foreign accent. These frequencies broadcast music from all four corners of Europe without falling into the 'folk' cliché. While 'Europe N'Roll' broadcasts Hungarian reggae, 'Eurosph'R''s show Contrebande ('Contraband') is unearthing real local gems.
European local journalism
In spring 2005, Florence Aubron, a journalist from Nantes in western France, decided to launch a pilot project on local radio with a European theme, which she baptised 'Eur@dioNantes'. Her objective: to put in place a platform of journalists from all four corners of Europe to discuss local news in Nantes, while keeping in mind their own background and culture by putting everything into the perspective of their own country. 'I want to create radio destined not only for the French but also for those abroad, bringing together many points of view on Europe,' she explains.
Aubron wants to create a radio school out of 'Eur@dioNantes', to train a new type of journalist. The 'European local journalist' is the fruit of a generation that mixes European mobility with the ability to speak many languages. It casts a fresh eye over local news, whilst highlighting the everyday life of our European neighbours with an eye to defining similarities and differences.
For Sophie Barbier, president of 'Eurosph'R', launched online on 9 May 2006, the creation of a European station was a dream come true. As a teenager during the eighties she experienced the beginnings of unrestricted radio. Today, she remarks on how 'large commercial radio stations like French FM 'Skyrock' swallowed the smallest stations.'
By imagining the 'first weblog-radio dedicated to Europe,' Barbier wanted to rediscover the freedom of sound and expression of the first 'free' radio stations, by proposing a 'new way of listening to radio' via the Internet. As to the general indifference facing Europe, she intends to combat this through a dynamic and original media, which will analyse news with a constant view to clarity.
No propaganda
Meanwhile, education is what Margot Reis and her team need to get through to Europe's 15-25 year olds. After a suggestion by the director of 'Radio Fajet' (a small 'free' station based in Nancy, northeastern France), the French and German political sciences student set up a team formed of her own classmates. The programme Europe N'Roll kicked off in October 2006, and Reis was quickly able to count on the efficiency of the Erasmus network.
To raise awareness of the European issue amongst the Nancy's youth, the editors are after an individual and entertaining form of journalism, often centred on the everyday life of a European country. 'European news,' explains Margot, 'is explained in a way which makes it accessible to young people, particularly those between 15-18 years old. We make sure we use the appropriate vocabulary, free from 'propaganda'.'
The situation is more precarious for these small radio stations, who claim to be independent and seek European presenters without having to go through the big fish companies. There are few who successfully meet the selection criteria for the 'youth' or 'media programmes' funded by the European Commission.
To finance 'Eur@dioNantes', Aubron has been engaged in a bureaucratic marathon to eventually obtain aid from local bodies and the Minister for European Affairs. But there is nothing at a European level. It is the same for 'Eurosph'R', which has still not found an investor because a 'European theme isn't really profitable,' according to Barbier.
The setup of these radio stations, which at times only survive thanks to the incredible motivation of their founders and volunteers, raises the problem of the quality and objectivity of the news broadcast. Of course, it places more emphasis on the words of European citizens as opposed to those of political representatives or professional journalists. Everyday life takes precedence over the institutional.
The big risk, however, is that the media is moving away from the big impromptu discussion forums between journalists and activists strongly involved with the European cause. In this case the lack of objectivity and the 'pro-European propaganda' are difficult obstacles to remove. Will the spring of these small European radio stations bear fruit?
Translated from Radio : l'Europe jusqu'au bout des ondes