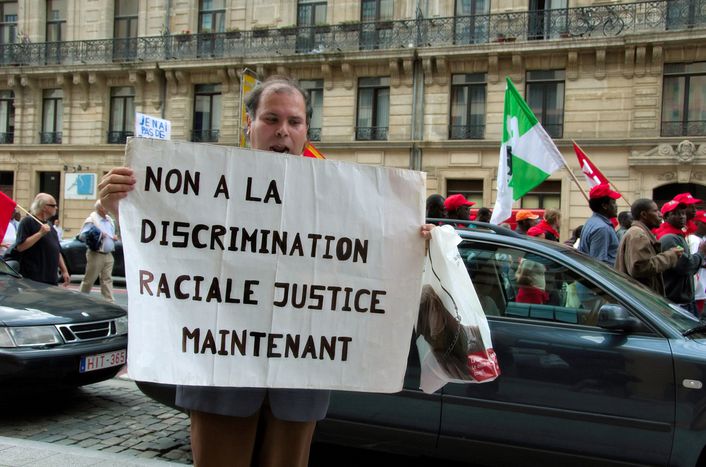 Racism and discrimination for Brussels migrant workers
Published on
In the region of Brussels-Capital, discrimination in recruitment practices is a daily reality. At a time of economic stagnation, ethnic diversity is no longer a priority for businesses, which in turn makes integration in Belgium harder still
Immigrants are the first victims on the labour market. In a typically cosmopolitan city such as Brussels, this problem concerns many of its inhabitants. The Belgian capital, which is in fact a city of immigrants, accommodates mainly migrants coming from EU member states. The Moroccans and Turks (respectively 7% and 12% of Belgium's immigrant population) lag far behind the Italians, French and Dutch. Whilst the rate of unemployment is already 2.5 times higher for immigrants in general, it is four times greater for non-European foreigners!
Employing foreigners in Belgium
According to La Libre Belgique newspaper, Belgium had already been told off by OECD experts for being the OECD country with the lowest rate of employment among its non-European female immigrants in November 2008. Michaël Pivot, director of the European network against racism (ENAR), states: 'Employers who hold similar degrees and qualifications tend to choose from among their co-nationals first.' In 2002 a social employment pact was signed by the Belgian social partners and government, following which employee recruitment was going to reflect the country's diverse citizenry. And yet, reality on the ground has been different.
In order to solve the problem of discrimination in recruitment and as part of the process of integration, numerous specialists have declared themselves in favour of setting quotas to businesses on employing foreigners. For François Haenecour, a legal expert with the movement against racism, anti-semitism and xenophobia (MRAX), these legal measures are not enough. 'Society's overall mentality has to be changed. Our age is characterised by a loss of reference points and values. As a consequence, minorities, which are more and more visible, are blamed for all the modern woes. They 'steal' jobs, live off benefits… all kinds of prejudice, which have intensified after the 9/11 attacks.' Myriam Gérard, general secretary of the confederation of christian trade unions (CSC) in Brussels, fights against stereotypes as well. Given a rate of unionisation of 70%, workers' federations weigh heavily in the balance. Groups are being organised within companies in order to fight against the exclusion of migrants. 'Often we hear people say that they are a bunch of layabouts,' says Myriam, 'and yet, the waiting list at cleaning firms is getting longer.'
Marshall Plan in education
Often less well-qualified immigrants apply for jobs in already-casualised sectors - they are unskilled workers, commis, workers, and so on. The region is an old industrial bastion and does not offer enough jobs to reduce unemployment amongst its less well-qualified inhabitants. On the contrary, as national and international public administrations move to the Belgian capital, the third sector has grown considerably, currently representing 47% of the jobs on offer. However, those who move around these elitist spheres and can take advantage of the internationalisation of Brussels are few.
On the other hand, the majority of underqualified 20 to 35-year-olds struggle to fit in Belgian society through work, as their parents did. 'This generation is lost, condemned to exclusion. We would basically need a Marshall Plan in education and training!' scathes Michaël Privot. A big part of the immigrant population who have had francophone education suffer from a lack of language skills. This is a handicap in the capital region, where both French and Dutch are official languages and English is widely spoken. 'Language is very important because the work environment is tightly controlled by Flemish speakers,' stresses Myriam Gérard. Sometimes discriminations persist even when the holy grail of employment is found. 'I have been working for this company for eight years,' exclaims a Moroccan employee of a service company. 'I struggled almost three years to find this job and even now it is still difficult to get a promotion.'
Translated from Racisme et discrimination: les travailleurs immigrés en difficulté à Bruxelles