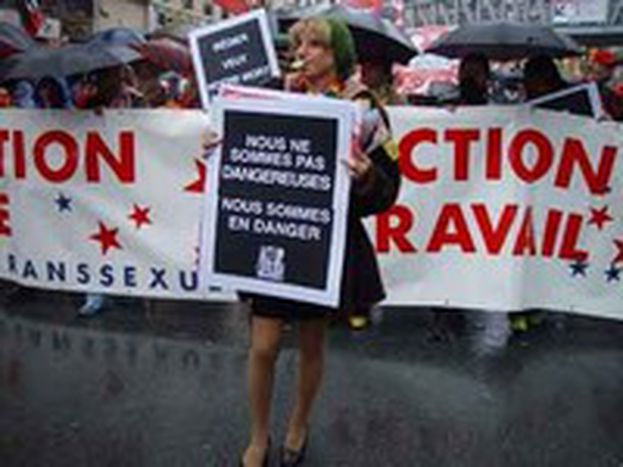 Prostitution and AIDS: undercover and out of sight
Published on
Prostitutes marched through Paris to denounce the impact of the street-walking ban on AIDS prevention
Parisian prostitutes came out on to streets of Paris in their working clothes to demonstrate on November 30. For the first time, prostitutes joined the march and campaigned for more government action against AIDS. Their message is clear. Not only is the government's policy for AIDS prevention among sex workers defective, it is also counterproductive. Under attack are the 2003 Laws on Internal Security (LSI) which banned street walking. For French sex workers, this ban makes it difficult to prevent AIDS.
'It's a geographical problem'
'The ban is catastrophic,' asserts Françoise Gil, EHESS researcher and President of the association 'Femmes de droits, droits de Femmes'. 'Minister Nicholas Sarkozy claims he has tackled the problem of prostitution but he has merely pushed prostitutes towards the suburbs'. Introduced in 2003, the LSI made 'passive soliciting', pushing for sex by any means, including dress, a criminal offence. Under the present legislation, sex workers risk 6 months of prison and a fine running up to 3750 euros for passive soliciting, though France tolerates prostitution.
Françoise Gil argues that to avoid being caught by the police, sex workers have deserted their usual night spots and have fled to forests in the suburbs. 23-year-old Cadyne, a prostitute and law student, confirms that 'if there are as many prostitutes as before, they hide to escape police repression.' 'Our working conditions have worsened over the last few years,' she states.
The impact of this exodus on AIDS prevention is patent. The Parisian association for transgender sex workers (PASTT) organise nightly rounds to meet prostitutes, distribute condoms and inform them about the risk of AIDS. 'But we can't go out as far as the forests and motorways outside Paris, we lack the funds and human resources,' declares Camille Cabral, the President of the association.
A vulnerable group to AIDS
Limited UNAIDS data suggest that sex workers are not more likely than other populations to have AIDS in Europe. Nevertheless certain populations, such as transsexual sex workers and prostitutes who immigrated from Eastern Europe or Africa, are more vulnerable to the disease. The recent data published UNAIDS 2006 report reveals that 22, 000 people in Western Europe have contracted AIDS, against 270 000 in Eastern Europe and Central Asia. But local research in Paris tells another story.
Research at the Paris Red Cross Centre at Moulin-Joly shows that African prostitutes, mostly from Sierra Leone, Nigeria, Cameroon and Ivory Coast, suffer from AIDS as much as women in their home countries. Levels of AIDS prevalence reach 7% to 10% of these women. But no cases of AIDS were identified among eastern European women who declared they used condoms. Ms. Gil, who worked on the study, nevertheless declares that 'many of them, while declaring they were single, would ask for abortions.' According to her, doctors quickly suspected that men of the mafia networks slept with the prostitutes without using any form of contraception and put them at risk. Francoise Gil concludes that 'foreign sex workers are often ill-informed and more wary of institutions since the ban'. Suburban towns are ill-equipped and lack funds to deal with the influx of prostitutes.
Moral and physical violence
'Prostitutes are increasingly stigmatised by society,' asserts Cadyne. As a prostitute, she finds it difficult to obtain bank loans, rent a flat or assert her individual rights. But brutalities do not stop there. Sex workers today fear police repression. According to Candyne, 'prostitutes are fined, regularly arrested and, for those who work in vans, threatened with the loss of their driving licences'. In their report published in 2005, Sociologists 'Mossuz-Lavau et Handman' warn that police brutality was on the rise. What's more, condoms carried by male sex workers are sometimes confiscated and taken to be a sign of prostitution. 'A young Romanian sex worker at Porte Dauphine refused to carry condoms because he believed the police would arrest him,' confirms Ms. Gil. Nevertheless the president of the PASTT denies that this is the case, at least among the trans-sexual community.
Heads of associations agree though that police officers lack sufficient training to deal with prostitution. 'I contacted the Prefecture to offer training courses with the police force to raise awareness, but my proposals remained unanswered,' says Ms Cabral. A source within the police body confirms that 'the police do not receive special courses to deal with prostitutes. We are trained to welcome women who are assaulted, which includes of course sex workers'. Never does the police receive any training to receive male victims which shows that we 'believe that men are still psychologically stronger than women'. He quickly asserts though that for the police, 'prostitutes are victims, we never forget that'.
The victimisation of prostitutes is under question as Cadyne points out that such attitudes justify the present ban. A ban which has, on all account, displaced problems rather than resolved them.