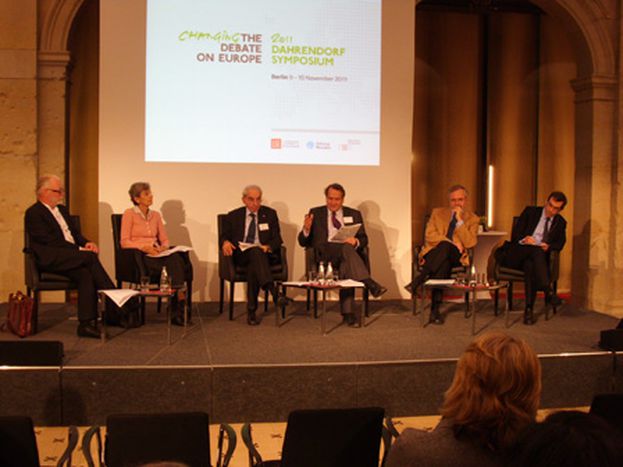 Project Bonds or Declarations of Love? How to Stop Hate Speech in the European Family
Published on
Eurobonds, common debts to be guaranteed by all European countries but spent nationally, are anathema to the German public and German politicians.
So it was kind of a surprise hearing Werner Hoyer, Minister of State at the German Federal Foreign Office, declaring "project bonds", common debts to be guaranteed by all European countries, but spent on a European level, instead of a national one, to be a possible future development.
Mr. Hoyer, who is a possible candidate for the President of the European Investment Bank, what might explain the shift, was answering calls from Italy's former Prime Minister Giuliano Amato. Both were attending a roundtable on "Changing the debate on Europe" at the Dahrendorf Symposium, held at the Berlin-Brandenburgische Akademie der Wissenschaften in Berlin last week. Mr. Amato said: "Let us issue Eurobonds for common projects. Let us give our citizens the feeling of getting more from Europe, nor less! Otherwise: Where should growth come from?"
Yet on what kind of projects the new debts should be spent for, both remained silent. In fact, it seemed, Mr. Amato and Mr. Hoyer intended primarily to make people feel better about the European Union. "We have to make the EU appealing, not a source of constraints", Mr. Amato said. Citing concerns in Italy and Greece, he added: "Maybe some citizens say: 'Well, without the pressure from Germany, we would get through our problems much better.'"
Whether or not intended, new, and probably expensive projects, seem to be seen as a possible way out of current euro-skepticism. "When it became nasty, language was not very peaceful anymore", Mr. Hoyer reminded the audience. The usual legitimization of the EU might not be enough anymore, he fears. "We do need a new narrative on Europe", Mr. Hoyer said. "We shouldn't forget the old ones, but we should give people also a new one."
If project bonds will mark a shift towards higher acceptance of the EU by the public or towards calmer markets remains difficult to judge in advance. To calm markets, which are in panic about a possible default of Greece, that could possibly then lead to further defaults, project bonds seem to be too small, no matter what size they are going to have exactly. To change attitudes towards Europe, project bonds might simply be the wrong answer, as they wouldn't mean less austerity on a national level and, especially, painful but necessary reforms, to get rid of, for example, the traditional two-tier labor-markets that privilege those who already have got jobs, especially in the state-sector, and the elderly at the expense of those who have not yet found a permanent job and have to live with precarious part-time employments.
Maybe the problems could at least partially be solved by a different, more respectful way of communication. Wolfgang Ischinger, ex-ambassador and Chairman of the Munich Security Conference, and participant at the roundtable, called for more intervention by Europeans into each other's internal affairs, but also for more emotion. "I believe we are not courageous enough. We have to intervene in each other's internal affairs more often than we do, but not only negatively", he said. "I am waiting for the moment when Merkel and Sarkozy will travel to Greece and tell the Greeks that we also love them. Emotional elements matter in Europe, and we need to tell each other that we love each other".
At times, it seems, politics can be surprisingly romantic. As in every love affair, more romanticism would also mean less independency, though. Are Europeans ready to fall in love with each other with these strings attached?