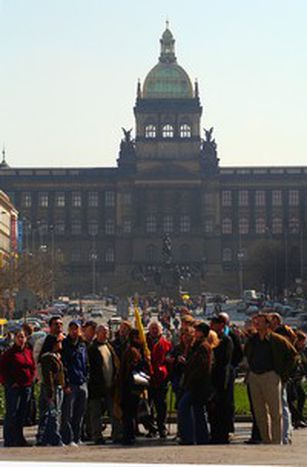 Prague's got a brand new bag
Published on
The Czech capital's tourism flow reached full capacity in 1999, having experienced its boom after the fall of the Iron Curtain in 1991. Some are unhappy at what they and their city has been left with
'March and April are the beginning of the high season,' Martina says, as she wraps up Bohemian crystals for some beaming German older customers. The 30-year-old sales assistant works in Blue Praha, a tourist souvenir chain that has taken over the Czech capital's busy streets and airport with a total of nine stores. After Martina graduated in business and economics, she migrated to Prague in the search of a 'decent job'.
Prague makes a considerable 18 percent of its GDP from the tourist business. It gets the younger population, like Martina, flocking into town. But once they get sucked into the world of tourism with its ever-ringing cash register, it's hard to move on. 'I have been working here full-time for about five years now,' she explains. 'But I don't really wanna stay here forever.'
Brand new face
Prague's cityscape got a facelift when the tourist boom hit town after the iron curtain fell in 1991, wiping rhe dust off its beautifully ornamented churches and buildings. Intricate details on Kafka's sinister life were revealed at the Franz Kafka Museum, just south of Metro Malostranska. Recently built Communist memorials, such as a gradually disappearing man by Olbram Zoubek (2002), or the reconstruction of the Smíchov Synagogue in Prague V (2003), to the left of the Vltava river, shows how the city has beautified itself, enriching itself with its history. But is it pure eye-candy for the tourists?
Pavel Seknika, professor of economics at the Charles University, the oldest and largest Czech university, speaks favourably of how his hometown has grown and blossomed. 'Obsolete breweries in the city centre which had long been out of business are being re-invented as tourist attractions. They profit solely through visitor income,' he says.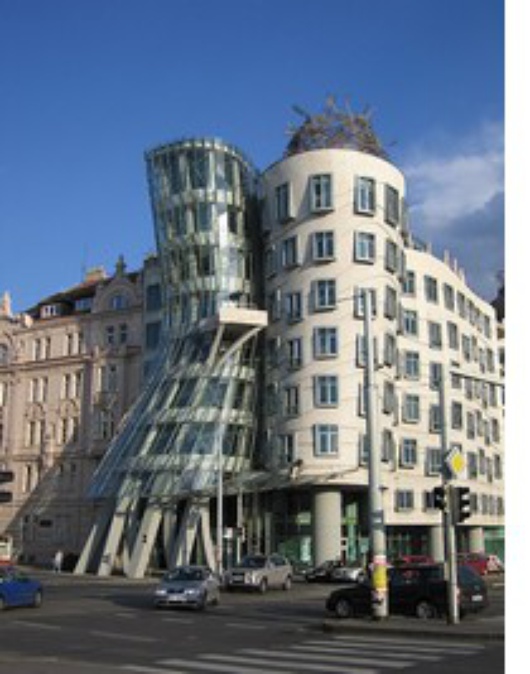 Some big names on the architecture scene don't like this backward trend of pouring money into old buildings, deeming the effort a mistake. David Cerny, 39, provocateur and sculptor extraordinaire, sees the supposedly experimental architecture – such as the twisted cement block that is the Dancing House, built between 1992-6 - as a mere façade. Cerny complains how the Magistrat (local government) chickens out of any bold architectural moves.
'At the moment all the talk is about a new national library in the place where the Stalin monument used to be (destroyed in 1962),' explains Cerny. 'Jan Kaplicki won the competition. But then zillions of people started to complain that it's too modern and doesn't fit into the place. It's a fine building - it would be great if they built it there!'
Business look
But it's not just architecturally adventurous buildings that are changing the cemented scenery of Prague. Seknika explains how big investors – 'like the European Union, private businessmen from neighbouring Germany and Austria and faraway USA and Japan' – are reaching into their pockets to finance the city's architectural restructuring.
'On average, tourists stay in Prague for only three days,' Seknika says. 'This money thus often goes into projects that will promote longer-term trips. They will offer tourists and business people more entertainment and activities, aside from the usual passive walks around the city's quarters.' To this end, conference centres are in the pipeline, whilst the likes of Hugo Boss, Swarovski and co. have taken over whole streets close to the city centre to attract more business people. The old lady that is Prague is getting a brand new designer suit.
Citizens vs. city slickers
In short, everyone has had a hand in re-dressing Prague. This has certainly had its impact on the city's inhabitants. Some see the makeover and tourist invasion as a positive phenomenon that makes the city more multicultural and open-minded.
Roberto is a Swiss ex-patriate who has been living in Prague for almost ten years. He makes about 50 - 80% of his earnings at his little fast food booth through tourists. He values the friendly foreigners not only as a source of income, but also as ambassadors of their culture. As a result of this, 'many foreigners also come to study or settle in Prague making it a more lively place.'
Steep hikes
Others cannot stand the fact that they have to elbow their way through the masses to get to work. Rents and property prices have increased, particularly after the Czech Republic entered the European Union. 'I remember visiting a house I wanted to buy a couple of years ago,' says Roberto. 'It cost 4 million crowns (140, 000 Euros) then, but has doubled to 8 million (280, 000 Euros)!' He explains how foreigners were not allowed to buy property in the Czech Republic before 2004 unless they had a company set up in the country. Now foreign interest is fueling the prices.
Eva, 28, a lawyer working in a firm close to the centre, also complains about the rise in costs. 'My uncle who has lived here for 25 years cannot go to his local pub anymore because he cannot afford the high prices.' She explains that even cultural events have been adapted to tourist taste and budget, rendering simple leisure activities unaffordable for people still living in Prague. Michal, a law student, shares Eva's view. For him, the governmental efforts to preserve Czech culture are just a 'mostly money-oriented façade.'
As Prague gets prettier, the more and more tourists will want to capture its new look on their cameras, but the higher the prices will get. Prague's new exterior may be beaming with self-confidence, but is its beauty enough to lift its citizens out of their unhappiness?
Photo Dancing House (IntlTraveler/ Flickr)