Post-Erasmus depression
Published on
September. Time of arrival for 400,000 European students who set up in one of the hundreds of University cities that host the Erasmus project. But September is, unfortunately, also the time for getting back to their routines for about 350,000 students who, in the past academic year, have gone through an experience that is said to be capable of transforming one's life in most of the cases.
At least for one year or a semester.  After that, one gets back to his own old habits and can trigger a sort of "post-Erasmus depression".
If you type such an expression into Google no psychology site pops out. By contrast, I came across the unbeatable dissertation written by Fiorella de Nicola about the subject Antropologia dell'Erasmus. Partire studenti, vivere sballati, tornare uomini «Anthropology of the Erasmus. Leaving as students, ruining our lives, returning as adults»).  It might be an irony of life, but Fiorella and I – Fiorella was in Alicante during the academic year 2004/5 – are from the very same city, Cava de' Tirreni [ I enjoyed making a montage of the two towns. Our little town is nice but would not Fiorella have written the same stuff if she had left for little Finnish village?]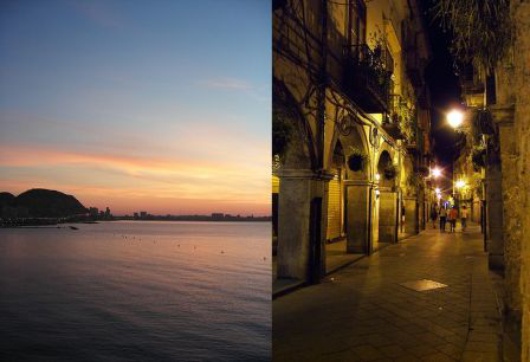 My compatriot got it very right in depicting the naivety of those who are living the last days of the Erasmus experience:
«They don't have a clue about what is waiting for them back in their countries "the post Erasmus syndrome". They don't know how horrible their house will look, their city either too cold or too hot, University boring as never before, the TV squalid, their friends just average…they will be overwhelmed by a depression as huge as a Kuala Lumpur sky scraper. They will reject anything which is not related to their Erasmus. The syndrome is experienced by all, without exception, but the intensity and the length of it will vary. Since it is just a syndrome that will be by definition a temporary condition, a thing that can, must, last just a while…not to become pathetic»
Her speculation on the meaning of the word identity managed to convince us:
«In short we must be prepared to lead an existence of  outsiders, people without roots. That will be not because we don' t have a homeland. In fact we will have too! Or even more. Ours, the one we were born and brought up in. The one that has "adopted" us for one or two semesters. Our friend's ones: Germans, French, Portuguese, Mexicans, English, Scandinavians, Americans, Canadians: their houses in Alicante were ours. And who knows what kind of  magic was applied in order for us to feel that a bit of their cultures, their friends', has become part of us… «It might as well be that this funny joke of the European identity is not that far from reality»
Will that be true? And how to come out from the Post Erasmus depression? Eurogeneration opens up the debate.
Have your say, in the comments.
Translated by Alessandro Mancosu - Welcome, Alessandro on Eurogeneration!
Foto Pedro Prats Michael Khoo/Flickr.com
Translated from Die Post-Erasmus-Depression