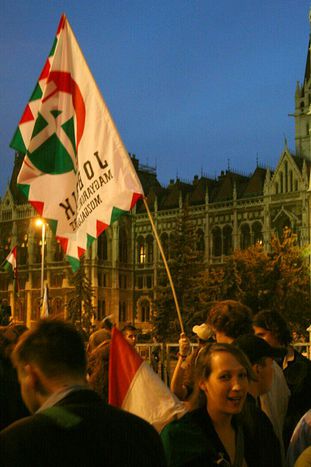 Post-elections: chain reactions on Europe's new colours
Published on
Green is the colour for victorius ecology in France and Germany, blue is the colour of the conservatives tightly tucked into the European blanker whilst the socialist pink rubs off the dye. Red deep blush for the abstainers! Correspondents from Poland to Italy comment on the 7 June results of the EU elections
Rise of the extreme right in Hungary
The result of the elections could even indicate significant changes in the political palette in Hungary. Very surprisingly high support - almost 15 % (14,77% and three seats to be precise) - for the extreme-right party Jobbik that have no seats in the Hungarian parliament (at least, not yet). They've hit the covers of every national paper. The conservative opposition Fidesz gain ground in the European parliament with 14 MEPs and a historic 56.37%, ringing in the biggest ratio that any conservative party could ever have. The biggest losers on election night were definetely the liberal SZDSZ who managed to get only 2.16% of the votes, thus unable to send anyone to Brussels. The governing socialist MSZP got 17.34%, and the centre-right MDF managed to get one seat
In France, the will to turn off the television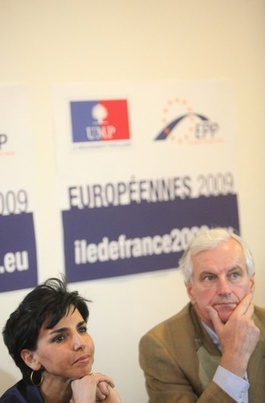 Abstention? With ministers catapulted into the European elections without an ounce of motivation, the election campaign in France got off to a slow start. She's already mayor of Paris' 7th arrondissement (district), the minister of justice, Garde des Sceaux ('keeper of the seals'), recent first-time mother: it's true that Rachida Dati, to name but her, has the luxury of getting involved in European politics with passion and devotion. Her European election candidature was a way of getting her out of government, and president Nicolas Sarkozy's punishment for certain candidates of the union for a popular movement (UMP). With 27.87% of votes, his right-wing gets the overall majority all the same
In France, it's the greens who win the media bonanza. The party is led by Daniel Cohn-Bendit, who is proud of a convincingly well stuck European label. He grouped together a large spectrum of credible and popular personalities to attain 16.28% of votes, as many as the French socialist party. A heralded victory: to the point that the there's a buzz in the air on the TV sets, between Danny the red and a president of the MoDem party (the democratic movement), François Bayrou, in a clear panic. The latter found nothing better to spark a discussion than to get out some old debate (notably, the proposals for a soft attitude towards paedophiles which would have caught Cohn-Bendit's attention in the 1970s: he wrote a book on something similar). A dignified and high flying European debate!
Repeated scandals in Italy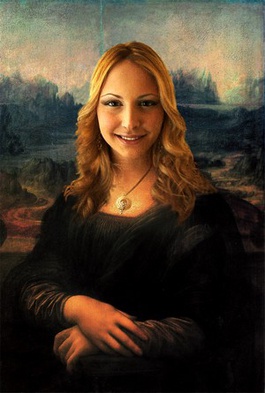 The PDL (Partito delle Liberta, 'people of freedom') obtained 35.2% and the PD (democratic party) 26.2% of the votes. And yet Italian PM Silvio Berlusconi expected a better score. Alessandro Campi calls it the Naiomi effect. The political scientist and director of the fare politica ('make politics') foundation which is close to Gianfranco Fini made the comment in the Il Corriere della Sera daily. The controversies over the 'partie fine' and the comings and goings of young women in Berlusconi's villa have surely stopped the catholic and feminine electorate from being convinced. But no-one can really measure the impact of personal photos from Berlusconi's villa published on 5 June in El Pais… Berlusconi wanted a clear-cut result to put him on the international scene and, why not, put forward an Italian for the presidency of the European parliament: today it's clear that the PDL won't be the first party in the European people's party (EPP). In Italy, the election day finished on the lovely legs of Noemi Letizia. The young woman of eighteen was accompanied by her father to the voting station. Assaulted by onlookers, it had to close for the time that Noemi took to fulfill her requirements as a citizen. She left accompanied by the police, which was contested: why such treatment for an ordinary citizen?
Little pigs in Poland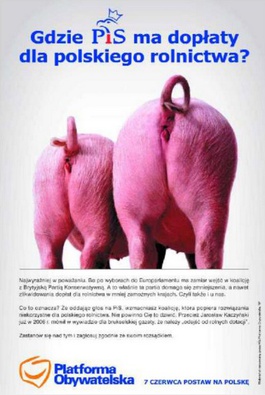 The last few hours of the campaign, before the great calm at the ballot boxes, were very violent: the majority of candidates intended to finish with a bang. A beautiful example is that of the civil platform (PO, the liberal party in power) which attacked the social-conservative party law and justice (PiS) on the theme of the common agricultural policy (CAP), on its very last campaign poster
A part from that, there were few or no surprises. According to the latest figures – not yet confirmed – the turn-out reached 24.54% in Poland, which is more than in 2004 (20.9%) and a lot higher than the predicted figure (surveys announced between 11 and 18%). The distribution of votes was revealed to be as expected: 44.39% of the electorate voted for PO (that is to say, 25 MEP seats, a half of the Polish allocation) and 27.41% for PiS (15 seats). The alliance of left-wing parties SLD and UP obtained 12.49% and eight seats. Finally the small parties: the Polish rural party (PSL) obtained 8.02%. Amongst the 'big losers' are Libertas with 1.1% of the votes and the centre-left (centrolewica), where we expected several green candidates…
In Germany, we're already thinking about Bundestag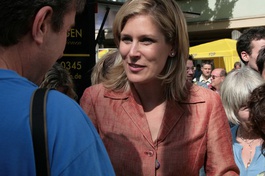 Anne, 25, voted in Germany on 7 June. She hadn't studied the programme from A to Z: 'I gave my vote to the greens, because their plan best reflects my priorities for a European policy,' she says. The winners of these elections in Germany were without a doubt the smaller parties. The greens were able to repeat their score from the 2004 vote. But the surprise winner across the Rhine is the FDB, the liberal-democrat party, despite a destructive article by the FAZ published a few days ago, entitled 'How much does Silvana Koch-Mehrin really work?' – an enquiry into the regular attendance in the benches of the European assembly of the liberal MEP. Her party effectively improved 5% on its score in the last European election, whilst 'the two big ones', SPD and CDU, took some hard blows. Anne can't believe that 'European themes weren't discussed at all,' during the campaign, except for 'strictly German scandals and squabbles.' The proof: the CDU and the FDP are interpreting the result of this European vote as a positive signal for a black-yellow coalition in the Bundestag elections in September 2009
Shock in Northern Ireland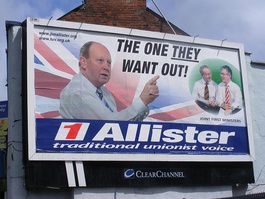 In Northern Ireland, a nationalist party topped the polls for the first time ever. Sinn Fein won 26% of the vote and left unionist rivals, the democratic unionist party, far behind. This is partly due to a split unionist vote (one former MEP, Jim Allister, broke away from the DUP to campaign on an even more extreme line). When results were announced, DUP candidate Diane Dodds refused to shake Sinn Fein candidate Bairbre de Brun's hand - these are the two parties leading N.Ireland's power-sharing government
Translated from Réactions en chaîne : les nouvelles couleurs de l'Europe