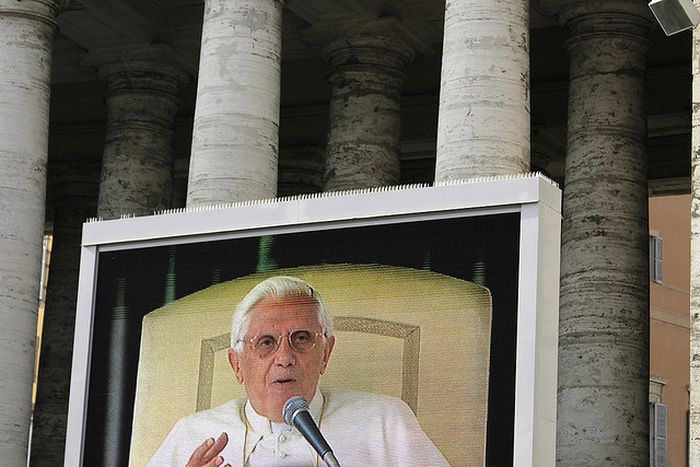 Pope Benedict on TV on 22 April: church in crisis?
Published on
Translation by:
Tina
5pm on Good Friday or 22 April 2011. That's when the pope will make an appearance on Rai 1, the most popular television channel in Italy. The revolution in the catholic church follows suit from pope John Paul II.
Television is a powerful means of communication where matters of faith and religion can be discussed; Joseph Ratzinger is taking it one step further by not only participating in the programme, but being open to questions
A journalist on facebook joked: 'Who knows? If he makes it in on television, soon enough we might even see him presenting Chi l'ha visto!,' referring to a programme on Rai Uno looking for missing people. Managers at the national TV station still can't believe it: 'It's a sign of modernity and demonstrates the pontiff's ingenuity,' they remark, recalling that Joseph Ratzinger also blessed social networks with his presence because of the opportunities for 'discussion, the exchange of ideas, solidarity and creating positive relations.'
For the very first time in the history of papacy, a pope will appear on television. It's taken fifty years but it's a sign that the catholic church wants to leave its mark on the media to keep up with other religions whose entire success is based on it. The biggest motivation of all is the ever decreasing number of christians: in Italy priest numbers have declined, a sixth of them having to preach in multiple parishes. According to estimations, only 15% of the population regularly attend mass. As well as publicly renouncing religion, young Europeans are also turning to sites created for that particular purpose, like countmeout.ie in Ireland. In Germany more than 120, 000 people abandoned catholicism in 2008 alone. This was followed by the controversies over the paedophile priests and condom use, which Ratzinger did manage to rectify. Before occupying prime time with the commemoration of the passion, Benedict XVI will answer three of the public's questions sent to the programme (A sua immagine or 'In His Image') website. The topic is Jesus Christ, the subject of one of Ratzinger's most recent books Jesus of Nazareth (2007). It is the pope after all. You need to be patient with him.
For those who prefer to watch films on television, you will see a very different pope who is in crisis, much like the wavering number of christians. He is a pope who is fearful and stressed out about the unexpected elections coming up for the papal throne. In the trailer of Habemus Papam ('We Have A Pope', 2011), an upcoming drama about the pope's relationship with his therapist, director and lead actor Nanni Moretti asks the pope: 'So, tell me, do you have issues of faith?' One way or another, the pope will have a giant screen presence.
Image: (cc) patterned/ Flickr
Translated from La Chiesa è in crisi ? Il Papa va in tv!