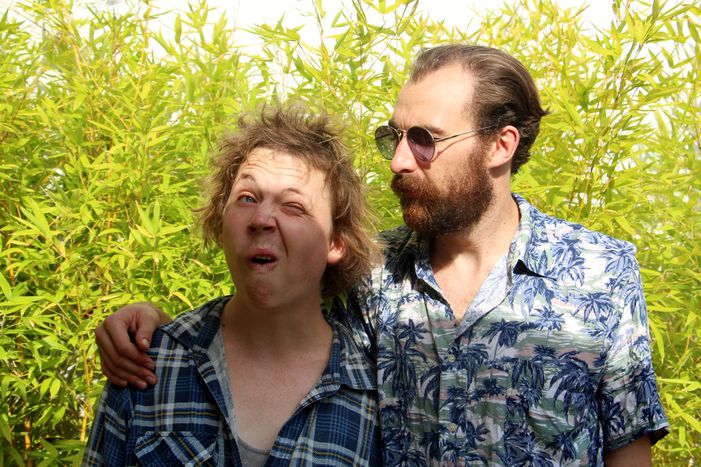 Pond: Australia's freewheeling space rockers 
Published on
Long thought of as the goofy, younger brother to their Australian contemporaries Tame Impala, psychedelic rock outfit Pond have rarely hogged the spotlight for long. But after an impressive sixth album in seven years, that may be about to change.
"Well… the initial loopy idea for Pond – it sounds really lame, hippy-dippy, cooked-out-of-business," lead singer Nick Allbrook tells me, "It was the idea of us as people being many ponds in an ocean kind of interflowing and interconnecting." 
Pond have never been ones to take themselves seriously – they're happy to play up to the clichés of psychedelic, stoner rock, throwing up alternative water-related band names. "What about 'Small Creek'"? asks Allbrook, while Jamie Terry (keyboard/synths) suggests, "Dried Up River Bed" - ironic when the band is overflowing with creative ideas.
With the release of their latest album Man It Feels Like Space Again, a return to form after the enjoyable but chaotic blur of Hobo Rocket, Pond remain at the head of Australian music's psychedelic renaissance. We had a chat with lead singer Nick Allbrook and keyboardist Jamie Terry about the band's creative process.
Compared to sister band Tame Impala, which is essentially the brainchild of Kevin Parker (also a former Pond member), Pond, which began as a free-for-all jamming session at a house party in 2008, has a more collaborative process. Nick explains, "It's more like me and Jay (Watson) and Joe (Ryan) collect a lot of ideas – it could be a whole song, it could be five songs or it could be a collection of chords and if they're good you get something else good, and we make it. A lot of the time, it's not that collaborative, it's just songs we've all written.
Terry adds: "One guy usually takes the reins for their own song so they can direct us in terms of the vibe they want, but when it runs through the 'Pond filter' it comes out completely different anyway. I guess it makes it easier to be prolific when you've got three songwriters and everyone just brings a few song to the table – and you've got an album!"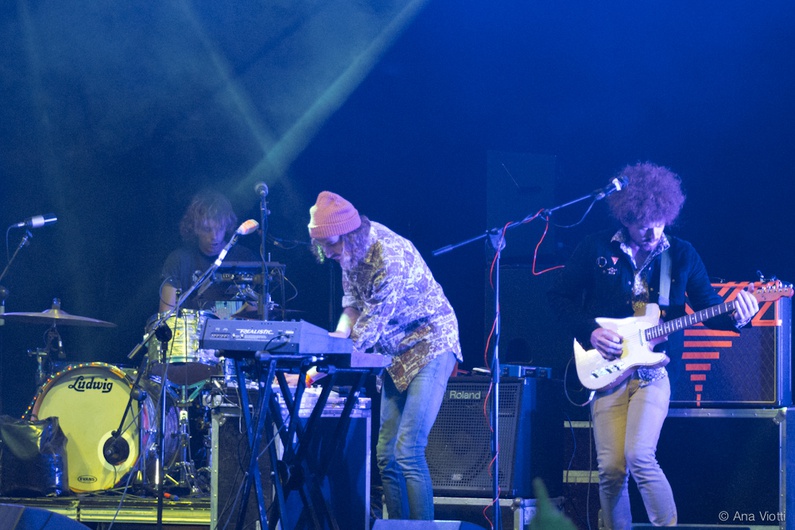 Referring to the fact that Pond and sister band share band members, Terry jokingly points out, "It was easier when everyone wasn't gallivanting around the world." Allbrook, who used to be Tame Impala's bass guitarist before leaving in 2013, adds, "Well before, we just didn't have any pressure so it was like why not? We've got fuck all else to do, so we just kind of, like we decided that we wanted to be prolific – pretty much. So we said, let's make an album, tomorrow and we went and did it. As more people start looking at you, you start getting less time, and people go and live in fuckin' LA or something horrible like that."
Rather than suffering from creative burnout, the band's output is bubbling along nicely – and some of that might be down to the quiet of their hometown of Perth in Western Australia, as opposed to the bustling, music hub that is Melbourne:
"There's just so much more going on in Melbourne that you end up having heaps less time to actually make music, says Terry, "You're distracted by fine-craft beers and pubs…"
It's the same for Allbrook: "Not to the same degree but it's more akin to a big European hub. You go for a walk in Melbourne and you find yourself getting distracted and going into a fuckin' café or something. In Perth, if you need to get somewhere, often there won't be a bus or a train or anything in between, so you walk along listening to music. There's nothing to do so you make music. "
Yet, distractions might become more frequent as the band grows in popularity. The latest album was their first to be recorded outside of Perth - in Melbourne and the nearby Apollo Bay. But not yet: "We're probably going to do a new album around December or January 'cos everyone's going to be in Perth at the same time, says Terry, "Then I think we'll take it easy for the first half of next year. Tame Impala are going to be really busy promoting their new album, so we'll just chill out."
Well, we're not sure how Pond chill out, but based on past form, the odds are there'll be a second new album by the end of 2016.
YouTube: Pond - Elvis' Flaming Star