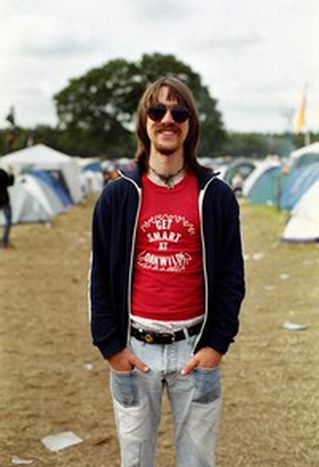 Poland's very own Woodstock
Published on
Translation by:
dominic harrison
Since 1995, Germans, Poles and countless other Europeans have united under the motto "love, friendship and music" at the Woodstock Stop, a free, two-day open-air festival in Poland.
A bus which could simultaneously transport all guests to 'Przystanek Woodstock' (Woodstock Stop) is yet to be created. According to festival organisers, up to 400,000 people come to Poland every year to visit the biggest free open-air festival in Europe. Those unsure of how to travel to the country need not worry though as this year's festival is being held on the German-Polish border town of Kostrzyn, a mere 100km from Berlin. On August 5-6 2005, Germans and Poles alike will not only be able to learn about music from the other side of the Oder, but first and foremost about each other. A little time and a tent is all that is required.
A celebration of thanks
Since 1995, Jerzy Owsiak's Great Orchestra of Christmas Charity Foundation has organised the festival as a form of thank you to its donators and those who voluntarily collect donations each spring for medical equipment, which is then distributed among Polish hospitals. Woodstock Stop is an exceptional festival in recognition of exceptional work: in 2004 alone, almost seven million dollars were raised through donations.
The festival's cost-free policy also applies to the 30 bands that will make an appearance. Most of the acts playing are relatively unknown, but even the more popular German bands, such as Toten Hosen from Düsselfdorf who played at the festival in 2004, receive no more than 100 Zloty (around 25 euros) for expenses. Nevertheless, the stage is fully booked for two whole days, with over 300 bands having already applied to the foundation to appear at this year's festival.
'Peace patrols' and water fights
Nostalgia for the old East Germany ('Ostalgie') is also catered for. The festival is being held on grounds surrounding Kostrzyn that were used for military purposes during the Cold War. However, now that a much more informal atmosphere pervades the site, it seems fitting that the security operation is carried out by so-called 'Peace Patrols' and that the area directly in front of the main stage is not cordoned off. Instead, graffiti artists are invited to display their talents on wooden screens. The customary water fights which break out around the 150 water stations are also a must. There's no need to worry about food and drink as it is to be found in abundance across the festival site and at reasonable prices. Comfortable and cost-free Internet cafes also dot the site so that festival-goers can email friends at home to tell them of their latest conquests.
When the first cars head out of Berlin and cross the 1992-built Oder Bridge on their way to the festival, those Germans making the trip will come another step closer to understanding their vast and relatively unknown Polish neighbour. In the year of German-Polish cooperation - aside from political declarations of unity - it is the close personal contact that the festival promises, which will bring people closer together.
Przystanek Woodstock'
Kostrzyn, Poland
5 and 6 August 2005
http://www.wosp.org.pl/en/przystanek/2005/history.php
Translated from Woodstock liegt in Polen