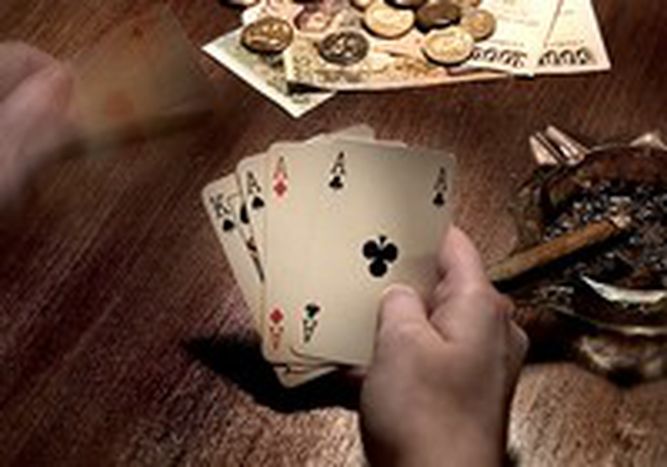 Poker cards on the table
Published on
Translation by:
ed swan
From casinos and shops to television and the internet - the poker craze is taking off in France, leading to huge growth in the industry
Philippe got hooked four years ago, with his group of childhood friends. A group of forty-somethings who played games together, they were mad for the games console rather than the casino chips.
'During one of our weekly meetings, our playstation broke down, so we looked for something else to do,' jokes the photographer. A few clicks on the internet later, the time to learn the basics of the game, and from then on it's all passion for the cards, the strategy, luck and bluffing. 'It's crazy, you get totally hooked. We choose to limit the bets to 10 or 20 Euros, but we've had to change the day of the get-together - we can't keep going to bed at 4 or 5 in the morning mid-week.'
They're not the only ones. 'Le Club Poker' is a website created in 2002, which aims to 'create a network of good players whilst debunking the negative image of poker.' It claims 5, 688 official members – profiles from Marseille to Brussels, from ages 14 to 67, from ministry employees to shop assistants and students, from single and young parents, to an increasing number of women too.
Between 100, 000 to 500, 000 French take part in one of the many variations on the classic game, in private, in groups or online. 'It's very difficult to know the number of players,' explains Francois Montmirel, international player and scientific director of the École Française de Poker. 'As far as I know, there were 15, 000 regular players in 2000: today it's close to 150 000. With an increase of 50% each year, France is at the heels of Great Britain and Scandinavian countries.'
Hollywood cool
This growth in numbers began to take off after 1998, and the singer Patrick Bruel, world champion in 2004, greatly contributed to the popularity of the American game in France. 'John Dahl's film Rounders had a very big impact,' recalls Montmirel, author of several works including Poker for dummies. 'Matt Damon plays an amateur who decides one morning to live off his winnings. Just like Steve McQueen as Eric Stoner in The Cincinnati Kid thirty years earlier, it celebrates what poker players feel deep inside: the influence of luck, the inevitable result, the passion to win, the panache.' In short, emotions which struck right at the heart of young generations. This mirror effect, enhanced by literature as well as cinema, is not about to fade: even recently, James Bond took up the cards for a few frenetic games.
Off the back of the first filmed tournaments in the United States, the real trigger of pokermania, TV programmes and projects are growing. The pioneers were Canal Plus, who saw their viewing numbers rocket for poker on Friday evenings. Now it's the turn of the channel Direct 8 to broadcast 25 weeks of tournaments live in 2007. Meanwhile with the Cartouche group, TF1 is planning a grand competition open to the public and to anonymous players. Magazines are also cashing in: released in June 2006, the now monthly 'Live Poker' and 'Poker Magazine' sell 50 000 copies. DVDs, video games and books flood the market, and the shelves are also filled with imports of professional cards, chips and carpets.
Even taking into account only those hooked on poker, Francois Montmirel estimates the income to be 150 million a year. Without counting the internet, for which poker is gold dust! There are 350 poker sites which connect to 120, 000 players in a moment around the world and about 300 million dollars changes hands every day. Some sites are even quoted on the stock xchange. The biggest organise daily tournaments with more than half a million dollars up for grabs.
Virtual addiction
But beware of the potential consequences. 'The purest game that you can imagine,' warns Marc Valleur, director of Paris's Centre Médical Marmottan. 'Poker is different from most addictive games, which are governed by chance. It's when you emphasise this too much and put everything down to skill that you can lose control. There are less risky ways of playing, whether you earn your money by picking on weaker players, which is not very admirable, or whether you, more sportingly, rate yourself against other players to fix the first bets, thereby limiting winnings.' He defines the crux of the problem as being related to the definition of games by the state.
By an incredible anachronism, poker has in theory been illegal in France since 1930, because it is considered a game of chance. It's only by special dispensation that it can by played in certain clubs and will soon be allowed in casinos, it is also tolerated in private as long as it is not publicised. As for websites, Nicolas Sarkozy would like to make them illegal and ban all advertising. 'We ask for a games monitoring body put together by an independently regulated authority. It is to take the realities of the Internet into account, and to standardise European legislation,' explains Valleur. A work under construction, where some persist in bluffing.
Thanks to François Montmirel, 'Le Poker pour les nuls' (éditions First. 2005) and Marc Valleur, 'Des pathologies de l'excès'(éditions J Lattes, 2006).
The poker success story
1990: First European international poker tournament, the 'Festival of Poker' in London
1991: First Championships in France
1995: First Parisian circle, the Aviation Club of France ACF, joined by another last November
1999: First poker TV programme, 'Late Night Poker' on UK Channel 4
1999: First poker websites
2000: First local French clubs, illegal but tolerated
2002: Explosion of poker online, notably with PartyPoker and PokerStars
2003: First online prize: the selection of the World Champion
2004: First French TV programmes on Paris Premiere, Canal+ and EuroSport
2006: End of introductory trial in casinos, which will open to poker
2007: 25 weeks in a row of live tournaments live on Direct8, TF1 project,
etc.
Translated from Poker cartes sur table