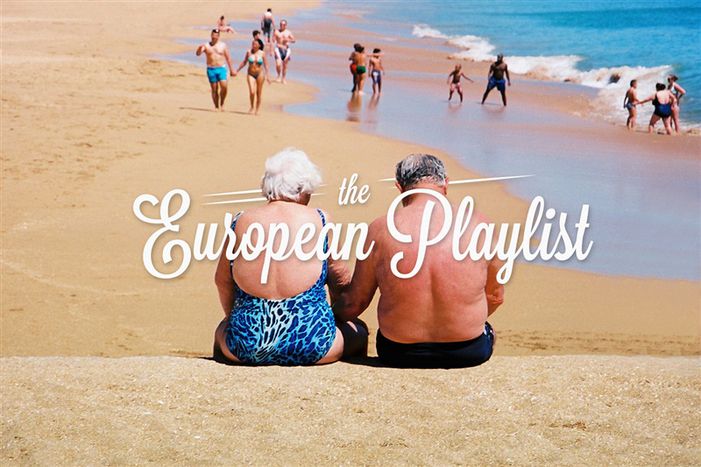 Playlist of the week: Summer Lovin'
Published on
Whether it's a "sweetheart" you've met on holiday, with whom you've spent some nice moments in places more or less exotic; or a soulmate, with whom you're going to spend the rest of your life; Cafébabel has rummaged through its back-catalogue of European music for your Summer Lovin' playlist. There's no Grease in this list, however.
Nick Mulvey, I Don't Want to Go Home
A song with the atmosphere of the end of summer, 'I Don't Want To Go Home' is about travelling, life on tour and hanging out with the love of your life. Presumably the newly-married Mulvey is talking about his partner and bandmate Isadora. The video was filmed last July in Australia as the former Portico Quartet band member toured the country.
Erlend Øye, Garota 
This one lands us into the middle of a plausible guy-meets-girl story, but sadly, here, love is transient. Erlend Øye, a former member of the Norwegian duo Kings of Convenience, come out with this solo ballad: a classic love at first sight tale that seems to have concerned Øye personally. His crush is a South Korean girl (the clip was shot in the capital of Seoul), called by the Portuguese 'garota,' which means 'girl'). A cosmopolitan passion, but their streets are destined to split. "Life is long, and the world is small / Our paths will cross some other time". Maybe next summer?
My Dear, Standing in This Dream
My Dear go steady even in everyday life. This French-electric duo is made by Raw Man (Romain Seo) and his partner Blanche (Cabanel Seo). They frequently employ this romantic-vintage mood in their works, explains our French editor Matthieu, "the 16mm camera follows a girl with the skateboard, along what it seems to be the Californian seafront. Like on a carefree honeymoon, during which "he" shoots "her" among the sun, the palms and the beaches." California dreamin'...
Die Ärzte, Sommer, Palmen, Sonnenschein
This famous band from Berlin, Die Ärzte, is an institution in Germany. From their 1989 album, Die Ärzte früher!, we dug out this "happy tune" made out of a summer mood (and crowded with consonants): a man lays sunbathing on the beach, alone, but he can't really enjoy the summer without the woman that he loves: "With you, all of this would have been much more beautiful." During a live performance in 2011, Die Ärzte tried to update the song by bringing it into the third millennium: the "walkman" quoted in the original song became an "MP3 player", and instead of a "milkshake," our lover drinks a "RedBull" on the beach.
The Estrella spots
"Du' gust' is megl' che uan". Mindful of the lesson given by a beardless Stefano Accorsi in a dated TV commercial (other summers, other approaches), we can easily agree that two beers (and two girls) are better than one. This spot of the Spanish beer Estrella (together with the song played by a Swedish indie group, Billie the Vision and the Dancers) follows the summer of a young man on holiday in Formentera. The two girls he meets never leave him alone (we don't know why), repeating "Tonight, tonight... I wanna be with you, tonight"; and between boat tours, winking, bras that get undone (too many times), the holiday is already to an end. With just a sip of beer.
Budka Suflera, Jolka Jolka pamiętasz
An old song from before the fall of the Berlin Wall, 1982 to be precise. It's a summer love story of times gone by, consumed lazily between the hot weather and the boredom of a small city. Furthermore, it's one of those "impossible" relations, a married woman and a society that frowns upon their relationship. "The lover is like a mythical traveler," says our Polish editor Pia," that from the warm embrace of  his lover finds himself exposed to the cruel light of day. It's best to listen to this song on cassette tape on a Polski Fiat 126.
Brunori Sas, Guardia '82
No longer an up-and-coming singer Brunori Sas, originally Dario, has already made his debut as a singer-songwriter with his Vol. 1 in 2009. This song doffs its cap to a retrò style, dating back to the "glorious" 1982 of Pertini and Bearzot, when Brunori (born in '77), "unaware of this, unaware of everything," used to build his castles on Guardia Piemontese beach, in his native Calabria, "with a small shovel and a small bucket / and a cap on the head." Unaware, even of love, he will have to wait ten more years (and growing pains) before having a spark between him and that little girl he saw fleetingly on the water's edge. "On the 31st of August / there's a story that begins / and a summer that dies out."
Flavio Giurato, Orbetello
Flavio Giurato is a songwriter that stands alone. Uknown to most, and pretty much untraceable, he produces records - to put it mildly - at very long intervals. In Orbetello, (Il tuffatore, 1982) what seemed to be just an ephemeral meeting, began at a tennis tournament during a libecciata summer, turns into a powerful track thanks to his poetic imagery. The deep voice, slightly "shouted," dyes the story with irritability, "And you who rides the car the night that I call you and no-one answers me," only to then leave space to the wild music of the sequel-track Orbetello ali e nomi.
Translated from Playlist della settimana: gli amori d'estate