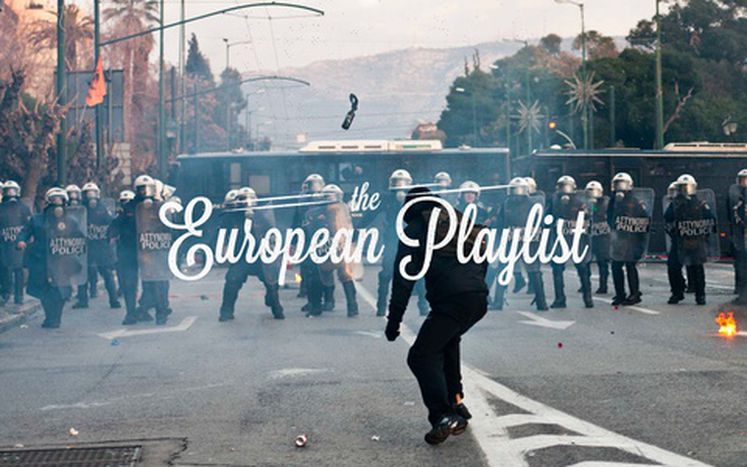 Playlist of the Week: Rebel Notes
Published on
Music is practically born in the streets. Over time, some musical movements even decided to go back to their roots to become the means of expression for several disgruntled generations. We definitely needed a playlist to honour the protests that have shaken up Europe over the past few years.
Folk is, among others, the genre that best represents the sounds of demonstrations. The multi-ethnic collective Kardeş Türküler composed a song that would become the call-to-arms of the uprisings against the occupation of Gezi Park in Turkey in 2013. Complete with lucky instruments and penguins.
Kardeş Türküler – Tencere Tava Havasi (Sound of Pots and Pans)
Revolution gave birth to Portugal. It is logical that Hands of Approach dedicate an electrifying piece to brutal change wrapped in a velvet glove.
Hands On Approach – Riot's On The Streets
Being punk in the 1980s was as revolutionary as smoking an electronic cigarette is today. Not in Poland, where red mohawks and studded jackets didn't really blend into Soviet communism. And yet, this group decked out in leather would break everything and compose the greatest rebel hymns in the Poland of the 1980s.
Ayal rl – Skora
In their 25 year career, Barricada has never distanced themselves from social movements and other struggles of the working class. At the border between political conflict and music, the group denounces police brutality and their persecution of the lower classes of Spanish society. An everlasting group in the country of Los Indignados.
Barricada – Bario Conflictivo
In Italy, there are songs that are not only background music for protests but also serve as slogans for movements. This is the case of Manifesto whose refrain translates: "Today, I don't work, I stay naked and I protest." (Oggi non lavoro, resto nudo e manifesto). Unstoppable.
Bandabardo' – Manifesto
Most English groups dedicated part of their discography to multiple protests against the Union Jack. Few spoke out before them. In 2009, Kaiser Chiefs made the social thermometer of the country climb when they released the album called Education, Education, Education & War. Maintaining a certain British composure: in the video, people are pillow fighting. And Johnny Rotten vomits.
Kaiser Chiefs – I Predict A Riot
Rap is certainly the battle cry for popular uprisings in the 1990s. In France, perhaps more than elsewhere. In 1997, Passi released one of the most memorable songs about civil unrest in the suburbs. Where it is a matter of easy money, men who believe themselves to be God and social housing where the police don't go anymore. 
Passi – Les Flammes du Mal
Because music can also serve as a pretext to a moral revolution, Pussy Riot decided to write inaudible songs whose only objective is to raise awareness. And insult Putin.
Pussy Riot - Putin Lights Up The Fires
Translated from Playlist de la semaine : les notes rebelles