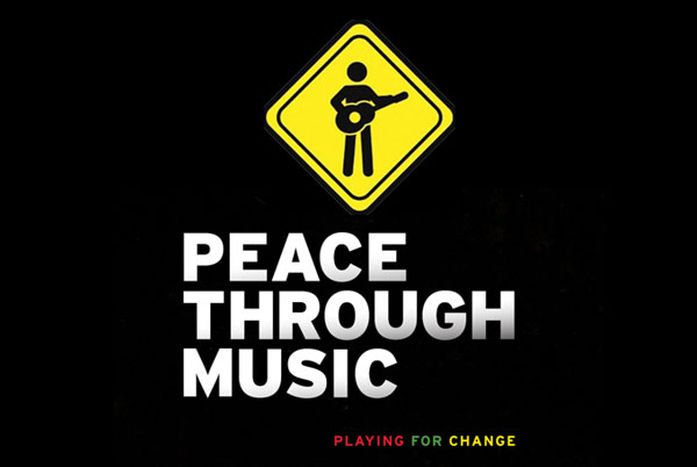 Playing for Change: How to Promote Peace through Music
Published on
Playing for Change is a band with about 180 international members. They travel to meet musicians from all over the world and record them on their way. They also set a foundation to create music schools throughout the world. Café Babel met three members of the multicultural band after their show in Esperanzah, a world music festival in Belgium.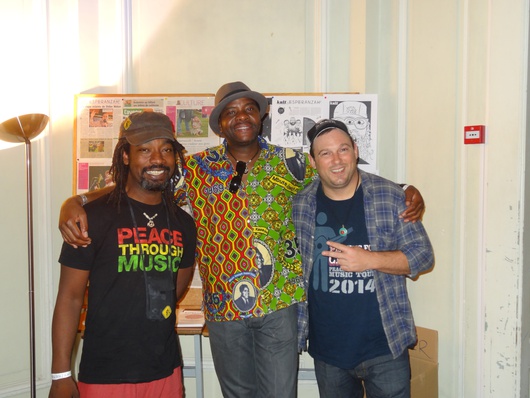 Mark Johnson is the cofounder of Playing for Change from the USA. Clarence Bekker is a singer from the Netherlands and Jason Tamba is a guitarist from the Congo.
Let's introduce yourself and explain why are you interested in participating in Playing for Change.
Mark Johnson: Playing for Change started because we wanted to find something that everybody in the world could believe in, that could inspire us to move past the things that might divide us and focus on the things that connect us. That's what music can do. So Playing for change is a project where the people participating believe in that.
Clarence Bekker: I used to be known in Belgium as CB Milton, dance artist. I had some hit songs, like "it's a loving thing" and "send me an angel". Then the second part of my life I was not really interested into dance music anymore. So I went travelling around the world, looking for a goal and for a new way of life. Then I ended up in Barcelona. I have been there as a street musician. While I was playing there on the streets, Mark and his crew came and they were interested in my voice. It was really interesting in the movement they were offering and he showed us some videos. It began bigger than I ever imagined. Since then, I have been part of Playing for Change.
Jason Tamba: I come from the Congo, I moved in the '80s to come to South Africa where I ended up playing in the streets, in the pubs, everywhere… When the people from Playing for Change came to record the first album in 2008, I got involved in the band in Cape Town.
How and where do you record the albums?
MJ: You know the songs around the world. We are travelling with a small group with a mobile recording studio and nice cameras. We travel through city streets, subways and villages. We record one musician at a time. They listen through earphones to hear what the other musicians have played before them. Together they make these songs around the world. That's how we meet most of the musicians. In the beginning, we say that it could be great to have musicians we had never met come together and perform on a stage. It was a long time ago and since that day, we have been touring all over the world playing for Playing for Change band.
I have heard that you have 185 members in the group…
MJ: On the new Playing for Change album, PFC 3 songs around the world, 180 musicians in 32 countries are performing on that album. The guys on the stage today are performing, but so is Keith Richards, Sara Bareilles, a very real well-known singer, Taj Mahal, Toots & The Maytals, Los Lobos, etc. So all these kind of musicians are playing together.
You were ten on stage today. How do select the people playing on stage? 
MJ: It's the same core group since the beginning. What they changed on the new album, we integrated Keiko Komaki, an amazing piano player from Japan. She played with us tonight. When we met her, we recorded her songs, then the band met her. And now she is in the band touring the world. So some musicians can come and change it up but with the same core who has been there from the beginning. I think the band was represented by 8 different countries: the Congo, South Africa, Cuba, the Netherlands, Israel, Italy, the USA, Japan.
You sang tonight some part of "Stand by Me" in French, do you do the same in each country you go to?
CB: We try to make it a custom. Everybody knows the song and it becomes for the local people and even for us fun to sing in their language. For them, to be able to sing and express something in their own language makes the song even bigger. They pull out all the stops. So that creates a very good vibe.
JT: "Stand by me" always comes into our repertoire because it is the song that was made for Playing for Change [spirit] and a lot of people know it.
CB: For us every night when we play all around the world, it gives us a little stimulation to play. It also makes it very interesting for us.
Do you create your own lyrics and songs?
MJ: It seems that about half of the concerts now are original songs. The other half comes from our familiar repertoire or from traditional songs like Gospel songs, like Down by the River side, or blues songs. But for the most part, there is will to incorporate all those different languages and musical styles into the concerts.
CB: I think that most of the artists that did these songs died. But the message needs to be spread along. Speaking for myself, if I can use the energy that made this song as a tool to keep these songs going, I'll do that.
Your main message is to spread peace through music. Concretely speaking, you created a foundation. Can you explain a bit more about it?
MJ: In 2009, we created the Playing for Change Foundation, a separate non-profit charity to build music schools around the world in the same philosophy as the songs around the world. We also want to connect all those kids together; kids in different parts of the world, kids in Belgium can meet kids in Congo through music. With those opportunities, you can see prejudices and stereotypes disappear. So it is a way to give back to make sure that what we are all doing has an impact on the future.
In which countries are those schools located?
MJ: In South Africa, Ghana, Mali, Rwanda, Nepal, Thailand, and the USA.
It is the first time for you in Belgium, why have you chosen to come to Esperanzah?
MJ: It is the perfect place here! It is the definition of an open minded festival. When you bring those kinds of projects here with those open minds, open hearts, then you make such a strong impact. You can feel the crowd connected deeply to the music, to the emotion, to the performance. That's why you play music. That's a dream and it was an amazing thing to watch.
What are the next destinations and how do you choose them?
MJ: Tomorrow we go back to Clarence's home: Amsterdam. Then we go back to Italy, the home of Roberto Luti, our side-guitarist. And then to Sweden, South America… It is the World tour.
We want to spread the message everywhere. This year we started in North America, then Europe, South America. We just keep going. We are going to Asia as well. Australia again, Japan. We just keep on spreading the music and building the family everywhere we go. Today we found 10 thousand more people to join the movement. That's the beauty of a music festival like Esperanzah.
How can people join the movement?
MJ: The best way is to go on playingforchange.com to learn more about the project. They can get involved in different ways: they can support the band, the songs around the world, the schools, they can sign up and get information.
People submit music all the time and then we keep a catalogue of each country and of the musicians. And a lot of times, the band invites guest. Tonight, we brought a guest from Belgium, and it's a real special thing. It brings a lot of pride and joy to the people.
>> Click here to find out more about the Playing for Change project