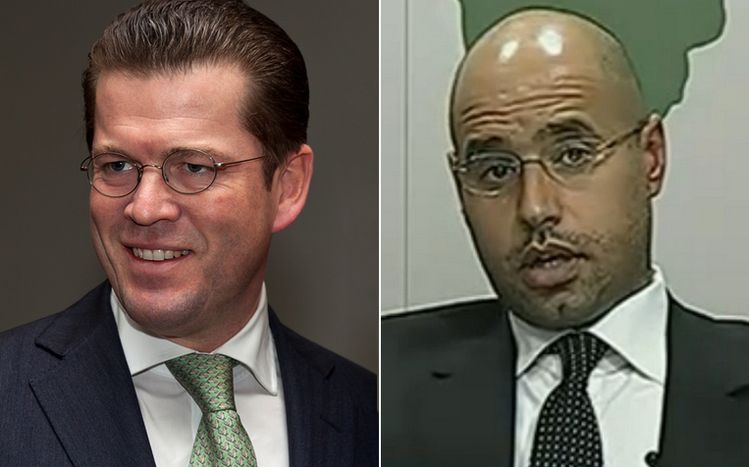 Plagiarists: Guttenberg resigns, Saif al-Islam Gaddafi in Swiss peace
Published on
Online accusations of plagiarism were not just being hurled at German defence minister Karl-Theodor zu Guttenberg, who resigned in a shock move on 1 March.
The son of the Libyan dictator, said to be in exile in Switzerland where he stayed after the world economic forum, also helped his London School of Economics doctorate along with a bit of the copy and paste method – in return for a tidy cash infusion
The German defence minister Karl-Theodor zu Guttenberg swapped the title of Doctor for a nickname this week. Guttenberg became Baron zuGoogleberg after it became known that he had patched together most of his dissertation at the university of Bayreuth from articles by other authors without citing these properly: a mortal sin in the world of academia. Most of the instances of plagiarism were discovered by internet users. They collaboratively examined the entire work on cheat sites and placed the results on an online wiki-page. The scandal is now complete: members of the opposition successfully called for the resignation of the 39-year-old 'model minister' from Merkel's cabinet.
The son of the (still) Libyan dictator Muammar al-Gaddafi, Saif al-Islam al-Gaddafi, also has a doctorate, received in 2008 at the acclaimed London School of Economics (LSE). This was reason enough for some web-users to make their own wiki-page modelled on the GuttenPlag Wiki looking for plagiarism in the dissertation by Gaddafi's heir and right hand-man. Lo and behold, it was found – fourteen sections have already been identified, some stretching over several paragraphs. The sources range from scientific works to the mailing list of an Austrian Goa-community via an economy dictionary.
Did Gaddafi Junior perhaps not write the work himself at all? As early as 2009 the Sunday Times reported that the dictator's son had good connections with the Monitor Group, one of the most renowned management consulting firms worldwide. Gaddafi himself claims to have employed some of the group's consultants to conduct interviews for his dissertation. His assistants may have given him more of a helping hand than Gaddafi would like to admit.
The whole situation is also embarrassing for the LSE, where Gaddafi received his PhD. After successfully graduating, Gaddafi promised the LSE financial support of 1.5 million pounds. The money is being paid out of Gaddafi's own foundation. The LSE hurried to confirm that it has only received £300, 000 of this money to date and that it plans to thoroughly reconsider its connections with Libya. Gaddafi's dissertation dealt with the role of the civil society in the democratisation of international institutions. This clearly doesn't help the civil society in his own country. Talking about the insurgents in his speech on 21 February he promised to 'eradicate them all'.
Translated from Plagiate: Von Guttenberg "Googleberg" bis Saif al-Islam al-Gaddafi