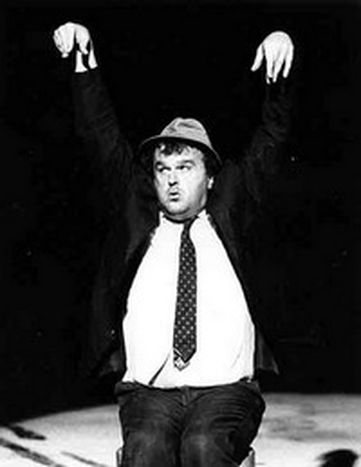 Pippo Delbono: 'Italy's theatre scene has died its death'
Published on
Translation by:
caroline feetam
The class of '59 actor-director stages plays starring Down's Syndrome children and former homeless people. 'Culture means a commitment to future generations, not to future politics,' he says
Entrance to the Chamber of Deputies is strictly permitted on the condition that men wear formal attire. Pippo Delbono enters wearing a denim jacket. No-one bats an eyelid. He is the actor and director that has caused a stir in the world of theatre for many years due to his 'unusual' casting. Many are professional actors, but his cast also include people who have lived in mental institutions, street artists, former homeless people, rock singers and children with Down's Syndrome. Delbono's style of theatre promotes diversity as its modus operandi. It is for this reason that Delbono was invited to speak at a convention on diversity in Rome, on March 26. I was one of the conference organisers, taking advantage of a rather tedious break to whisk him away to chat about theatres, diversity, folly and in his own words ;culture saving us from the abyss.'
Cast your desires as far as they will go
What is the thread of Delbono's theatre that keeps it all together? 'Culture, of course. It should be seen as an aid to achieving a better lifestyle. It means asking why we were born, why we die and the reason for our very existence. To paraphrase Italian poet and director Pier Paulo Pasolini, culture means casting your desires as far as they will go. It is a commitment to future generations, not to future elections.'
An important statement in Italy, a country that has fallen victim to selling culture for votes in the past. A cultural abyss has formed in Italy causing us to cling to anything that promises eternal life.' Delbono is fairly blatantly hinting at religion. The way in which Italy manages its cultural heritage, admired as the richest in the world, is not spared from Delbono's critique: 'our country preserves - it does not know how to renew.'
Glued to their seats
As far as Italian theatre goes, Delbono claims to work better abroad. 'In Italy, our beautiful theatres from the 1800s cannot accommodate dance, poetry or visual theatre, only classical plays. They are very traditional and their architectural structures cannot support diversification.'
Not only that, the seats are always occupied by the same old theatre-goers. 'Theatre authorities are glued to their seats. This inertia is a huge obstacle to change. Different kinds of theatre management do exist; foreigners often bring a breath of fresh air, we need to break down the Italian barrier which is today's cultural reality, I am not afraid to say that Italian theatre is dead.'
From South-American prisons to the European stage
Delbono, now very popular in Italy, has always looked abroad to escape the barren reality of Italian theatre. The Ligurian (coastal, north-western Italy) director has in fact worked with Argentine actor Pepe Robledo, the Farfa Group led by Iben Nagel Rasmussen in Denmark, and the choreographer Pina Bausch in the show 'Wuppentaler Tanztheatre' (Wuppertal Dance Theatre).
His instinct took him to the Orient, where he studied the techniques of dancers and actors in China, India and Bali. Delbono's films welcome the international dimension. He was awarded the 'David di Donatello' prestigious movie award for the feature-length documentary Guerra ('War'), which was filmed during his tour of Israel and Palestine from December 2002 to January 2003. Twenty years ago, he toured with his first play Il Tempo degli Assassini ('Season for Assassins') which showed in theatres, prisons and down-town in South-America. From that moment on, national and international successes came one after the other, so much so that Delbono progressed without ever detracting the world's spotlight from the socially 'difficult' - on the contrary!
Disabled people, non EU-citizens, former homeless people, the clinically insane, like Bobò. He spent 50 years of his life in a mental institution in Naples, and is also involved in Delbono's theatrics. 'After having worked with them, I can no longer accept that the more 'difficult' members of society be looked upon differently. They have become the stars of my success, the characters that tour the capitals cities of Europe with my plays. It just goes to show that diversity can be a fundamental tool to opening up peoples perspectives. In Moscow, they told me that they always kept children with Downs Syndrome indoors!' explains Delbono. 'In my play, a child with Down's Syndrome concludes the final scene with a smile and no-one could have done it better. I see the light of Buddha in him.'
See Pippo Delbono's theatre here
The video below shows a few excerpts from the play 'Questo buio feroce ('This Vicious Darkness') (see review), adapted from an autobiographical book by American writer Harold Brodkey, on the final years of his life before he died from AIDS.
Translated from Pippo Delbono: «L'Italia? Realtà teatralmente morta»